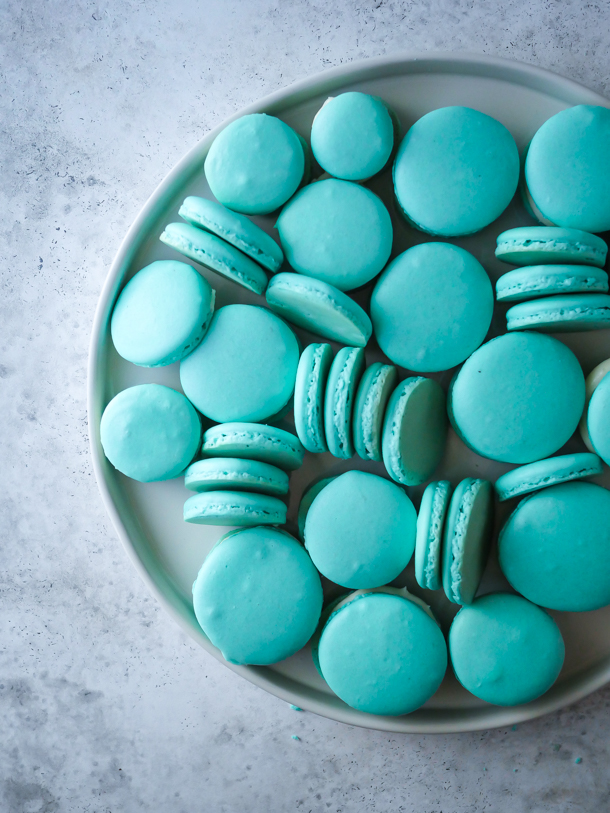 These treats were inspired by Disney's The Mandalorian show.
We love macarons around here. LOVE THEM. But most of the recipes we've done require some design work. Not today. Why? Because we've been inspired by a simple recipe we saw on t.v… and Baby Yoda.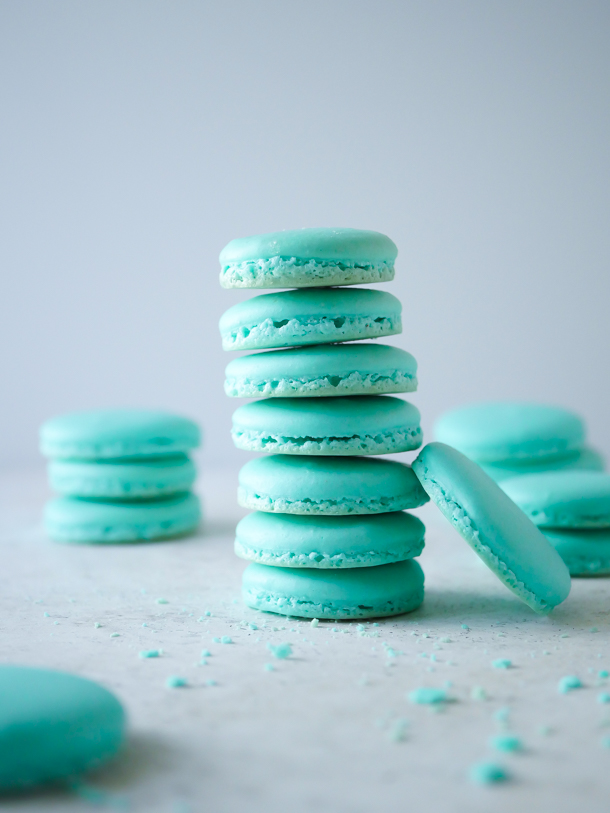 Yes, if you've been watching The Mandalorian these past few weeks (and if not, I don't think this is a spoiler), then you spotted that cute little baby munching on.. macarons. They weren't given a name in the show, so we're calling them Manadalorian Macarons. Although, if you head to Williams Sonoma they've dubbed them Nevarro Nummies™️. And not to be a cantankerous fan, but I have a few issues with the ones they're selling. But mostly, after the price point, the color is WRONG. They're grey! Well, blue-grey, but still…
On the show they're just the plain cookies, not filled. I'm showing both since everything is better with frosting. Also, Americolor makes a turquoise food gel color that is just perfect here and I'm linking to that because I'm so in love with it.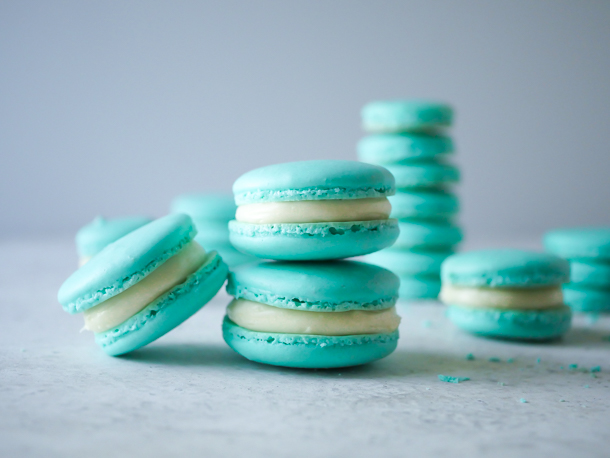 If you've made some of my macaron recipes before, then you might notice I've included a new ingredient in the list: meringue powder. I got this tip from the Dessert for Two blog and I've noticed that it's improved the stability of my egg whites when making french macarons. This ingredient is optional, but I've found the batter more forgiving with this addition.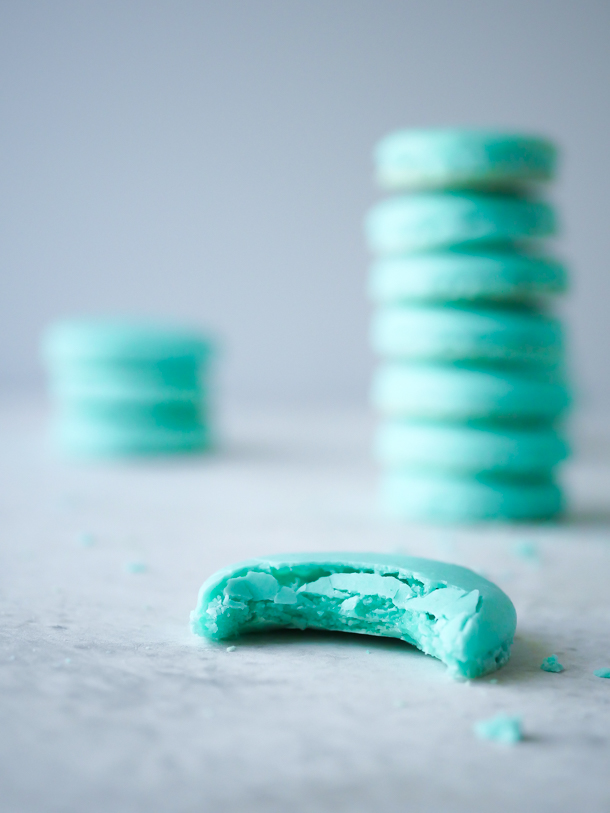 If your kids are comfortable with a piping bag, they can help pipe the macarons. They can also help pipe frosting as well if you're doing that (you should totally do that).
As always, please check out all the tips after the recipe. This is the way.
Print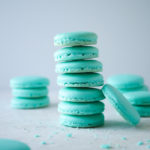 Mandalorian Macarons
Author:

Yield:

Apx. 48 Mandalorian Macarons
---
Description
Baby Yoda knew a good thing when he saw it, and now you can enjoy your own Mandalorian Macarons at home with this no fail recipe! Inspired by the Mandalorian television show.
---
For the macarons:
For the buttercream (optional):
1

 stick (1/2 cup) butter

2 cups

 powdered sugar

1 teaspoon

 vanilla extract

1 teaspoon

 heavy cream, milk, or nondairy milk
Specialty Items:
---
Instructions
For the macarons:
Line two open sided cookie sheets with parchment. Set aside.
In a food processor, pulse together the almond flour and powdered sugar. If you do not have a food processor, sift well to combine. Set aside.
In the bowl of a mixer, add egg whites and salt and whisk on low until foamy. Then slowly pour in the meringue powder and increase speed to medium.
When soft peaks appear, add in granulated sugar. Now whip just until just about stiff peaks form.
Add in food coloring to the bowl and slowly mix to incorporate (I sometimes take the whisk attachment off and just stir by hand. Don't worry about streaks at this point as you'll mix more when you add dry ingredients in).
Sift a third of the dry mixture into the egg whites and fold until barely incorporated, about 10 turns. Repeat twice with remaining dry mix. Mix gently until all of the almond mixture has been absorbed and there are no visible lumps in batter. Then continue to fold the mixture, pushing the batter against the sides of the bowl and scraping until it falls off your spoon in ribbons like cake batter. (This technique for mixing is called macaronage and I highly suggest looking up some videos on this if you're serious about getting a great macaron.)
Add batter into a piping bag and pipe circles onto the parchment lined baking sheet. Let the batter sit about 30 minutes to 1 hour. You want the macarons to form a skin, so that when you touch them, no batter comes off on your finger.
Preheat your oven to 325°f about 15 minutes before your cookies are ready to bake.
Bake the cookies about 10-11 minutes, turning the cookie sheet around about halfway through.

Cool on the sheet and store in an airtight container.
For the buttercream (optional):
If frosting, fully cool to room temperature before decorating.
Cream the butter in a mixer until light and fluffy; about 1 – 2 minutes.
Add in powdered sugar and mix until all the sugar is incorporated.
Pour in vanilla and cream/milk and beat again for an additional 30 seconds.
Spread filling between two cookie halves and sandwich together. Enjoy!
---
Notes
Meringue powder helps to ensure stability with your egg whites. It helps them form better, and less likely to deflate when mixing in the dry ingredients. This ingredient is optional.
Sifting the almond flour and powdered sugar together is necessary for the absorption of oils and to prevent clumping of batter.
Using gel based food coloring will give a much deeper, and vibrant color, than standard food dye.
An open sided cookie sheet allows air to move freely and your macarons will cook more evenly.
Cookies can be stored in an airtight container up to one week.
Keywords: treat, macaron, The Mandalorian, Baby Yoda, turquoise, blue, vanilla, buttercream