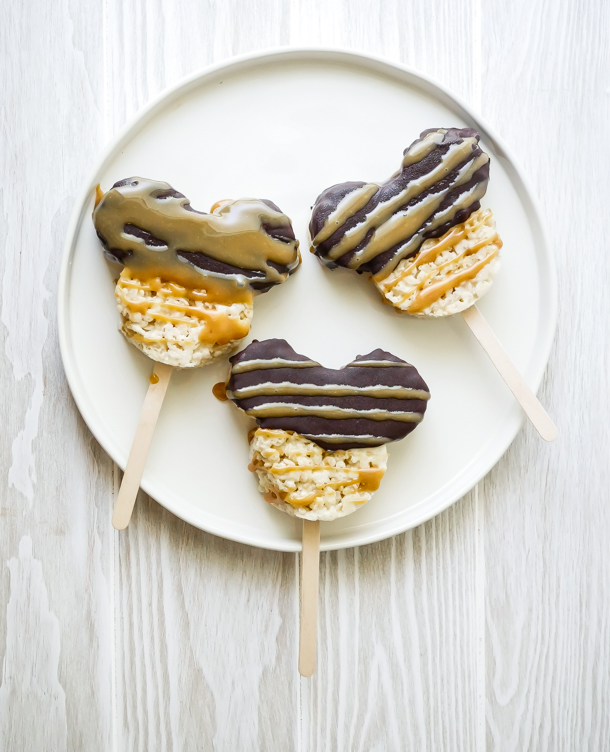 Where can I find the original treat?
This Walt Disney World treat was found in Epcot at Karamell–Küche.
I am in a Facebook group with a bunch of people who are fanatical about the caramel corn from Karamell-Küche inside the Germany pavillion at Epcot. But you will probably never see a recipe for that here for one little reason… I hate popcorn. From the smell to the tiny shells getting stuck in my gums, everything about popcorn is just a miss for me. I do, however, thoroughly enjoy the buttered popcorn flavor from Jelly Belly, and "butter" is my favorite flavor of KitKat. You WILL see some caramel treats from Karamell-Küche on here though, just not the popcorn. And today, we'll be making the caramel drizzled Mickey Mouse shaped crispy treat.
Back in March I panicked about what might be hard to get once we were in quarantine and I ended up with a case of marshmallows. A case. Of marshmallows. You all might want to buckle up for more crispy treats and marshmallow wand ideas because I've got PLENTY.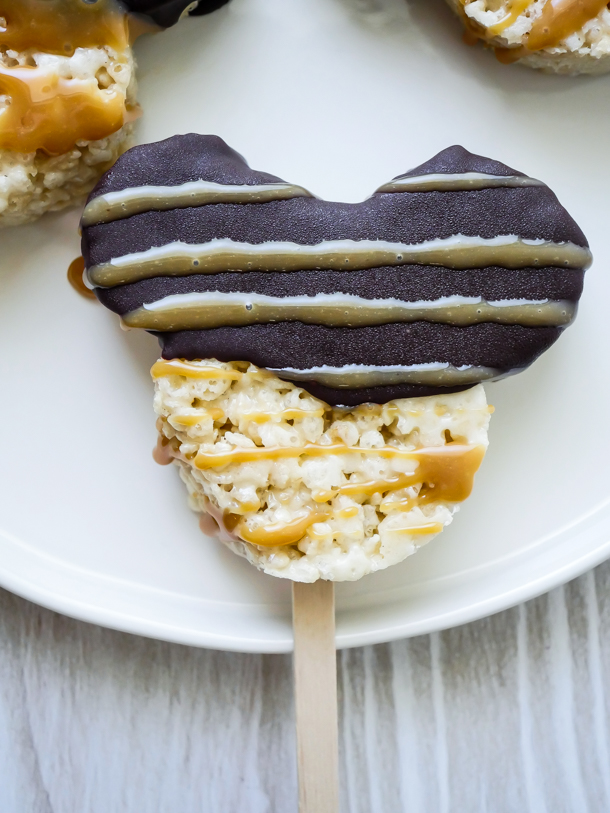 Over the past year of making these Disney-inspired treats I've come to realize that I'm a real fan of cripsy treats. Well, most any treat on a stick I guess. And the Disney team gets very creative and cute with these, and right now I'm especially into this version from Karamell-Küche at Epcot. At its base, a plain crispy treat is delicious. But this version, besides being a fun Mickey Mouse shape, is coated in chocolate and drizzled in caramel. The combination, although simple, hits so many right notes, in my mouth.
I've also learned a new technique for decoration from those candy masters that I'll share with you today if you're interested in getting nice clean lines for decorations on the odd angles you find with a Mickey Mouse crispy treat. Hint: grab a piping bag.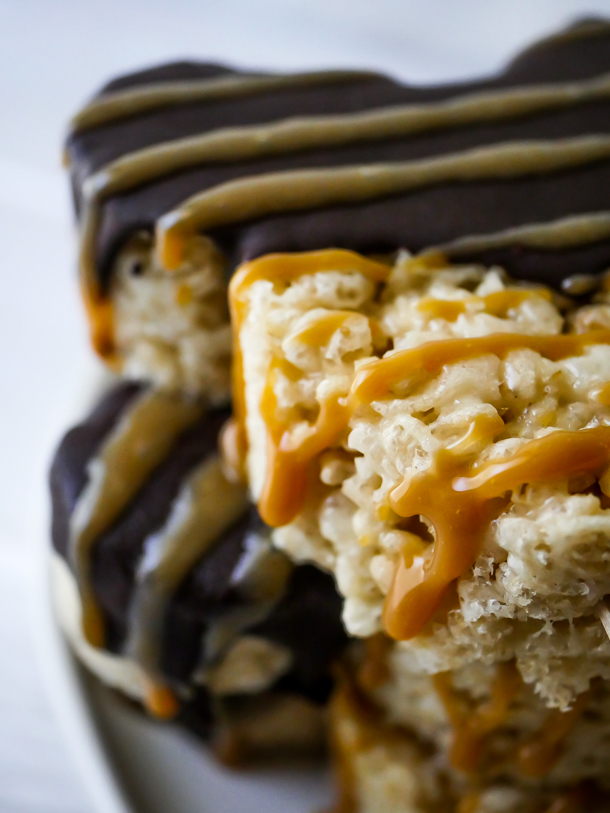 For the caramel, you can optionally decorate a few ways. One is to just buy yourself some caramel sauce if you want the easiest method. Second, you can melt caramel squares with some milk or cream and a little water and then go from there. Or, if you've got the time, make caramel sauce from scratch. As always, I've got all the info you need in the recipe below.

Kids love to decorate, so for this recipe, once cooled, kids can help cut out the Mickey Mouse shapes. And then they can decorate with the warm melted chocolate. Depending on which route you take for the caramel they may be able to help decorate with the drizzle. Just remember, cooked caramel on the stove is SUPER HOT and little hands might want to get in there and taste it. Don't let that happen.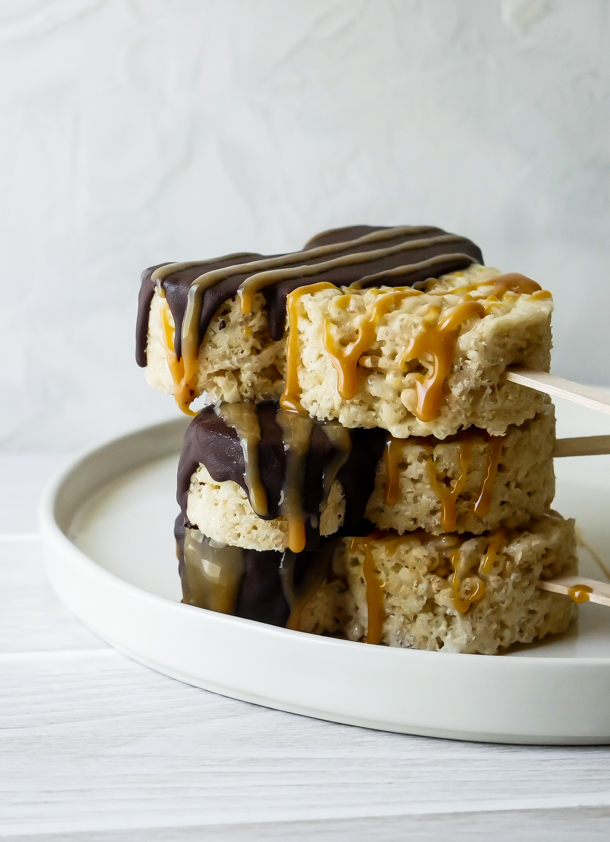 Epcot might be open to some people right now, but it's slim pickings at Karamell-Küche, so stay home, make a batch of these caramel drizzled crispy treats, and maybe watch a YouTube video of last years Garden Festival. Enjoy!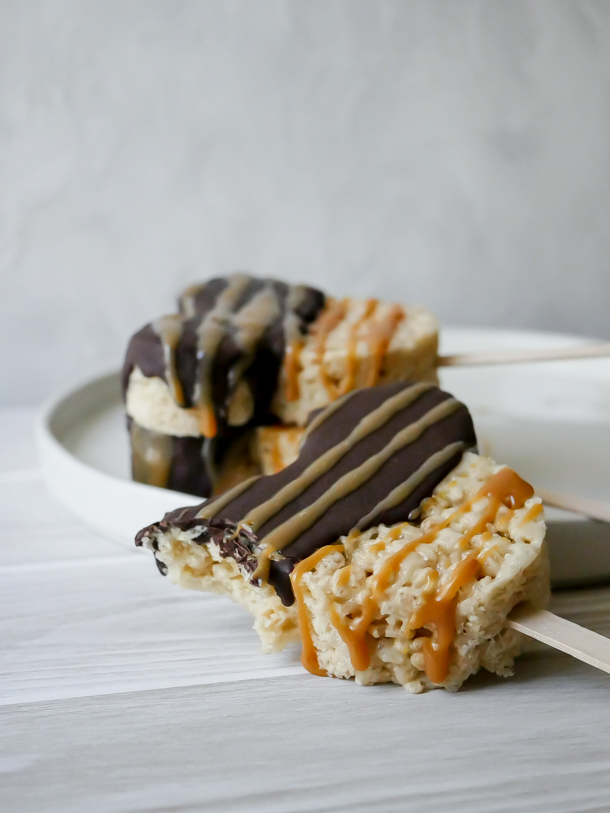 Print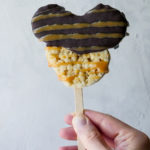 Karamell-Küche Caramel Drizzled Mickey Mouse Crispy Treat
Author:

Yield:

3

Caramel Drizzled Mickey Mouse Crispy Treats

1

x
---
Description
The classic Mickey Mouse crispy treat is made into a decadent goodie with a dip in semisweet chocolate and topped with buttery caramel. A Walt Disney World inspired treat!
---
For the crispy treat:
2 tablespoon

s butter, unsalted

3

 cups mini marshmallows or

~30 regular sized marshmallows

3

cups crisped rice cereal
For the chocolate:
4 ounces

semisweet chocolate, coarsely chopped
For the caramel:
Specialty Tools:
---
Instructions
For the crispy treat:
Before beginning, line a loaf pan with parchment.
Combine the butter and marshmallows in a medium sauce pan over medium-low heat. Stir constantly until marshmallows have melted and mixture is smooth.
Immediately dump in the crisped rice cereal and quickly mix to combine.
Pour into the prepared pan and gently press mixture into place with a rubber spatula (or damp fingers, which is my favorite method). Set aside for at least an hour in the refrigerator (or 20 minutes in the freezer) so that the mixture can firm up enough to cut shapes.
When the treats have firmed up, use a Mickey Mouse cutter to cut out your shapes. Set aside.
For the chocolate layer:
Melt the semisweet chocolate in the microwave inside a microwave safe bowl, like glass, for 30 seconds. Stir and microwave again for an additional 30 seconds. Keep stirring and microwaving in short bursts of 15-20 seconds until melted and smooth. You can alternatively use a double boiler for melting. OR you can directly melt in a heat safe pastry bag similar to how you'd melt in the bowl. (20 second bursts, kneading bag in-between)
When melted, transfer to a pastry bag (if you did not melt directly in one), snip off the tip, and outline and fill the ears and top 1/3 of the head. Repeat with all treats. Set aside in the refrigerator for 15 minutes.
For the caramel layer:
In a small sauce pan over low heat, combine the caramels, cream or milk, and water. Stir continuously until melted and smooth. Do not let the mixture sit or it could burn.
Once the mixture is melted and pour-able, take one crispy treat and hold over the saucepan. Drizzle caramel horizontally across the whole treat, lightly tapping any excess off back into the pan. Set aside on parchment and repeat until all treats are done. If sauce starts to stiffen, keep over a very low flame, stirring until smooth and pour-able again.
Enjoy!
---
Notes
Use a smaller pan than you think you'll need for this. As the marshmallows melt into the butter, if there's too much space in the pan, they will start to dry out and form strings. Keeping the marshmallows closer together in the pan will ensure they melt more evenly, creating a better mixture to add the cereal into.
When mixing crisped rice cereal into the melted marshmallows, keep the mixture on the flame so that marshmallows stay liquid. Removing to mix in can seize up the liquid before the cereal is fully mixed.
If crisped rice cereal is unavailable right now, use any kind of puffed grain, or cereal. Cocoa Pebbles would work here too!
After you've cut out your treats, extra cereal/marshmallow mixture can be recombined by hand and cut again (or just combined and shaped into another treat by hand).
If you do not have pastry bags, this can be dipped into the bowl you melted the chocolate in. Using a pastry bag ensures neater lines, nothing more.
Melted caramel is HOT! Use caution in the kitchen. Do not dip your fingers or hands into the caramel has it can adhere to skin and burn you. Keep away from children.
Use hot water to remove caramel from pans and utensils.
Leftover caramel can be kept in an airtight container in the refrigerator up to one month.
Treats can be kept in an air-tight container refrigerated for up to 3 days.
Keywords: treat, Epcot, WDW, Caramel, Mickey Mouse, cripsy treat, krispy treat, krispie treat, rice krispie treats, chocolate, Germany, World Pavillion, Karamell-Küche