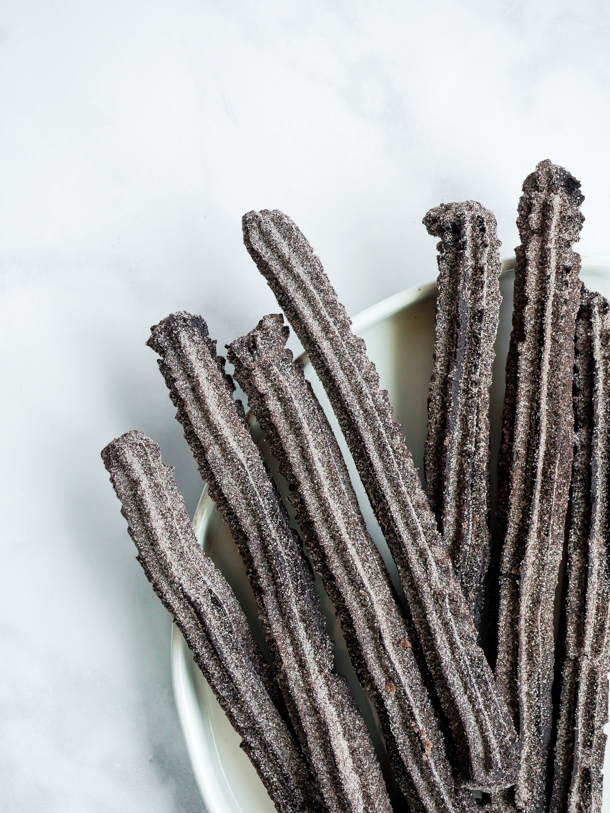 Where can I find the original treat?
This treat can be found in Critter Country in Disneyland.
When you are visiting Disneyland weekly (or sometimes even more frequently) in search of treats, chances are you'll luck out and stumble upon something before it gets released fully to the public. This happened in March when I was determined to figure out what the Bear Paw Pastry was that had been listed on the Lemonade Stand menu on the Disneyland app for weeks and yet no one who worked there could tell me what it was. And then one day the Double Chocolate Churro appeared on that menu (and still that bear paw. What is it?????). And suddenly there was a sign at the booth that said "ask me about our specialty churro", and so I did. And now today I'm sharing that creation with you all.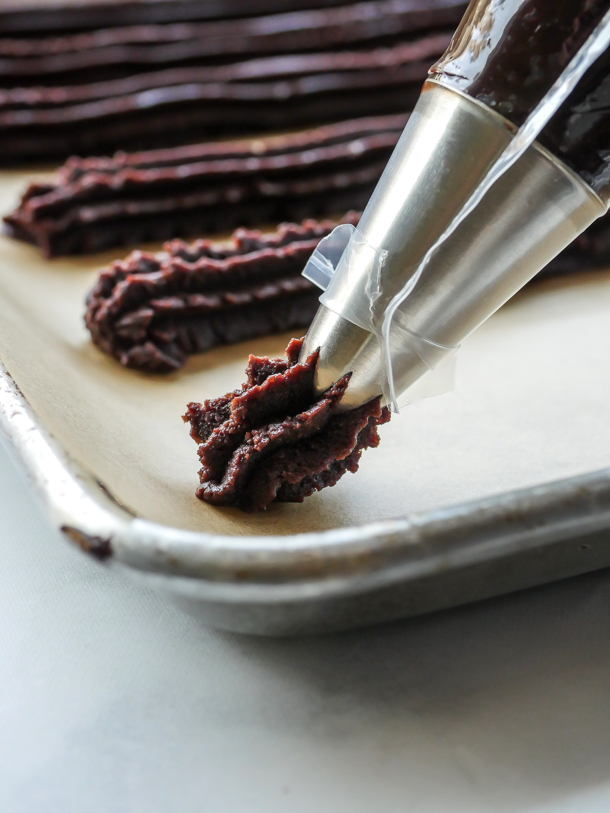 These churros are chocolate throughout, reminiscent of a fudgy brownie, and are dipped in a sweetened, milk chocolate hot cocoa coating (with the requisite sugar and cinnamon). Now, while what you'll get at the parks is a fried churro, today we are going to ALSO make a baked version of it, and quite frankly, it tastes almost THE SAME.
Here in Southern California we are finally starting to get some heat, and with that, I suddenly lost all interest in cranking up my stove and standing over a boiling pot of hot oil for upwards of a half hour. Also, I had polled all of the Instagram followers a few week backs to see if there was any interest in a baked churro recipe, and everyone said YES. I was hesitant while making these, I wasn't sure just how they would come out, but keeping my expectations low meant that once I got them out of the oven and covered with sugar, I was REAL PLEASED with the result.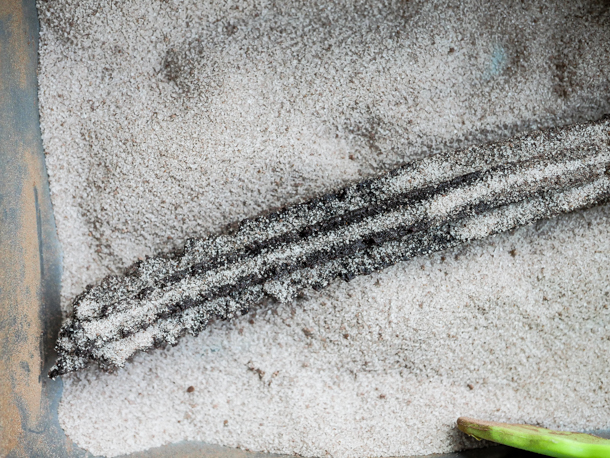 The taste and texture is pretty similar to the fried version. The only downside of the baked version is that the bottom tends to get flat unless you rotate them during cooking. But, they are quite fragile until fully cooked, so they could break apart.

Make up a batch and let the kids pipe their own (my kiddos love making little nuggets to fry off). I would have them steer clear of the kitchen if you choose to fry these, but regardless of which method you use to cook, they'll also love tossing them around in the chocolate sugar mixture. Just try to keep them from eating it!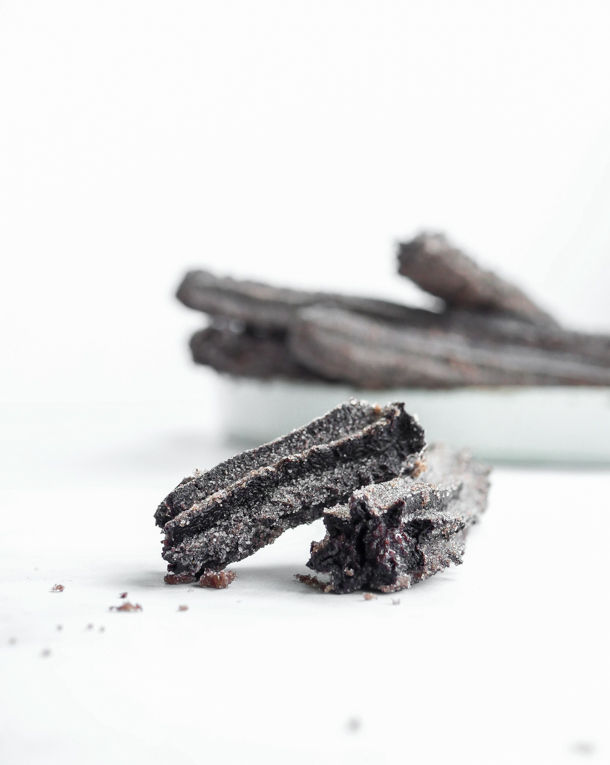 We've got both the baked version and the fried version below, as well as lots of tips and tricks in the notes section, including options for which pastry tip to use! Enjoy!
Print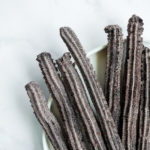 Double Chocolate Churro
Author:

Yield:

10

–

15

Double Chocolate Churros

1

x
---
Description
Chocolate lovers, this churro is for you! Chocolate churros are baked (or deep fried) and get dipped in a sweet, milk chocolate cocoa mixture. A Disneyland-inspired treat!
---
1/2 cup

granulated sugar

1/2 teaspoon

cinnamon
1 tablespoon sweetened hot cocoa mix

vegetable oil for frying

1 cup

water

1/2 cup

unsalted butter

1 tablespoon

granulated sugar

1/4 teaspoon

salt

1 cup

all purpose flour

1/4 cup

cocoa powder, unsweetened

2

eggs
Tools:
---
Instructions
Line two half sized sheet pans with parchment, set aside. Mix together the 1/2 cup of granulated sugar, cinnamon and hot cocoa mix in a long shallow bowl or loaf pan, set aside.
If you are baking your churros, turn your oven on to 425°f.
In a medium sized saucepan over medium-high heat, combine water, butter, sugar and salt. Bring to a boil, or until butter has melted.
Turn burner to low and sift in all the flour and cocoa powder. Stir until there are no visible flour lumps and dough has begun to stick together in a ball and pulled away from the sides of the pan. Remove pan from heat and let sit 5 minutes. Then stir in each egg until incorporated. Dough will appear to break or become lumpy. Continue to stir until it forms a smooth, sticky dough.
Fill a pastry bag fitted with a Wilton 1 M open star tip OR Ateco #847 (check out our Churro Tips post for more on what tip works best for you!) half full with batter (see notes below on filling pastry bags) and pipe 8″ long dough onto the sheet pan. You can use kitchen shears to trim the ends. I was able to almost fill two sheet pans with all the batter. **If you are piping dough directly into hot oil, omit this step.

For baking churros:

Move the sheet pans into the preheated oven and bake for 27-30 minutes, rotating the pans halfway through baking. When done, remove from the oven and let sit until any foaming subsides, 2-3 minutes. Then toss the churros in the sugar/cocoa mixture.

For frying churros:

Refrigerate dough at least 30 minutes and up to two days. Batter will stiffen the more it sits, so let the dough come to room temperature before frying.
Fill a dutch oven or deep frying pan with vegetable oil at least 2″ up the side of the pan (I found a 1/2 gallon of avocado oil worked for me in my large dutch oven. See note below about reusing oil.). Heat oil to 340-350°f, using a candy thermometer to keep the temperature constant. You may need to adjust heat up or down during cooking.
Place churros 2-3 at a time in the cooking oil for 6 minutes, turning after 3 minutes with a spatula. Wait until oil comes back to temperature before adding next batch.
Using a spider or large spatula, remove churros from oil and drain on a cooling rack over parchment or on a paper towel. Wait at least a minute and then toss the churro in the chocolate cinnamon-sugar, tapping off any excess.
---
Notes
Do not overfill your pastry bag! Fill in two to three batches. If there is too much dough, it will seep out the top and will be hard to pipe.
Slowly pipe out dough all of a consistent size, smaller spots on the churro can cause them to become more fragile while handling and can break in the oil or while coating in sugar.
Churro dough can be piped out onto parchment and covered in the fridge up to 48 hours.
If you want to make you churros immediately after making dough without the chilling time, once oil has reached temp, starting about one inch above the oil, pipe a small line of dough down into oil and either snip end with scissors, or break the dough off the pastry tip on the side of your pan. Follow directions above for frying.
Thicker churros will require a longer cooking time to fully cook through the center. Test one churro first to adjust your cooking time.
Sugar not sticking to your baked churros? Melt 2-3 tablespoons of butter in a small saucepan, and then brush on the churro. Immediately toss in the sugar mixture and set aside on a grate to cool.
Cooking oil can be fine strained and stored again for another use. I strain back into the bottle it came from. Well strained oil can be stored in a cool, dry place and used up to several times.
Churros curling? That could be one of a few reasons. One is that it will naturally shrink and change shape as the dough hits the oil and puffs up. I found that the stiffer dough from sitting in the fridge resulted in straighter churros while fresher dough tending to curl more. Also, if you're using a circular pot like a dutch oven, churros may rest against the inside edge of the pan while cooking causing them to take on the curved shape of the pan. To prevent this, nudge your churro with the spider or spatula immediately after placing in oil when it pops back up to the surface. Continue to nudge gently back and forth for about 20-40 seconds or until the dough has gotten stiff in the oil.
Keywords: treat, churro, chocolate, hot cocoa, Critter Country, Disneyland