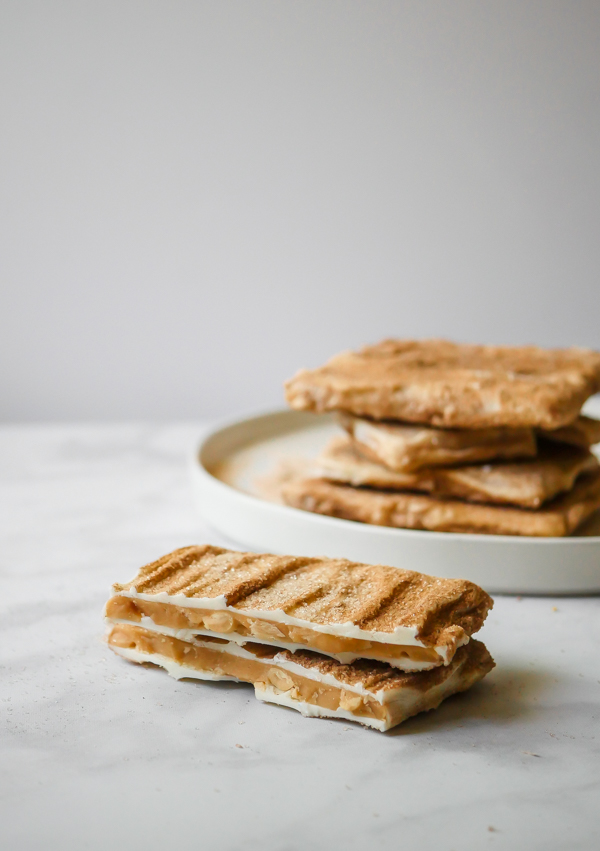 Where can I find the original treat?
These treats can be found all over the Disneyland Resort.
I heard about Churro Toffee long before I ever tried it. Several Disney food accounts I follow on Instagram would frequently sing the praises of this spiced, sweet treat reminiscent of the classic Disneyland churro with lots of drooling emojis and exclamation points; I was intrigued. I had to make it.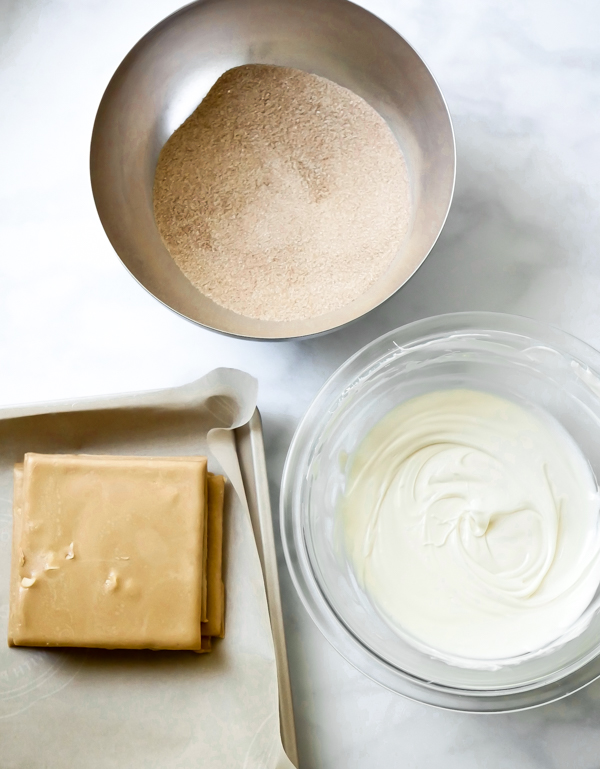 But first I had to try it! The Disneyland resort has a few places you can pick this up from. I dropped in to Marceline's in Downtown Disneyland to get mine. Sometimes, if you're lucky, you can watch the candy makers make Churro Toffee in the window there (but mostly they're making candy apples).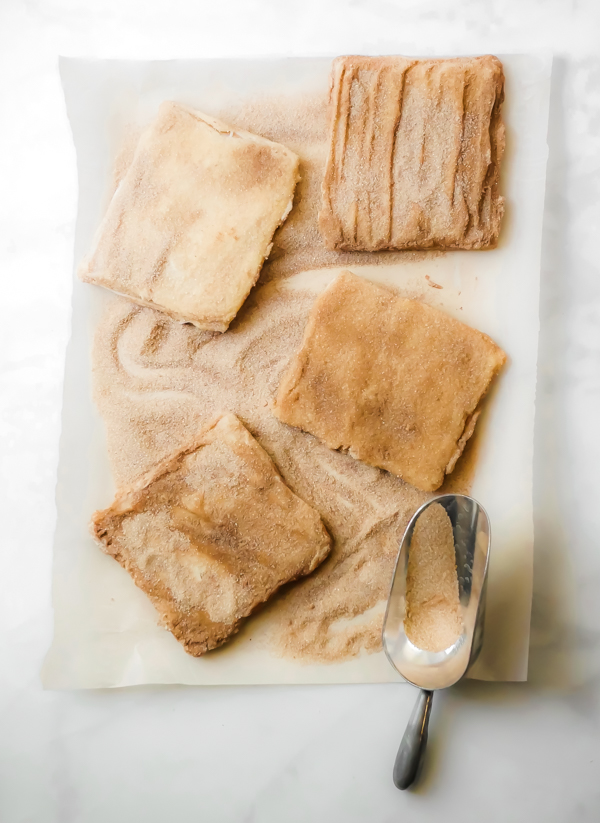 The trickiest part of this recipe is getting the toffee just right. You'd think with what is really just two, sometimes three, ingredients, this would be an easy recipe to make… but it can go very wrong if you're not paying attention to temperature. Here, both the temperature of the stove, and the temperature of the mixture are very important. If the heat on your stove is too high, the mixture can "break" or separate and you'll end up with an oily mess headed straight for the garbage. Also, if you let your mixture get too hot, it will burn, and nothing is going to save it. Nothing. So, if you're new to toffee making, please go get yourself a candy thermometer. But if this isn't your first time at the toffee rodeo, proceed as usual.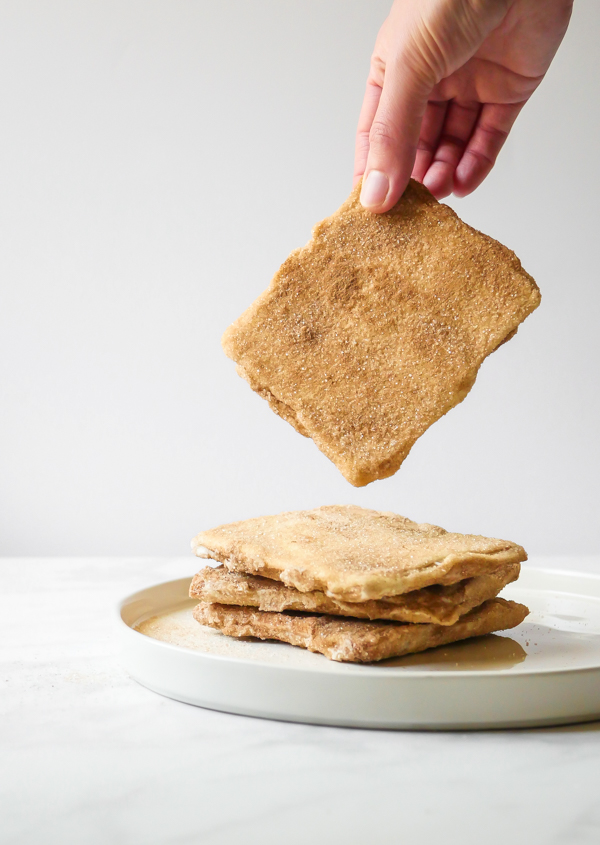 After you've got a solid toffee base, you're in the clear and this treat comes together fairly easily. Once the toffee is set, it gets a quick dip in melted white chocolate and then takes a cinnamon sugar bath. Kids can help with this part! You'll need to wait a little while before eating because the white chocolate needs to harden (but even when it's still a little soft you can sneak a bite. I sure did!).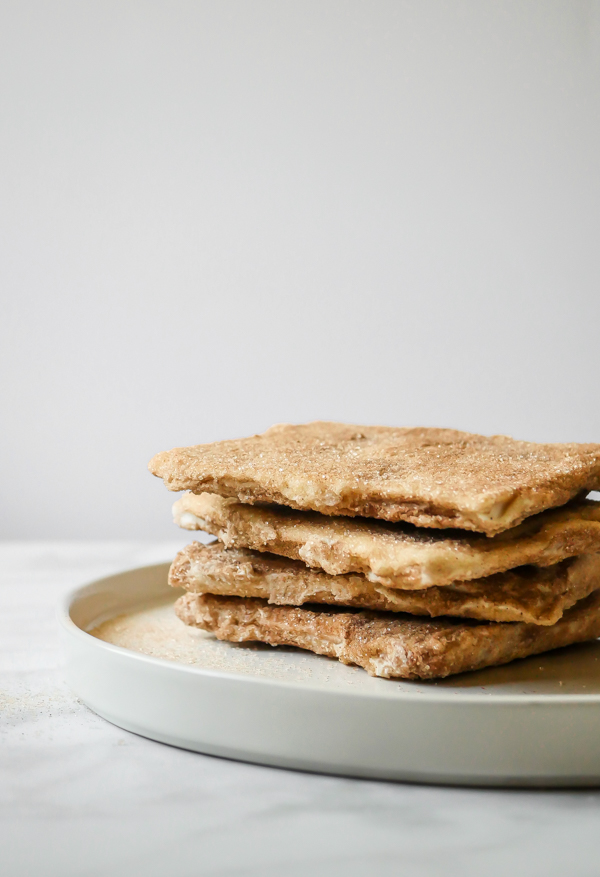 So now that we've talked up this sweet treat, let's get to making some! Read through all the tips at the end of this recipe too and drop a comment below if you've got a question!
Print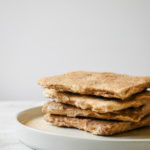 Churro Toffee
Author:

Yield:

4

large squares

1

x
---
Description
Buttery english toffee is covered in white chocolate and dusted with a layer of cinnamon-sugar, reminiscent of the classic churro! A Disneyland-inspired treat.
---
For the Churro Toffee:
1 cup

salted butter (if using unsalted add

1/4 teaspoon

)

1 cup

granulated sugar

2 tablespoons

water

2 tablespoons

chopped roasted peanuts (see notes on home roasting below)

1 cup

granulated sugar

1 tablespoon

cinnamon
Special Tools:
---
Instructions
For the toffee base:
First, spray or grease an 8×8″ baking pan and then line with parchment.
Sprinkle chopped peanuts over the parchment and set aside.
In a medium saucepan over medium heat, melt the sugar, butter, and water together. Stir occasionally until butter is melted. Attach a candy thermometer to the side of the pan, careful not to let it touch the very bottom of the pan.
Let the mixture come to a boil, stirring occasionally until it turns an amber brown (this could read 290-305 F on a candy thermometer). The mixture can burn very quickly at this point so as soon as it gets brown, remove from the stove and pour into the prepared pan.
The mixture will start to set up pretty quickly, but move to the refrigerator for about 15 minutes to firm up more. After this point, use a dough scrapper to divide the toffee into 4 large squares (you can always do smaller too if you'd like). Then place back into the refrigerator to completely firm up, about one hour.
For the churro coating:
About 15 minutes before the hour is up, set up your dipping station.
In a medium sized work bowl large enough to fit a square of toffee, mix together 1 cup of sugar and the cinnamon. Set aside.
In a microwave safe bowl, like glass, pour in the white chocolate melting wafers. Microwave for 30 seconds. Stir and microwave again for an additional 30 seconds. Keep stirring and microwaving in short bursts of 15-20 seconds until melted and smooth. Use can alternatively use a double boiler for melting. Set aside.
Remove toffee from the refrigerator and let sit for 5 minutes to come to room temperature. Then dip one square into the white chocolate, letting excess drip off (you can also use a popsicle stick to remove any excess from the edge). Then immediately dip into the cinnamon sugar mixture, turning around the square so that it is evenly covered. Set aside on a baking sheet lined with parchment.
Repeat above dipping steps for next three pieces.
Let the squares sit about an hour at room temperature to fully harden and then enjoy!
---
Notes
Toffee can reach temperatures of over 300°F so please use caution in the kitchen! Wear gloves, an apron, closed toe shoes, and use a candy thermometer. Keep children away when handling hot sugar.
If the butter separates it could be for a few reasons. One could be that your stove heat is too hot. Keep it around medium for the whole time. Another could be that your butter has a high fat ratio (like European style butters). Also, don't stir too much after it has reached a boil, just every few minutes should be ok.
I tried this with half the amount of the butter and sugar and found it kept burning easily so I'd keep this as the smallest amount to make and then you can double or triple your batch from there.
If chocolate starts to cool after it is melted, microwave for 5-10 seconds and give it a stir.
Use very hot water to remove stubborn toffee from pans and utensils.
If you cannot find roasted peanuts in the store, you can roast raw peanuts at home by laying them on a baking sheet and baking at 350°F for about 20-25 minutes. giving them a turn about halfway through.
Keywords: treat, churro, cinnamon, white chocolate, toffee