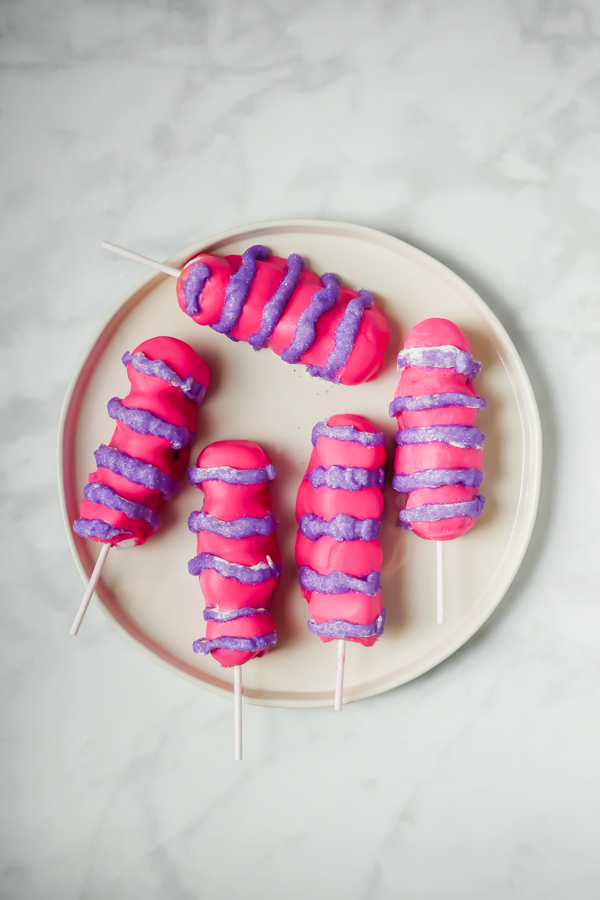 Where can I find the original treat?
These treats can be found at the Candy Palace on Main Street in Disneyland.
These sweet treats, based on the iconic pink and purple coloring of Alice in Wonderland's Cheshire Cat, are more than meets the eye. At its base, it's a marshmallow wand, enrobed in a layer of caramel, and then dipped in pink colored white chocolate. The white chocolate is strawberry flavored, and the whole thing is finished with stripes of purple sanding sugar held on with white chocolate.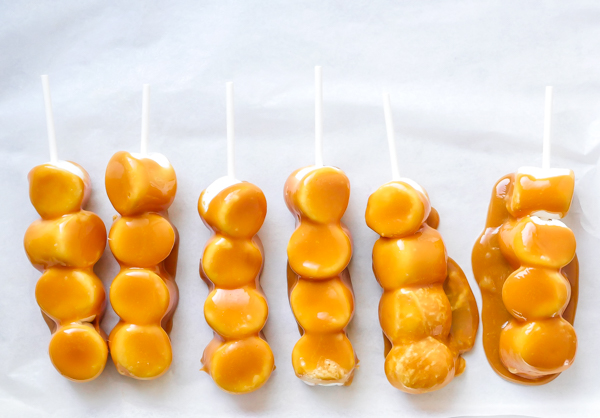 While these marshmallow wands might seem straightforward, there is actually a lot of temperature control needed, as well as precise ingredients. Why? Because we're dealing with caramel and chocolate.
Now, admittedly I started this recipe off with the wrong caramel recipe. See, I have this super yummy salted caramel recipe that I love. So without thinking I started there and only when I tried to dip the marshmallows in it, and it just started falling off the marshmallows, did I realize that this yummy recipe was in fact the wrong type of caramel. A soft, liquid-y caramel is not what one wants here for two reasons. One, well, it falls off the marshmallows and does not become fully solid. And two, when the not fully solid caramel hits the very warm white chocolate… it all just melts off into a puddle. Yuck.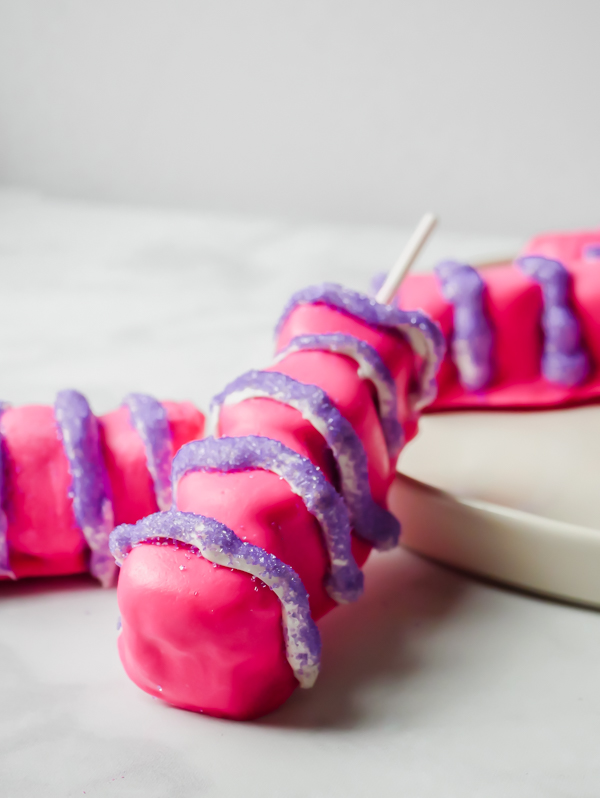 So, melting caramels are a good bet here. And on second try this was the perfect solution to getting a firm caramel that held up to being dipped in warm chocolate. Alternatively, there are homemade caramel recipes out there that will become solid, you'll just need to use that type of recipe. Usually there is corn syrup in it.
With melting chocolate, there are a few factors you need to remember. First, the type of chocolate you're using will determine how hot you can get your temperature. White chocolate, which isn't technically chocolate, should not go above 110°f. If you temper your chocolate you will lose its temper and you also risk burning your chocolate if you get it too hot. Also, if you get your chocolate too hot, it will start to "break" when you try to coat items like these caramel covered marshmallow wands. Check out the notes below the recipe for tips dealing with this if it happens. The trick with coating is to get it warm enough to drip off your spoon and keep it warm, not hot, for even coating.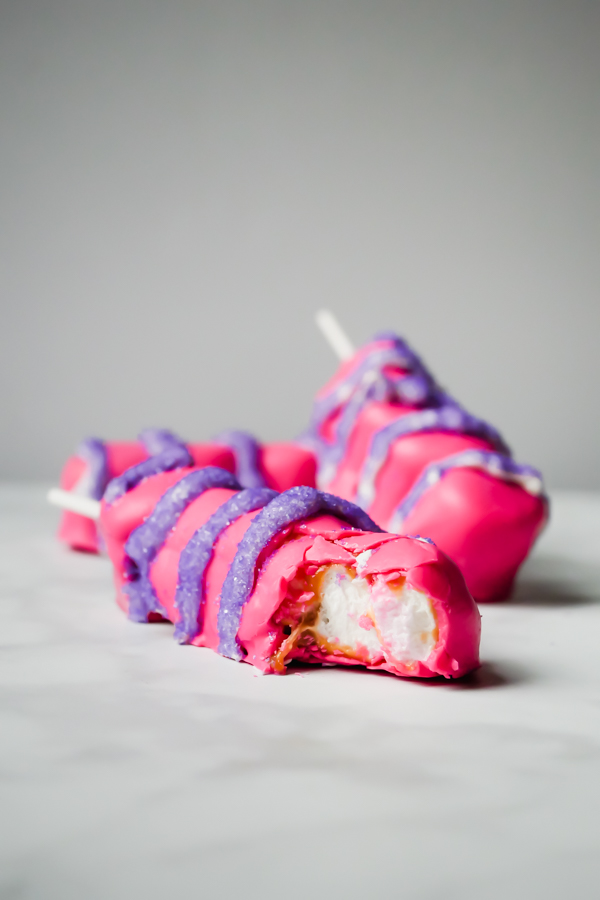 I did say this was a "kid friendly" recipe and you might think I have lost my mind. Molten caramel! Scalding hot chocolate! What the heck?! But really, the fun part for kids is the decorating. Older kids can dip wands into the pink white chocolate because really, at the dipping point the chocolate should not be hot enough to burn skin. And small kids will have lots of fun covering their marshmallow wands with purple sprinkles. And it's OK if adults enjoy it just as much (I do!!).
So let's get into the kitchen and whip up a batch of Cheshire Cat Tails! They're sure to make you grin!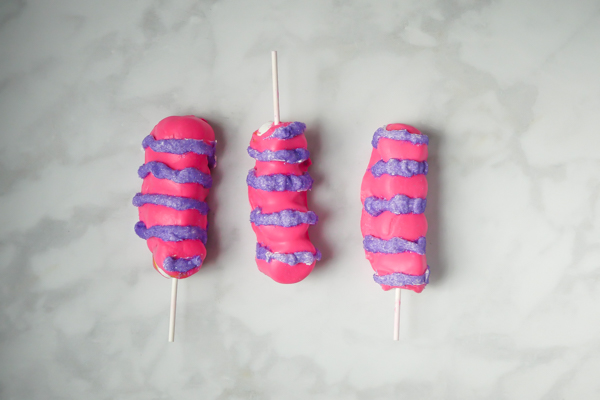 Print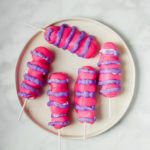 Cheshire Cat Tails
Author:

Yield:

6

Cheshire Cat Tails

1

x
---
Description
These ooey-gooey marshmallow wands found at the Candy Palace at the Disneyland Resort are more than meets the eye! Sweet, buttery caramel covers a marshmallow wand while the whole treat get covered in strawberry flavored pink white chocolate and topped with purple sanding sugar stripes… just like the Cheshire Cat's tail. A Disneyland-inspired treat.
---
---
Instructions
Place four marshmallows, round side facing out, on each lollipop stick. Set aside.
Place a sheet of parchment on a sheet pan. Butter it lightly and set aside.
Unwrap all the caramels and add to a small saucepan. Pour water in and heat over medium-low heat.
Stir constantly until everything has melted and caramels are smooth (about 7-8 minutes).
Once melted (caramels should drip in a ribbon from a spoon back into the pan), dip each wand into the caramel, turning quickly to coat. Let excess caramel drip off for at least 30 seconds, turning while it drips for even coating, and then place on the buttered parchment.
When all the wands have been dipped, refrigerate for thirty minutes.
About 15 minutes to wands coming out of refrigerator, set up your sanding sugar station by setting out an empty wide, shallow bowl and another bowl with sanding sugar in it.
Remove wands from the refrigerator. Then, in a double boiler, combine pink candy melts, strawberry flavoring, and coconut oil (this can alternatively be melted in the microwave as well. Please see notes below.). Melt over medium heat, stirring constantly until smooth. Do not let the temperature go above 110°f (you might want to use a candy thermometer if you're unsure).
Once smooth, dip caramel covered marshmallow wands in the chocolate, turning evenly to coat and fill in any gaps. Let the pink chocolate drip back into pan and lightly scrape one side on the edge of pan to remove any additional excess. Place back on buttered parchment. Repeat for all wands and let coating dry about 30 minutes.
Next, melt the white chocolate (you can melt in a heavy duty piping bag as well), and create stripes on the first marshmallow wand, and immediately pour the purple sanding sugar over the stripes, letting excess catch in the empty bowl. You can press the wand lightly into sugar if you'd like a more thicker coating (I was fine with the lighter stripes). Set aside. Repeat with additional wands. If sanding sugar adheres to the pink coating, use a small brush to brush crystals away after fully dried. Then enjoy!
---
Notes
Melted caramel is HOT! Use caution in the kitchen. Do not dip your fingers or hands into the caramel has it can adhere to skin and burn you. Keep away from children.
Use hot water to remove caramel from pans and utensils.
If you wish to microwave your candy melts, combine them with strawberry flavoring, and coconut oil in a microwave safe bowl, and heat for 30 seconds on half power, stir, and continue to microwave in about 15-20 second increments until smooth.
If you have extra melted caramel that has dried around your wand, use kitchen shears to remove it immediately after removing from the refrigerator.
Did your chocolate coating break when you first dipped your wand in? Wait for the chocolate to cool down more. It should drip freely from a spoon without it seizing when the spoon is shaken slightly (will cause crevices in the chocolate on the spoon). If it breaks on the wand, your wand also might be too cool, so let them warm up more. And don't worry, once that chocolate starts to firm up, you can dip it AGAIN into the chocolate to get a more even, although slightly thicker, coating.
Keywords: treat, marshmallow, Candy Palace, strawberry, caramel, white chocolate