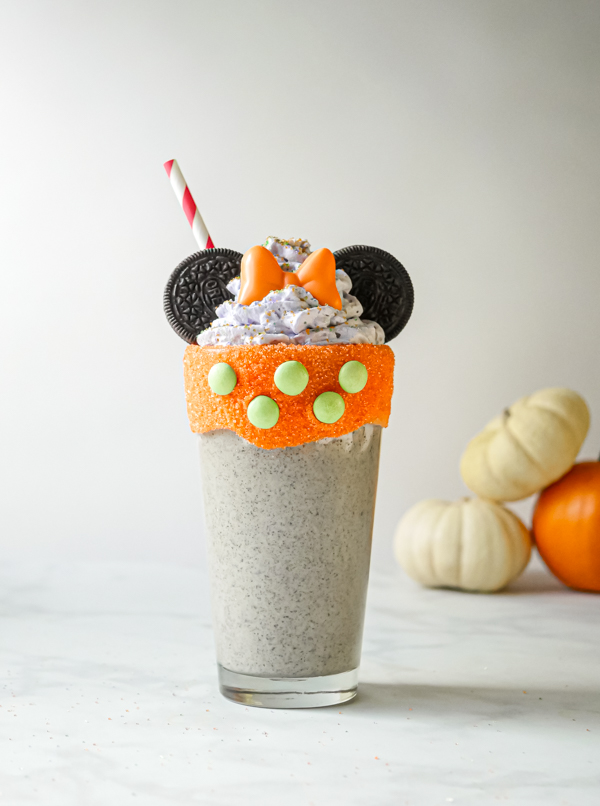 Where can I find the original treat?
The Minnie Witch Shake can be found at Schmoozies! in Disney's California Adventure Park.
A shake in October?! YES when you live in SoCal! One thing people don't realize is that here in Southern California, it's still hot in October, like, 85° hot. And so a spooky Minnie Mouse Witch Shake is definitely in order!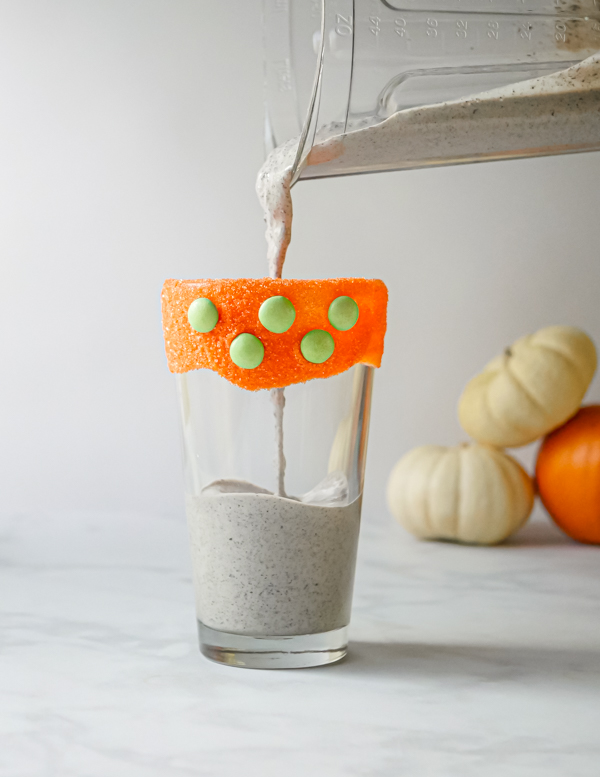 Mint chocolate chip is my favorite old school ice cream flavor (peanut butter cup is my favorite "new school" flavor in case you were interested), but we never have it at home since 1. My husband detests the combination of mint and chocolate together and 2. Mint oil now gives him a migraine. So I just don't keep it around, but when I see it out I most definitely order it.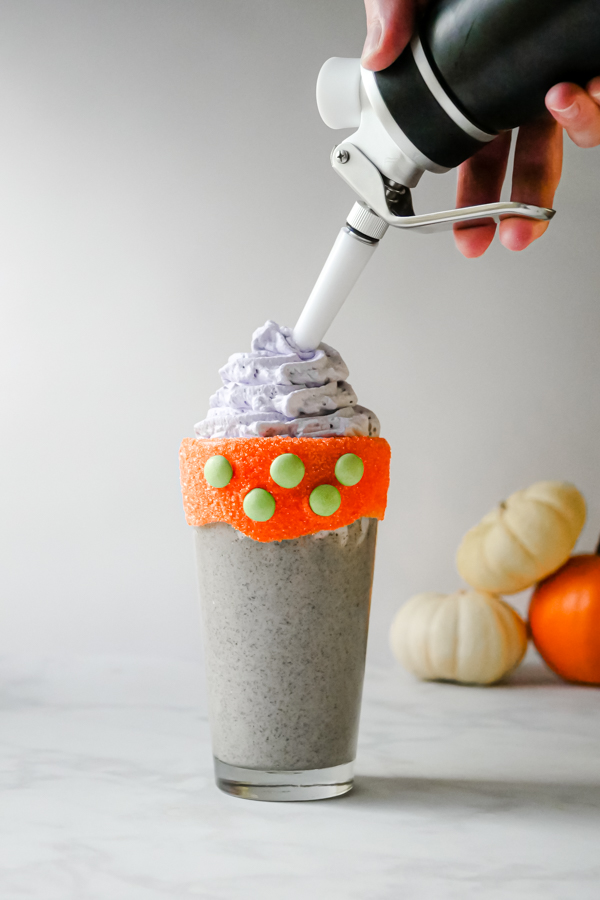 And this shake delivered! So, I had to sneak a pint of mint chocolate ice cream home to recreate this recipe for all of you. But first, let me explain a bit about the ingredients. First, as someone pointed out on IG, Disney calls this a mint chocolate chip shake, but the chocolate in mine was not snappy, like chips of chocolate, but rather soft, like cookies. So, for this recipe I've blended up mint chocolate chip ice cream and Oreos for that softer, chocolate cookie piece texture. Second, the whipped cream. Now, I don't know if it's the stabilizers in the whipped cream or what, but the whipped cream on the shake in the park had a marshmallow-like texture and wasn't super soft like regular whipped cream. Maybe like cool whip? Maybe, except it's been so long since I've had it I can't remember exactly what it's like. Anyways, I have a whip cream dispenser at home that I use so I'm making fresh whipped cream for my shake. However, whatever way you like your whipped cream you should use that!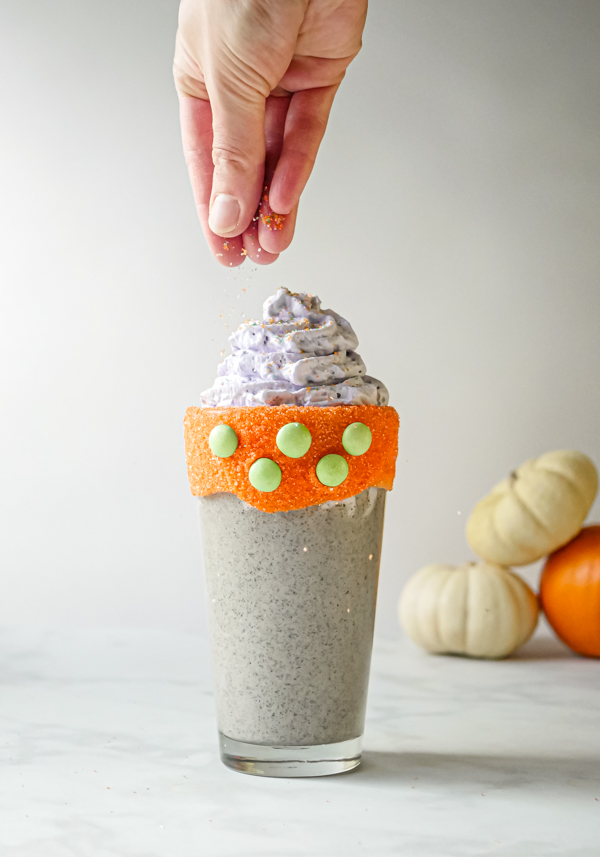 This recipe is for a single serve shake, but can very easily be expanded to as many shakes as you'd like to make (or made into a few tiny shakes for the kiddos!). I think the glass looks super cute with the orange sanding sugar and the green polka dots, but if you want to make this with less steps, I think you could leave out this part and be fine.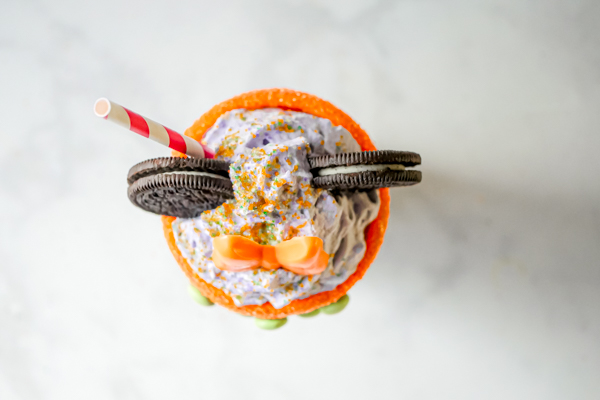 Also, if you are making this with/for kids, I'd use plastic cups and forgo the glass like I'm using in the photos. Kids can dip their cups in warm, not hot, melted chocolate and decorate with the sanding sugar and chocolate candies. I'd even let them pour their shakes and top with whipped cream and sprinkles. Adults can make the chocolate bows beforehand as you're handling hot chocolate and there's a risk of burns.
As usual, a few notes below the recipe, so please read through the whole thing first before making. Ok?! Let's start those blenders!!!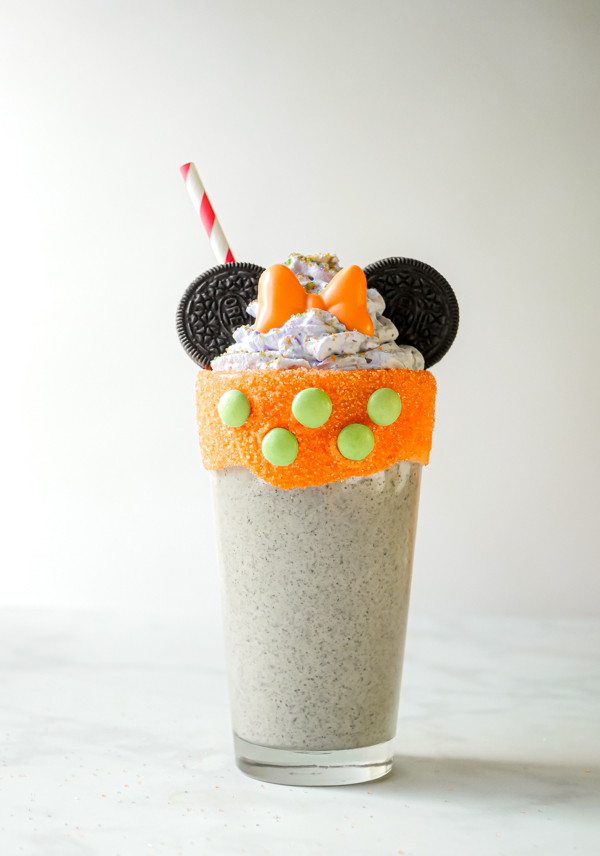 Print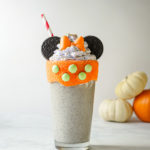 Minnie Witch Shake
Author:

Yield:

1

Minnie Witch Shake

1

x
---
Description
Cool off this Halloween with a minty Minnie Witch Shake! A Disneyland-inspired treat.
---
Mint Chip Cookies and Cream Shake:
3

, 2 ounce scoops mint chocolate chip ice cream

3

Oreo cookies, crushed

1/4 cup

milk, more or less to taste
Toppings and Decorations:
4 ounces

orange candy melts

1/2 cup

orange sanding sugar

5

green M&Ms candies
orange, green, and purple sanding sugar mix (this can be pre-packaged if you find it, or mix together yourself)
whipped cream (or 1 cup heavy cream, 1 teaspoon each vanilla extract and simple syrup or liquid sweetener of your choice with directions below for making from scratch)

2

Oreo cookies
Special Tools:
---
Instructions
For the shake:
In a blender, combine the mint ice cream, crushed cookies, and milk. Blend until smooth. Set aside.
For the glass decoration and chocolate bow:
Pour the orange sanding sugar into a wide, shallow bowl. Set aside.
Melt the orange candy melts in a microwave safe bowl, like glass. Microwave for 30 seconds. Stir and microwave again for an additional 30 seconds. Keep stirring and microwaving in short bursts of 15-20 seconds until melted and smooth. Use can alternatively use a double boiler for melting.
Dip and coat the outer rim of a glass with the melted candy melts. Then dip in the orange sanding sugar, turning to coat the entire outside rim.
Then, pour some of the melted orange candy melts in your bow mold(s). Let set at least 10 minutes in the refrigerator.
Remove the bow from the mold when hardened and set aside. Repeat molding for additional bows.
To make the purple whipped cream:
If using ready made whipped cream: Spray whipped cream into a small bowl and using a toothpick, add a drop of purple food coloring. Mix and set aside.
If using a whipped cream canister: Add heavy cream, vanilla extract, simple syrup, and one drop of purple food coloring to a chilled whipped cream canister. Add N2O cartridge and twist to activate. Shake the container for a few seconds and set aside.
If making whipped cream with a mixer: Add heavy cream and one drop of purple food coloring to a chilled mixing bowl. Mix until medium peaks form. Set aside.
Assembly:
In the prepared glass, pour in the mint shake mixture. (Any extra set aside to top off later!)
Spoon or spray prepared whipped cream on top.
Sprinkle with orange, green, and purple sanding sugar mix.
Place the bow and the Oreo "ears" on top of whipped cream. Enjoy with a fun straw!
---
Notes
Glasses can be prepared up to a week ahead and stored in the refrigerator.
Bows can be prepared up to three days and stored in refrigerator.
If dairy is not your thing, try a dairy alternative ice cream and "milk"! You can also make the whipped cream with cream of coconut but be prepared for a less stiff cream on top.
If your ice cream is too soft, use less milk, and alternatively, if your ice cream is pretty hard, use a splash more milk.
You can pre-mix your own sprinkles for future baking projects. There are a lot of bulk options on Amazon for sprinkles and sanding sugars (check out our Favorite Supplies list for some examples!).
Keywords: treat, character treat, Minnie Mouse, mint, chocolate, whipped cream, sprinkles