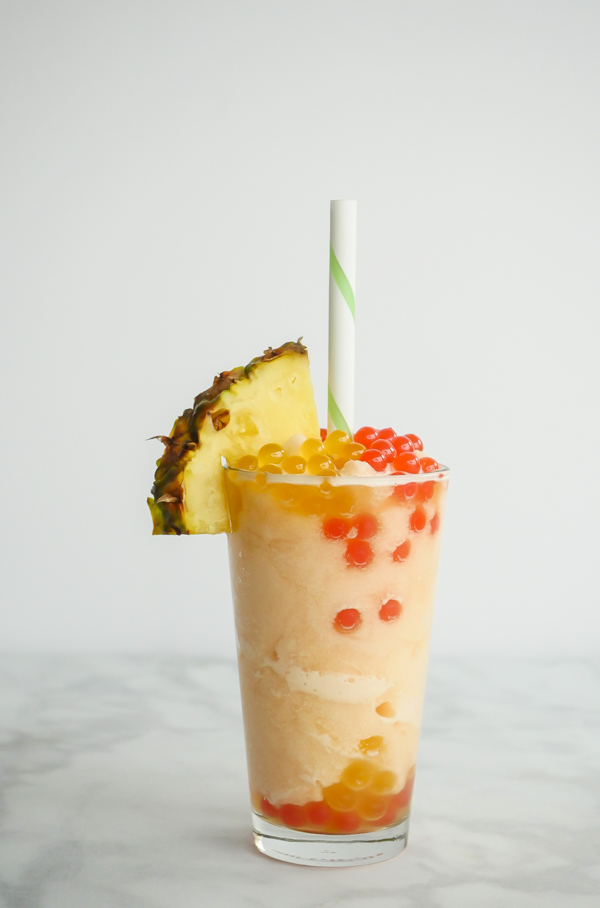 This beverage was part of the "Get Your Ears On" celebration at Disneyland Resort found at the Bengal Barbecue.
Part drink, part frozen treat, part molecular gastronomy wonder, the Piranha Lemonade Slushy was one of the more popular drink items during the "Get Your Ears On" celebration at the Disneyland Resort. Part of the fun of drinking this was the pomegranate and lychee "popping pearls" that were found on top…and you can actually make those at home!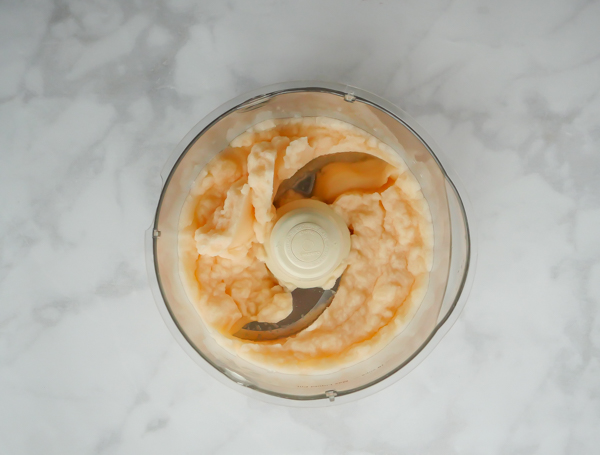 But I'm not going to lie here, it might not be that easy for someone to casually make these. In fact, this post had to keep getting pushed back for more and more R&D as I worked out a few ways you could make these. In the end, I also found out that the popping pearls can be bought on Amazon. And really, unless you really want to try some culinary experiments at home, you should probably just pick up a pack. But for those of you who'd like to try your hand at this cool way to turn a liquid into a jelly sphere… keep reading!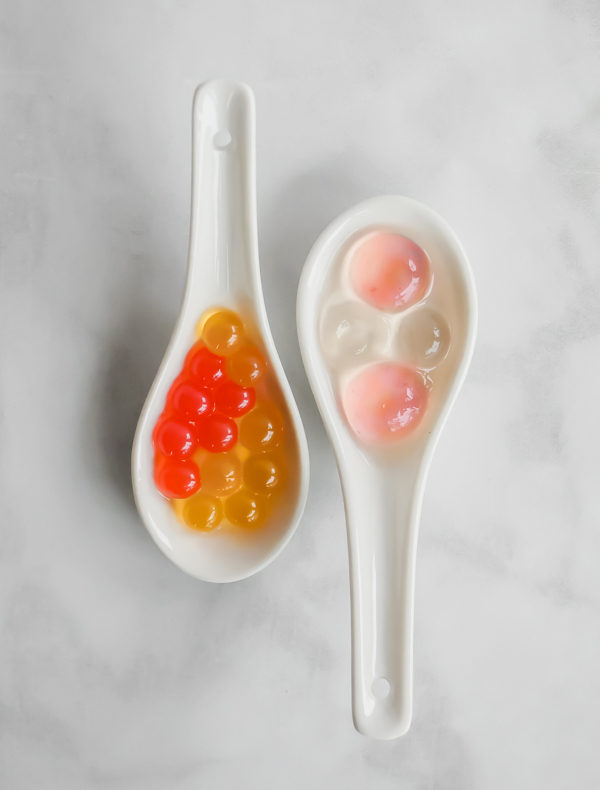 Molecular Gastronomy, which combines science and the culinary arts, has been popular for quite a long time and I'm not surprised to see Disney experimenting with this fun way to "play" with your food. Now, they might not be doing too much experimenting, and chances are they're buying these little guys in bulk (which would be waaaaay more cost and time effective). But that doesn't mean you have to.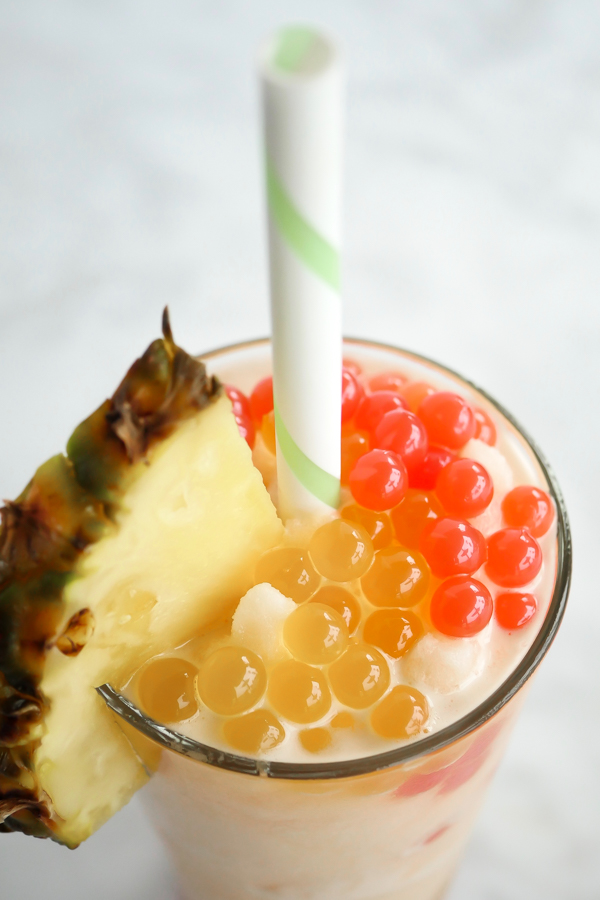 Now, if you are interested, you will need three things that you might not own in your kitchen: a scale that can measure grams, calcium lactate gluconate, and sodium alginate. And don't worry, Amazon has all of these (and I've listed them all in the recipe below)! In fact, there are a few companies that offer kits for creating these popping pearls, otherwise known as spherification or reverse spherification. I prefer to use the frozen reverse spherification method as I find this more forgiving when making the popping pearls.
Initially I was going to suggest using reverse spherification because that is the technique I learned to use years ago when I was working with chefs doing this. However, in a home environment, I now, after running through this many times over the past couple of weeks, suggest the frozen method. It's simply way easier to get a sphere to form.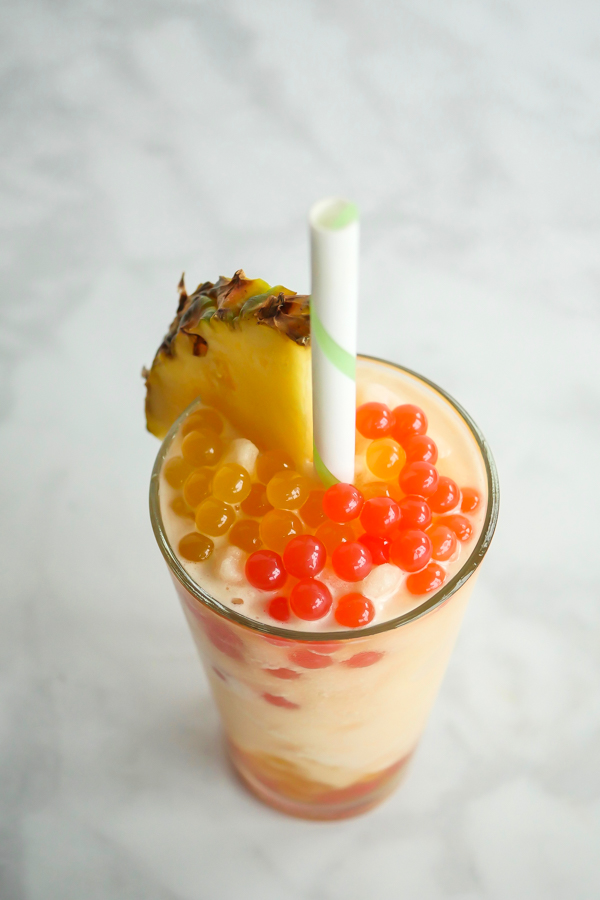 Since these techniques are quite detailed I'm linking out to the sites whose products and instructions I used so that you can see the breakdown of how they suggest forming the spheres. Also, I HIGHLY suggest that you watch a few videos online on technique. For example, instructions will tell you to swirl the spherification bath after you drop in your liquid. But if you don't start swirling that water immediately, it's going to stick to the bottom of your pan. So, just watch the steps a few times before you proceed.
Another option, if you don't want to buy the popping pearls, and you don't want to make your own spheres, is to partially freeze the syrups so that they form balls, but don't freeze all the way, so they sort of break open, but don't pop. You can use the sphere ice cube tray listed below to freeze the spheres for the spherification process, or to just freeze them.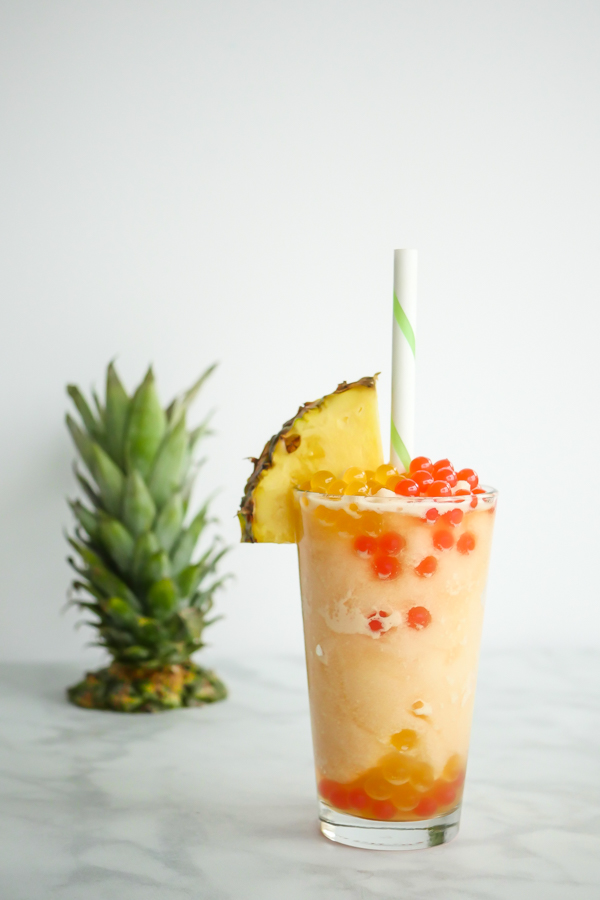 OH and hey! There's also a slushy here too that all these popping pearls are sitting on top of! Well, my local grocery store sells a mango lemonade that I added fresh pineapple juice into and that worked out great. This was in lieu of using a separate mango juice and making lemonade from scratch. It's all up to you whether you'd prefer to make it all fresh, some fresh, or all store-bought. Just use what tastes good to you and it will taste good in the end.
Print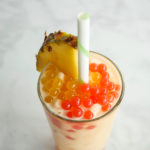 Piranha Lemonade Slushy
Author:

Yield:

2

lemonades

1

x
---
Description
A tropical blend of mango and pineapple lemonade slushy with lychee and pomegranate popping pearls. A Disneyland-inspired treat from the "Get Your Ears On" celebration.
---
For the slushy:
For the popping pearls:
OR
Pineapple wedge for garnish
Specialty Tools:
---
Instructions
For the slushy:
First pour 2 cups of the mango lemonade and 1/2 cup of the pineapple juice into a gallon sized freezer bag. Lay flat and freeze at least 6 hours until solid.
When frozen, use a rolling pin to break up into smaller frozen chunks. Add to a blender or food processor. Pour in remaining mango lemonade and pineapple juice. Blend to desired consistency. Set aside.
For the popping pearls:
If you are making the pearls using the reverse spherification method, follow all the directions for that on the ChefSteps site below.Otherwise proceed to next step.
Assembly:
Add some popping pearls to the bottom of two pint glasses.
Pour pineapple mango lemonade between two pint glasses.
Top with more popping pearls and garnish with a pineapple slice. Enjoy with a wide straw!
---
Notes
Distilled water is necessary here, as regular tap water will congeal when introduced to the Sphere Magic powder.
Let the spherification bath sit at least a few hours for the Sphere Magic to get absorbed and for all the air bubbles to disappear. 
Swirling the spherification bath immediately after dispersing the calcium lactate gluconate infused syrups will prevent the sphere from sticking to the bottom of the pan.
I prefer a food processor to blend my frozen drinks now. Pulsing will make the ice fluffier and more of a "slushy" consistency than a standard blender.
Regular sized straws will be too narrow to suck up popping pearls. Use a wide straw or boba straw.