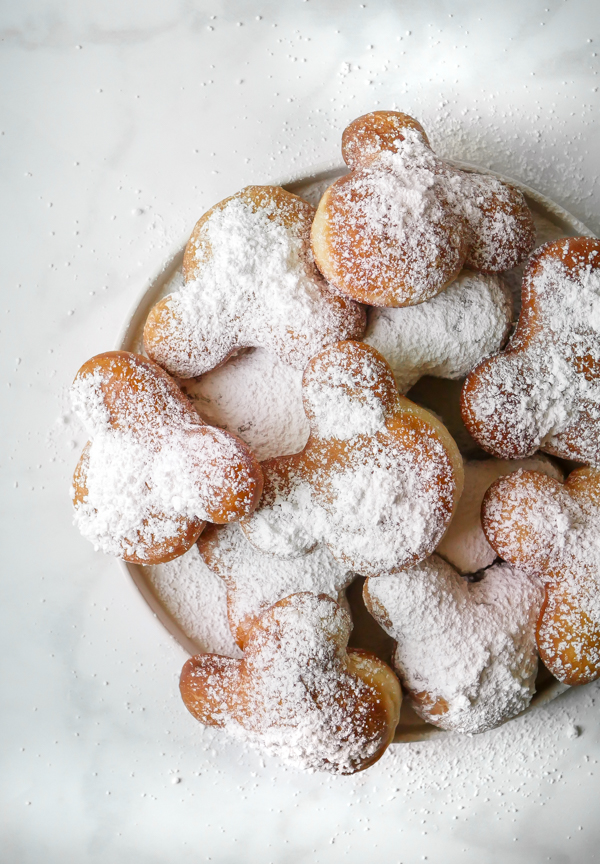 Find these butterscotch beignets at the Mint Julep Bar in New Orleans Square.
We're continuing our series of favorites from the "Get Your Ears On" celebration from Disneyland with these fluffy, melt-in-your-mouth, butterscotch beignets. These actually *might* be our favorite flavor of beignets, even more so than the original version. And lucky us! Even though these appeared as part of the "Get Your Ears On" celebration, they are still being served at the Mint Julep bar… we just don't know until when!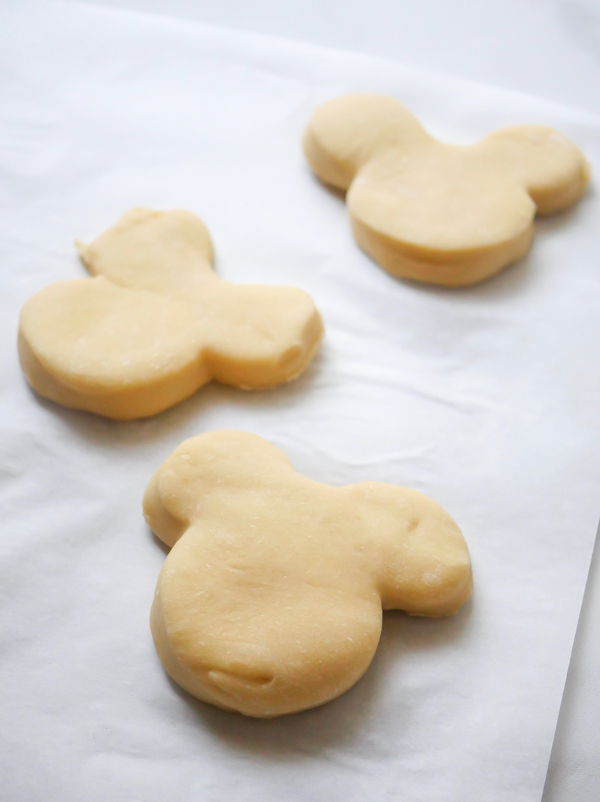 Since these could go away at any moment, the recipe had to be cracked ASAP. And recipe test we did! The secret to that butterscotch flavor is in the topping, not the actual beignet. At the park, the beignet itself tasted no different than an original one, it was the flavored sugar that imparted that buttery sweet butterscotch flavor. But how to do it?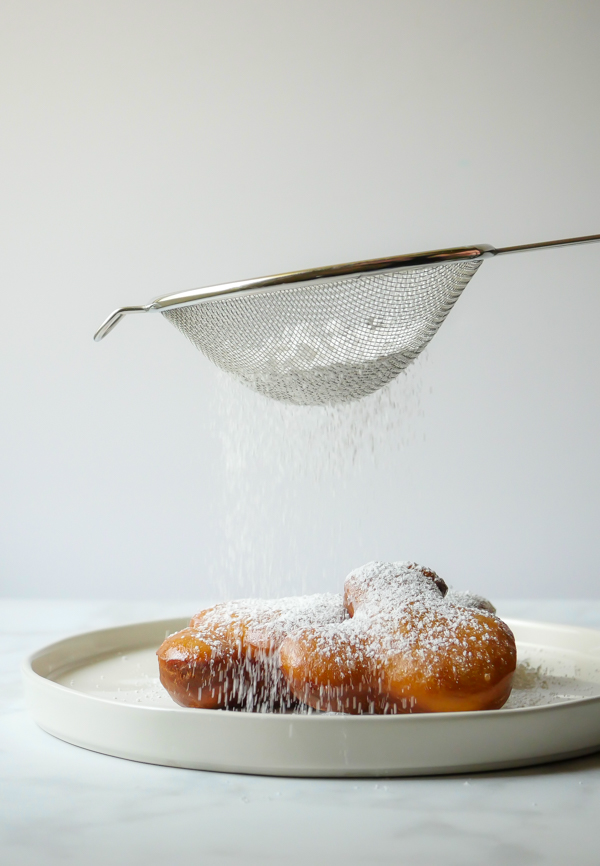 We tried a few methods: first, trying to flavor the powdered sugar. But, when you add a liquid to powdered sugar, it melts. So the next step was to coat the beignets with butterscotch syrup and then coat with powdered sugar. This definitely added a little flavor to the beignets, but not as strong as what we wanted. So lastly, we made a butterscotch powder using blitzed butterscotch candies. And there we seemed to get the right flavor. Now, I doubt they are crushing hard candies at the parks to get that flavor, and after doing some additional research, I've found you can purchase a butterscotch flavoring powder, so if you're so obsessed with these and you want to make them every week, maybe you should check that out.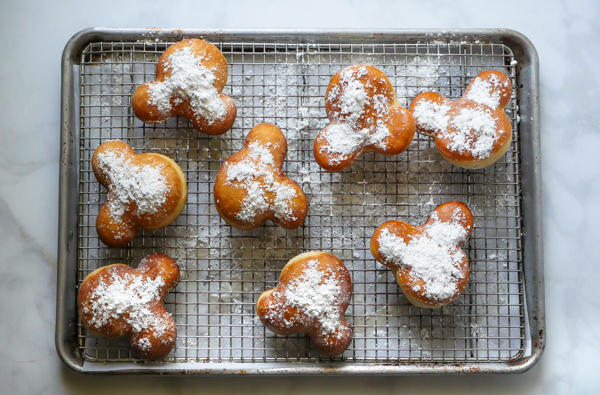 Timing of applying the butterscotch powder here is crucial. Applying too late after they've cooled and the butterscotch powder along with powdered sugar just slides off the beignets and doesn't really coat. Apply it too soon and it melts the butterscotch powder and hardens it back into a crunchy state (my husband actually really liked getting some crunchy bits in his so you might too). The key here to getting an even coating is to let the beignet rest a few minutes after it comes out of the oil, coat a little with butterscotch syrup and then dust with the butterscotch powder and powdered sugar.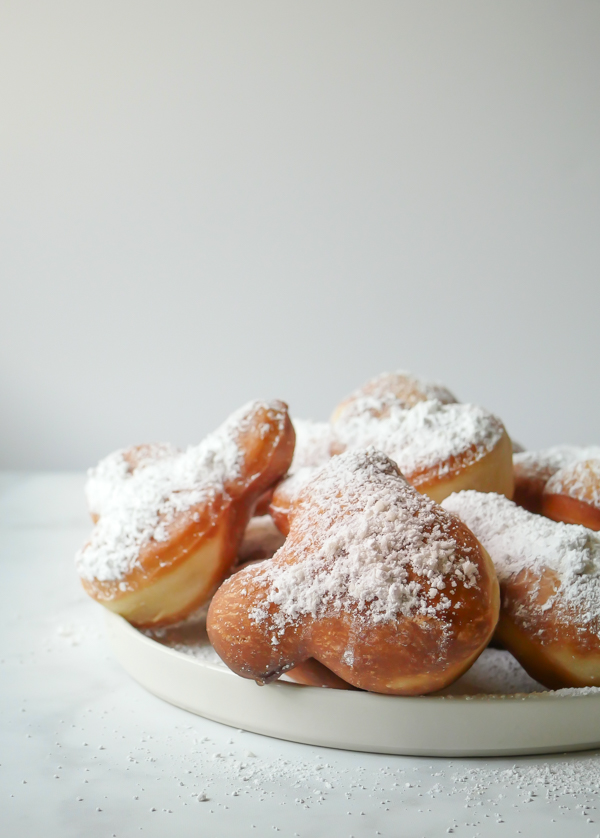 Ok, we've got the topping, but what about the actual beignet part? Well, this dough is a beauty to work with. It requires very little kneading (and if you've got a dough hook at home then all the kneading will be done in the machine for you), and it produces a shiny, smooth, easy to roll out dough. I barely needed flour to roll it out! What it does require is time. Since this is a yeasted dough, it needs to sit in total for a few hours, or overnight if you decided to make these in the evening and fry off in the morning. But if you need to have them that day, the nice thing is it is just only a few hours of waiting.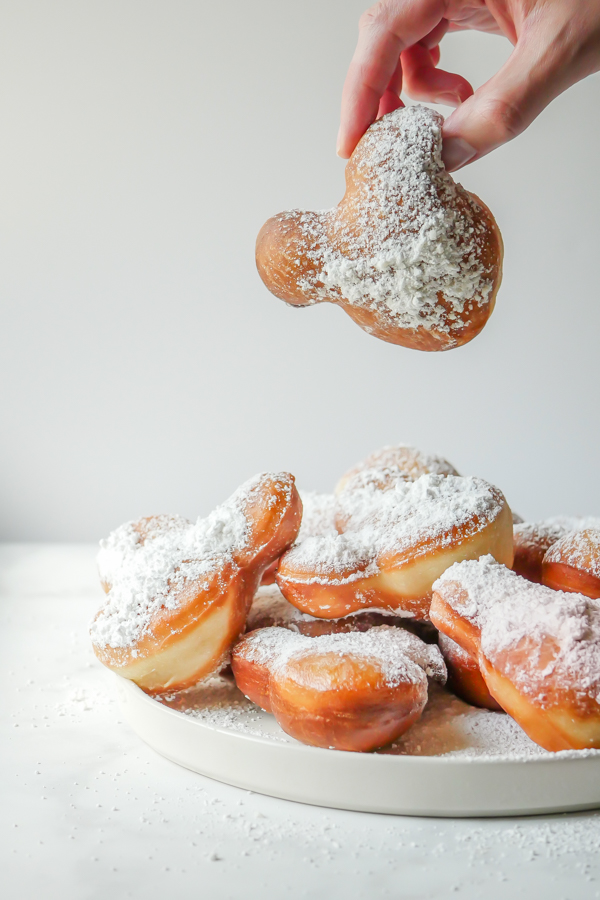 Now, let's say a few things about deep frying at home. First, it's super easy as long as you have a few tools to help you (and I'll list them in the recipe below). Second, none of the tools are fancy or expensive and you don't need some sort of special frying machine. Lastly, you don't need to be outside or in a specially ventilated area. If you don't like the smell, open some windows, light a kitchen candle, and immediately deal with your oil as soon as it is cool enough to touch. Tip, you don't need to toss out the oil after one doughnut frying session either. I bought a half gallon of avocado oil (it does well at high temps) and kept the container it came in. Once my oil was room temp, I strained it back into the bottle, sealed it, and used it again the next day for another batch of recipe testing. The number one rule though with working with hot oil: be safe and be aware! Wear an apron, closed toe shoes, and get a glove out if you're afraid of oil splatters.
OK! That's all my tips and notes for this yummy treat. If you've always wanted to enjoy those Mickey Mouse beignets, but were nowhere near the park that day, I highly encourage you to try this at home.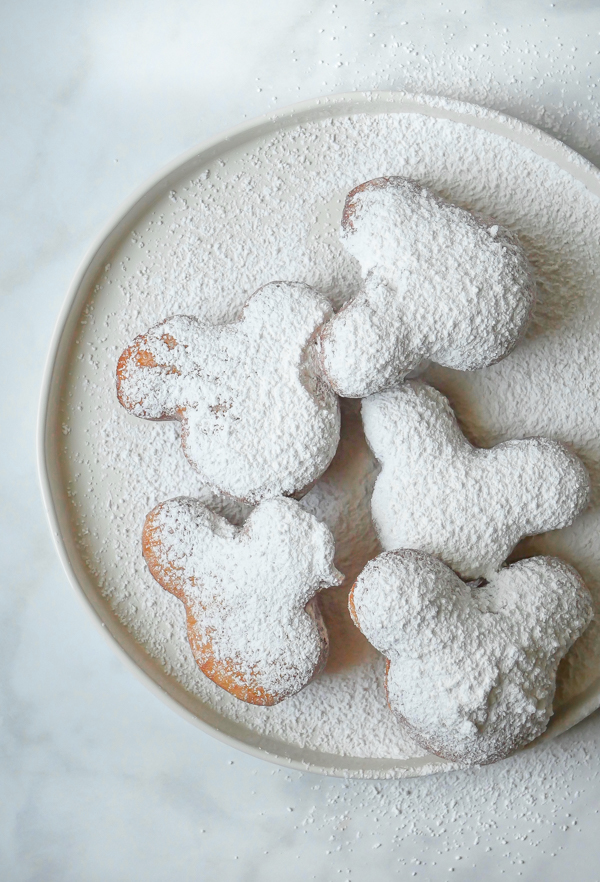 Print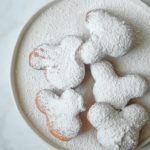 Mickey Mouse Butterscotch Beignets
Author:

Yield:

15

Mickey Mouse shaped beignets

1

x
---
Description
Sweet, buttery, melt-in-your-mouth Mickey Mouse butterscotch beignets. Part of the "Get Your Ears On" celebration at Disneyland. Adapted from the Disney Parks Blog.
---
1/4 cup

warm water (105º)

1/4 cup

sugar

2 tablespoons

vegetable shortening (I used refined coconut oil)

1/2 teaspoon

salt

1/2 cup

heavy cream

1

egg

4 cups

all-purpose flour

1/2 cup

boiling water
Vegetable oil for frying, like avocado

3/4 cup

butterscotch syrup
Powdered sugar
Specialty Tools:
---
Instructions
For the butterscotch powder:
First, break up the butterscotch candies in a ziplock bag using a rolling pin or rubber mallet. You do not need to fully crush them, just break them into small pieces.
Next, transfer to a food processor or spice grinder. Pulse until candies are a find powder. Set aside.
For the beignets:
Sprinkle yeast over warm water in a small bowl, gently stirring to dissolve. Let stand for 5 minutes.
Combine sugar, shortening, salt, heavy cream, egg, flour and boiling water in a large bowl. Mix until everything is just combined and then stir in yeast mixture. With the dough hook attachment of an electric mixer on medium speed, mix the dough just until combined and smooth. About 3-4 minutes. Let dough rest for 30 minutes in the bowl.
Flour your surface and roll to 1/4-inch thickness. Using the Mickey Mouse cutter, cut dough pieces, twisting slightly, and carefully removing dough from around cutter before releasing. You may have to combine dough and roll out again to cut more shapes out. Cover with a towel and let dough rise until doubled in size in a warm, draft-free area, about 1-1/2 to 2 hours.
Pour enough oil into a deep-sided, heavy bottomed pot until it reaches 2 inches up sides; heat oil over medium heat to 370°F.

Add 2-3 beignets to oil; fry until golden brown on both sides, about a minute each, turning once.
Remove from hot oil with a slotted spoon and place on a baking sheet lined with paper towels.
Let cool about 5 minutes, coat with butterscotch syrup and then dust with butterscotch powder and then powdered sugar. Enjoy!
---
Notes
Dough may have to be recombined and rolled a second time if you have a lot of scraps
Wait for oil to come back to temperature before adding next batch of beignets to the pot
Let hot beignets rest 5 minutes, but no more than 30 minutes, before coating with syrup and powdered sugar
No dough hook attachment? Knead dough until smooth and shiny, about 5-8 minutes and then proceed with the recipe
Want to make these at night for the next morning? After cutting Mickey Mouse shapes out. Transfer to a baking sheet and let rest, covered with a towel, in the refrigerator overnight. Let come to room temperature before frying in the morning
Strain your oil after it reaches room temperature. It can be used again!
Keywords: Mickey Mouse, beignets, butterscotch, treat, doughnuts