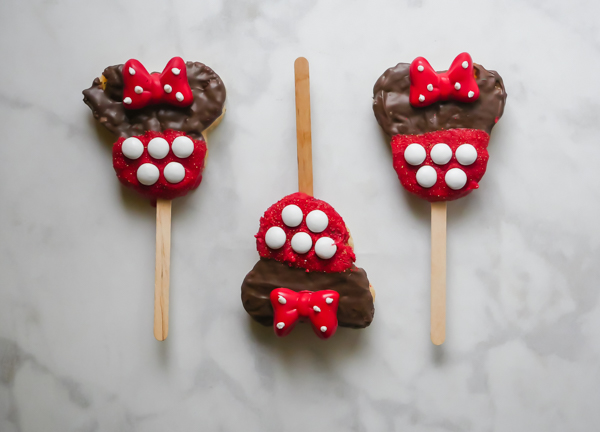 Where can I find the original treat?
These treats can be found at the Candy Palace on Main Street in Disneyland.
Since we covered Mickey Mouse doughnuts last week, I figured it was definitely time to give Minnie Mouse a turn. If you're looking for a nostalgic treat, these Minnie Mouse Rice Krispie Treat Pops fit the bill!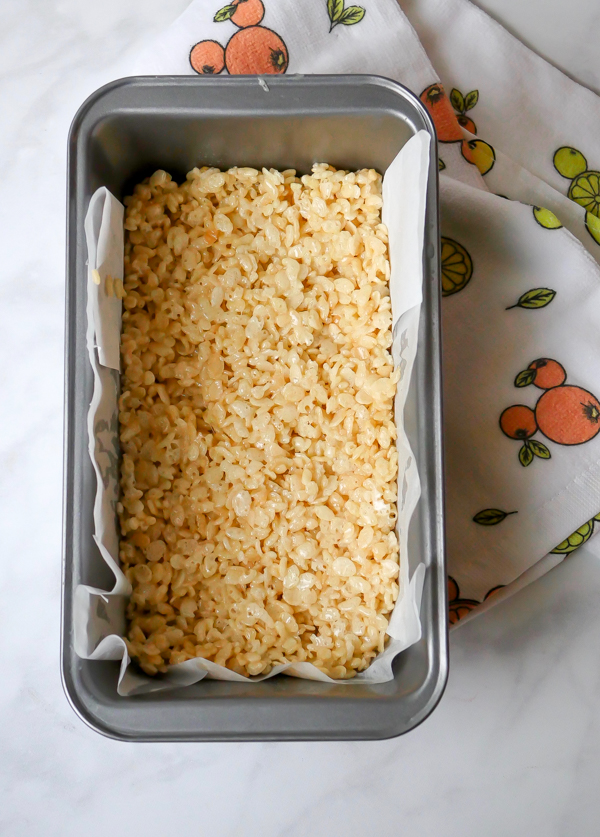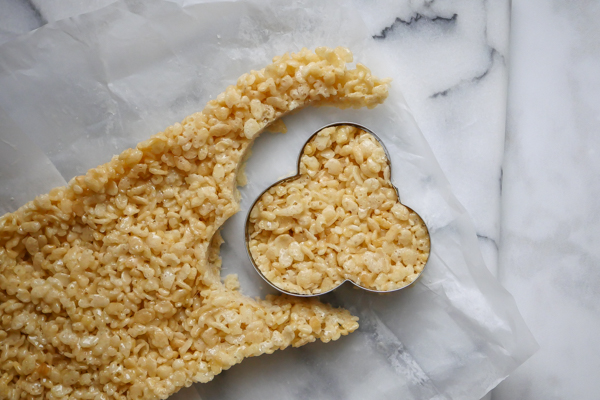 Chewy, Minnie Mouse shaped rice krispie pops are dipped into red and light cocoa candy melts and decorated with red sprinkles, white buttons, and Minnie's signature red bow. The trick to getting that chewiness is with the butter; don't skimp on it or the rice krispie treats will turn rock hard. Still edible, but rock hard.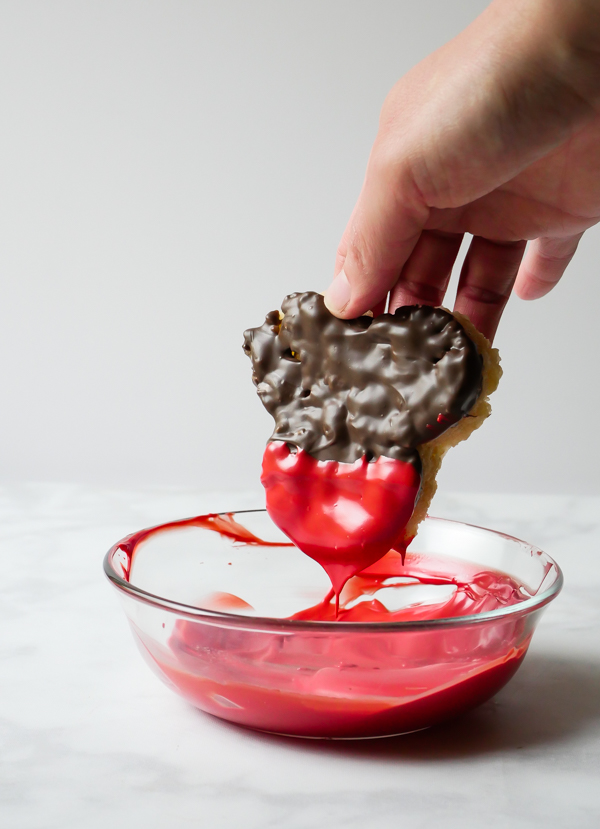 Also, try not to use too large of a sauce pan to melt the marshmallows in. If there's too much space once you add in the cereal, what happens is the marshmallows have too much space to move around in, and will start to dry out and form strings, making it harder to mix together. I used the red candy melts to also make the bows in addition to the dipped lower half. If you are more advanced with your chocolate, go ahead and use high quality white chocolate here with red food dye and temper.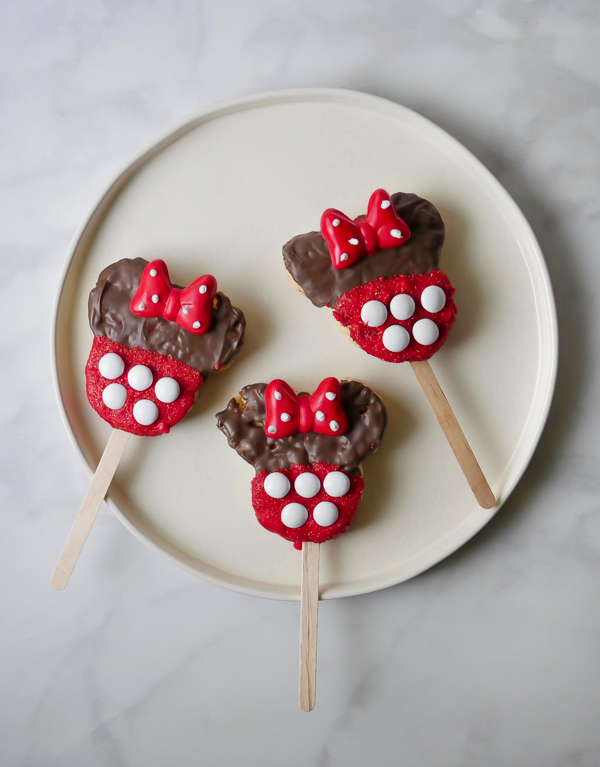 There are lots of variations of these rice krispie treats throughout the parks. If you have a favorite one, let us know in the comments below, or shoot us an email at hello@magicaltreatsathome.com and we'll add it to our list of treats to make.

With this post, I've also started to note which recipes kids can participate. A big reason for starting this site, apart from having Disneyland treats whenever I want them, was to get my kids more involved with baking and cooking projects at home. I started helping in the kitchen at an early age (maybe four?), and that helped cement a life long love of creating with food. Many people find baking intimidating because they did not do it at home, or had parents who didn't do it or let them help, and because baking is, well, more specific, it can seem daunting. So, if you're a little uneasy with the idea of baking, these kid friendly recipes are a great place to start!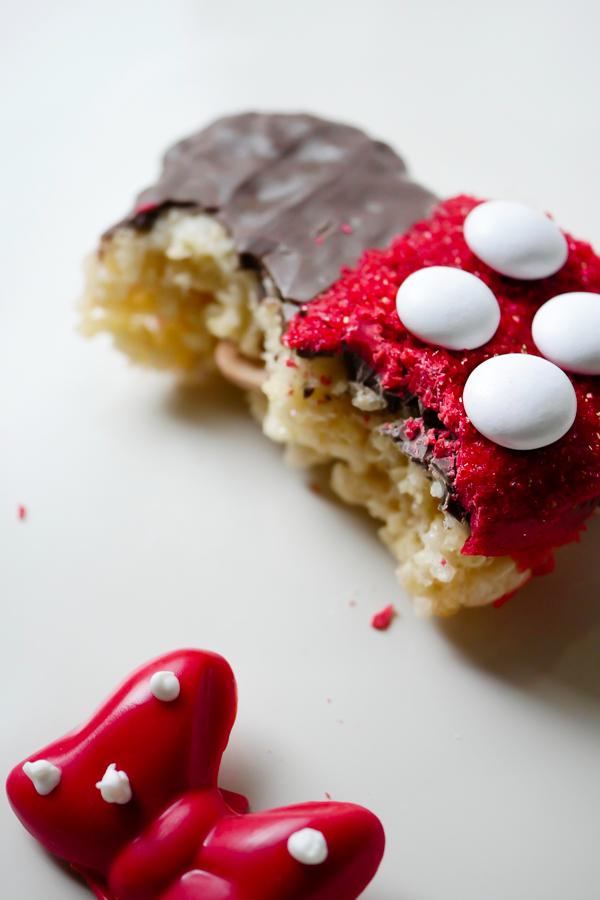 Kid Friendly tips:
Older kids can complete this recipe from start to finish. Have an adult supervise when using the stove.
Elementary age kids can help cut out shapes, dip in chocolate, and put on the sprinkles and decorations.
Very young kids can help sprinkle on the sanding sugar. Sprinkling on decorations is always a good task for the very little ones! (If the sanding sugar on these looks a bit uneven that's because my two year old helped me with that!)
Print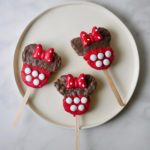 Minnie Mouse Rice Krispie Treat Pops
Author:

Yield:

3 Minnie Mouse Pops
---
Description
Crispy, chewy, chocolatey Minnie Mouse shaped rice krispie treat pops. A Disneyland-inspired treat.
---
---
Instructions
For the rice krispie treat:
Before beginning, line a 9″ bread loaf pan with parchment.
Combine the butter and marshmallows in a small sauce pan over medium heat. Stir constantly until marshmallows have melted and mixture is smooth.
Immediately dump in the crisped rice cereal and mix to combine.
Pour into the prepared loaf pan and gently press mixture into place with a rubber spatula. Set aside for at least an hour in the refrigerator so that the mixture can firm up enough to cut shapes.
Once firm, use parchment to lift out rice krispie treats. Use a Minnie Mouse shaped cutter to cut out shapes and set aside.
To decorate:
First, melt the light cocoa candy melts in the microwave inside a microwave safe bowl, like glass, for 30 seconds. Stir and microwave again for an additional 30 seconds. Keep stirring and microwaving in short bursts of 15-20 seconds until melted and smooth. Use can alternatively use a double boiler for melting.
Once melted, dip top half of Minnie ears into the light cocoa. Set aside on parchment. Repeat for all treats.
Using the method above, melt the red candy melts. Dip the lower half of the Minnie Mouse treat, letting any excess drip off. Immediately sprinkle with red sanding sugar and press 5 white M&Ms into the sanding sugar. Set aside.
Make the bows by melting the remaining red candy melts using the method above. Pour into bow molds and set aside for 15 minutes.
Melt the white candy melts in a microwave safe piping bag using the method above but kneading instead of stirring.
Gently pop out bows and pipe small white polkadots on them. Set aside.
Pipe a small amount of the white candy melts onto the center head part of the rice krispie and press the bow to "glue" on.
Let everything stand for about 30 minutes and then enjoy!
---
Notes
The chocolate will be smoother if you use the flat side as opposed to the bumpy rice krispie side.
You can combine some extra rice krispie treat scraps into the mold to shape a third Minnie Mouse if you could not cleanly cut out 3 from your batch.
Treats can be kept in an air-tight container for up to 3 days.
Keywords: chocolate, rice krispies, Minnie Mouse, crispy treat, rice crispies, treat