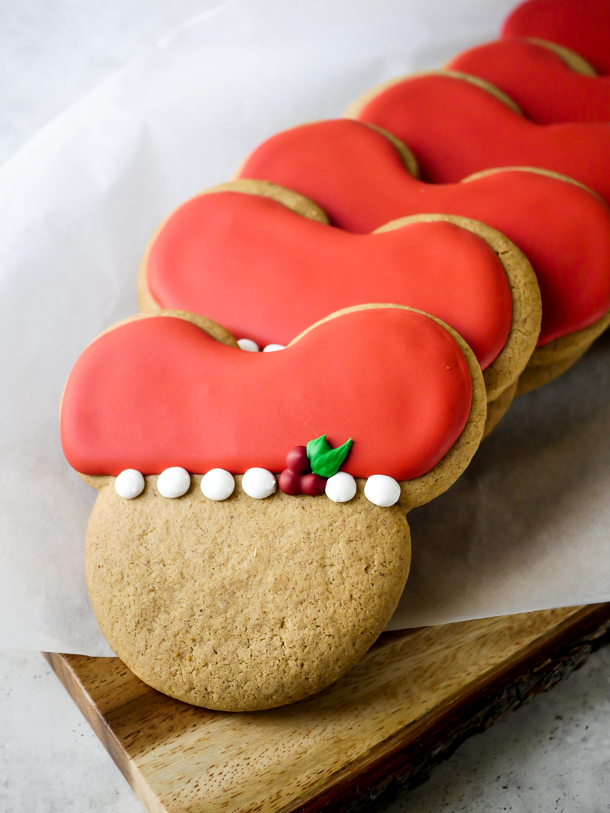 Where can I find the original treat?
This holiday treat was found a Marceline's and Trolley Treats at the Disneyland resort.
It's that wonderful time of year where it's totally acceptable to bake dozens upon dozens of cookies in one weekend: holiday cookie season. And I've been doing just that but with one goal: to perfect the light colored gingerbread cookie found at Disneyland this year. And you know what? I think I did it!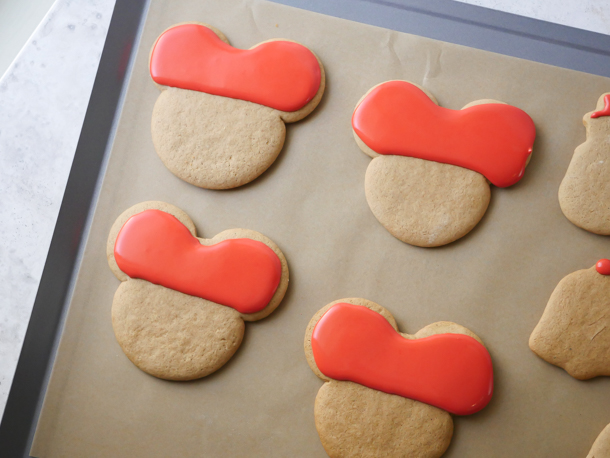 The secret to light gingerbread? Brown rice syrup, or honey, instead of molasses. You still get some molasses in the brown sugar, but it doesn't overwhelm the whole cookie like the more traditional darker versions. I found this technique on Leite's Culinaria and it was such an "AH-HA" moment! This has also been a game changer for my husband who gets food related migraines as molasses is a trigger and now he can have the cookies too.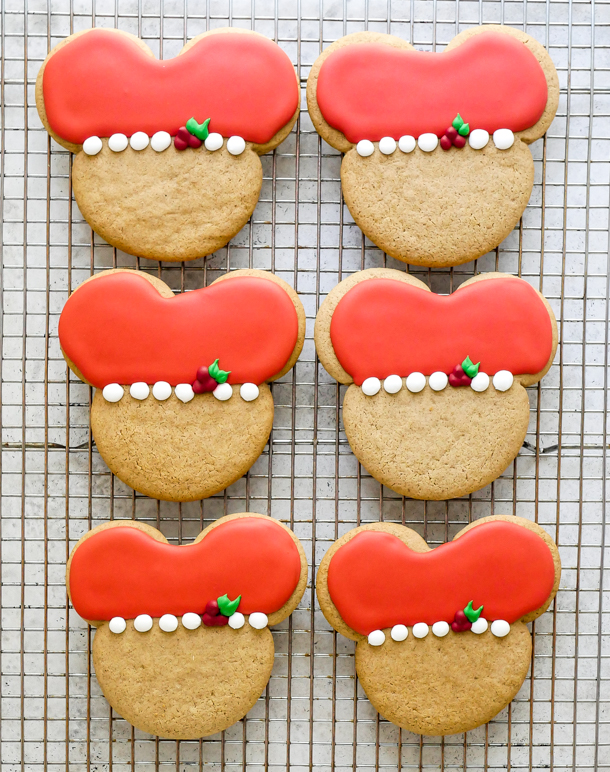 I've made a "half batch" of royal icing in the recipe below but to be honest, it still make a lot. The nice thing is with meringue powder instead of fresh egg whites, it's shelf stable and you can just put extra in air tight containers and store until you're ready to use again. The consistency turns out about halfway between a stiff piping icing and a flood so I found it great to use for most of the decorations on the cookie. I did pull some out and set aside for the holly decorations as I wanted them to hold their shape more. I've made notes in the recipe below about that.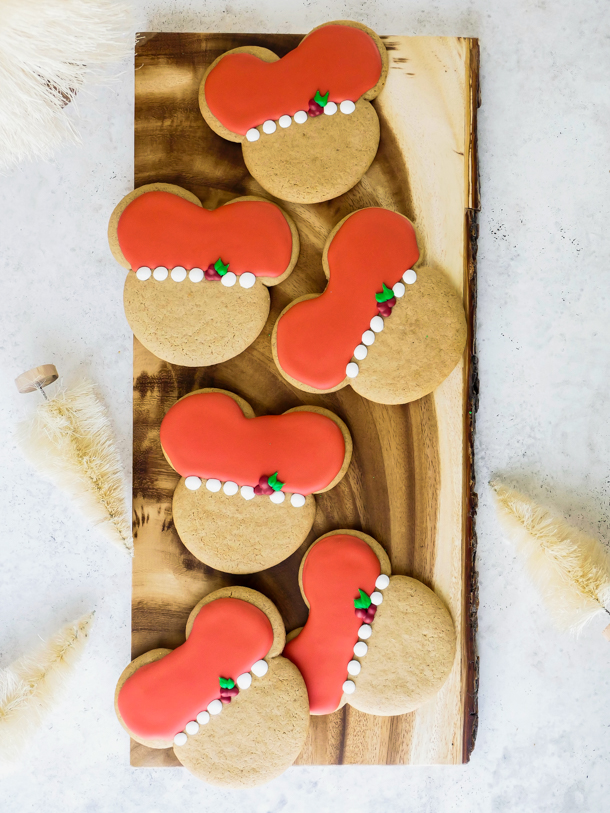 Kids can really get involved in all aspects of this recipe. From making the dough, to rolling, shaping, and even decorating. This is a fun, family friendly recipe, and getting everyone involved in a holiday activity is a big win for me.
These cookies felt very special for me this year as they really felt like there was a part of Disneyland at home with us. Holiday time there is just so special and it's been a real bummer not being able to go and experience that (and eat all the treats). Making SO many of these cookies (and gifting quite a few away to other friends who are missing Disneyland too) has felt like a gift and I hope you'll be able to make a batch and bring home the magic too.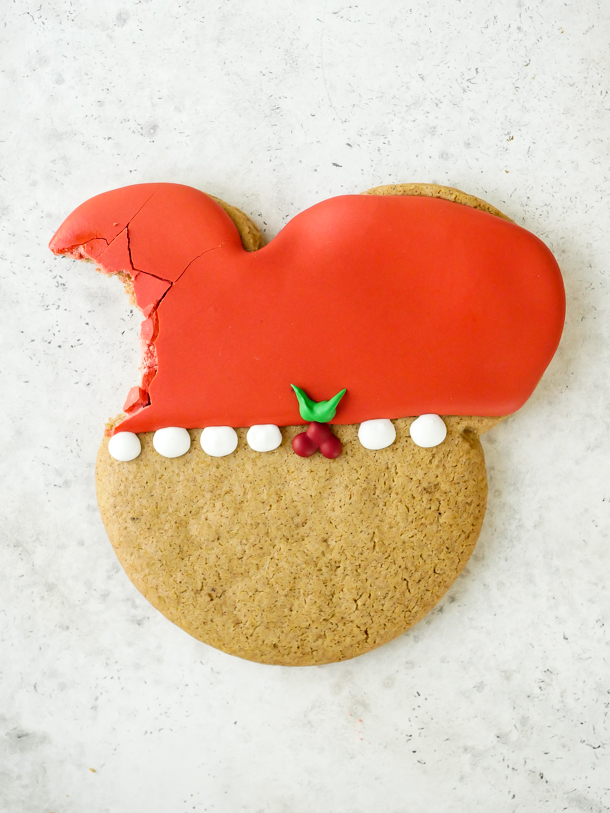 Ok, let's get baking!
Print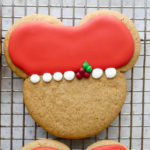 Mickey Mouse Holiday Gingerbread Cookie 2020
Author:

Yield:

15

–

18

Mickey Gingerbread Cookies

1

x

Category:

Baking

Cuisine:

Holiday
---
Description
Make your holiday cookie platter even more magical with an oversized Mickey Mouse shaped gingerbread cookie in holiday themed royal icing. A Disneyland-inspired treat.
---
For the gingerbread cookie:
8 tablespoons

unsalted butter

3/4 cup

light brown sugar, packed

1/2 cup

brown rice syrup or honey

1

egg, room temperature

1 teaspoon

vanilla extract

3

–

1/2

cups all purpose flour

1 teaspoon

baking soda

2 tablespoons

arrowroot powder or cornstarch

1 tablespoon

ground ginger

1 tablespoon

ground cinnamon

1/2 teaspoon

ground nutmeg

1/2 teaspoon

ground cloves

1/2 teaspoon

kosher salt
For the half batch royal icing:
255 g

powdered sugar

3 tablespoons

water

1 tablespoons

+

3/4 teaspoon

meringue powder

1/2 teaspoon

vanilla extract
red and green food coloring
Specialty Tools:
---
Instructions
For the cookies:
Beat the butter at high speed (10) until light and creamy, about 1 minute. Scrape down the sides of the bowl then add in brown sugar and brown rice syrup (or honey). Beat together until combined and creamy. Scrape down sides again.
Add in the egg and vanilla and continue to beat at high speed (10) until the mixture is light and fluffy, 1 to 2 minutes.
Next, add in flour, baking soda, arrowroot powder (or cornstarch), ginger, cinnamon, nutmeg, cloves, and salt. Beat together on medium-low speed (4) until combined and dough becomes stiff.
Divide the dough in half, and then transfer each half of the dough into two gallon size ziplock bags. Flatten out to fill the space of the bag with a rolling pin so that dough is evenly dispersed. Refrigerate at least 4 hours or overnight. Dough can also be frozen at this point to use later.
When ready to bake, preheat oven to 350°f. and cover two cookie sheets with parchment. Set aside.
Generously flour your counter and remove dough from the bag (I usually cut the sides to open the bag, flip the open side down towards the floured surface and peel the rest of the bag off the dough). Roll out to 1/4″ thickness (or leave as is if you'd like thicker cookies).
Cut out Mickey shapes from dough and place on parchment lined cookie sheet. Recombine the dough, flour your rolling pin and continue to cut shapes and recombine dough until finished. One bag of dough should fill one and a half to two cookie sheets.

Bake for 5 minutes, rotate sheet pans and bake an additional 5 minutes. If you'd like crispier cookies (or cookies that will withstand transportation), bake an additional 1 to 2 minutes.
Let cool in the pans and then transfer to a wire rack to fully cool before decorating.
For the royal icing and decorations:
Sift your powdered sugar first so that there are no lumps.
Combine the water, meringue powder, and vanilla extract in a large measuring cup and whisk until there are no longer any lumps or powder. Mixture will froth a bit.
Whisk the powdered sugar with the liquid until smooth. At this point the royal icing should hold its shape when dropped on itself. Set some aside, about a 1/4 of the mix, for the holly decorations by placing in a bowl and putting a damp, not wet, tea towel over the bowl so mix will not dry out.
Add a teaspoon more water to the mix and beat the icing again. The icing should smooth out after about 20 seconds. You do not want it too runny though or it will run off the cookie.
Once the desired consistency is achieved, remove about 1/4 of the mixture for the white dot decoration straight into a piping bag.
The rest of the royal icing will be for the red decoration. Add about a teaspoon of the red food coloring to the bowl and mix until desired color is achieved. Transfer to a large piping bag.
Next divide the icing for the holly decorations into two separate bowls. Add red food coloring to one bowl, mix, and then transfer to a piping bag. In the second bowl mix in green food coloring, and then transfer to a piping bag.
To decorate the cookies, on the top half of the cookies, outline and then flood with large red royal icing. Let dry until no longer shiny, then then pipe 6 white dots (4 to the left and 2 to the right leaving space for the holly) along the bottom edge of the red outline. Let dry. Then finally pipe the smaller red royal icing as 3 combined dots for the holly, followed by the green for the leaves on the holly.

Let the icing dry at least 8 hours or overnight before packaging, or eating. Enjoy!
---
Notes
If you'd like even lighter colored cookies, replace all of the brown sugar with white granulated sugar.
Letting the dough chill ensures the cookies won't spread and let's the spices infuse throughout the dough.
Arrowroot powder also ensures cookies will not spread or puff up too much. This ingredient is optional.
For softer cookies, add in two tablespoons of butter.
For crispier cookies, cook 1 – 2 minutes longer.
For darker cookies, sub in molasses for the brown rice syrup.
If you freeze the cookie dough, let it defrost overnight in the refrigerator and proceed to rolling out step.
You will have extra royal icing left over from the recipe. This can be stored in the refrigerator in an air tight container for weeks.
Icing should fully dry between decorating so that the colors will not bleed.
Cookies can be stored at room temperature up to one week for best flavor.
Keywords: treat, cookie, cookies, gingerbread, mickey mouse, royal icing, red, green, holly, cookie decorating, mickey shaped, Marceline's, Trolley Treats, Disneyland, Christmas, Holiday