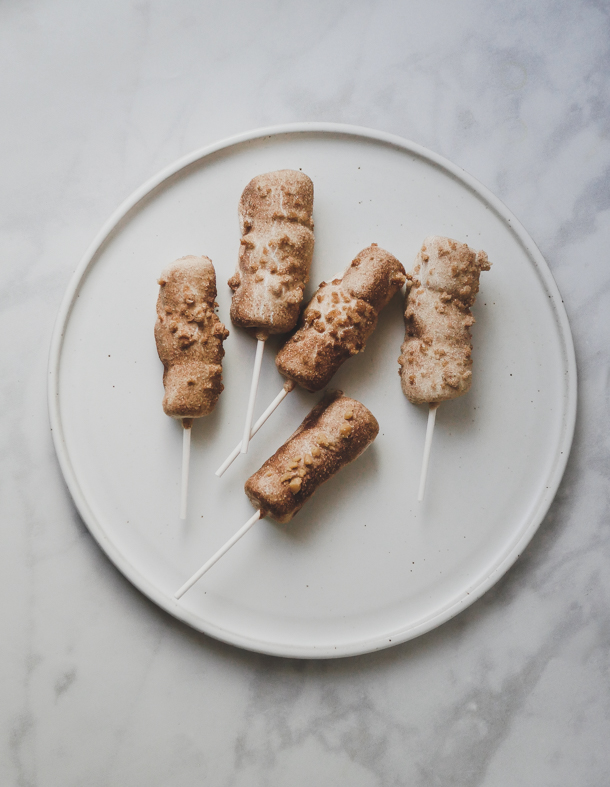 Where can I find the original treat?
This holiday time treat can be found at Trolley Treats and Marceline's Confectionery at the Disneyland Resort.
One of the cult favorite treats at Disneyland, Churro Toffee, is getting a new twist this holiday season as the coating for a marshmallow wand! What might seem like 'sugar on a stick' is actually a pretty tasty treat that doesn't leave your teeth singing. And we're making some today!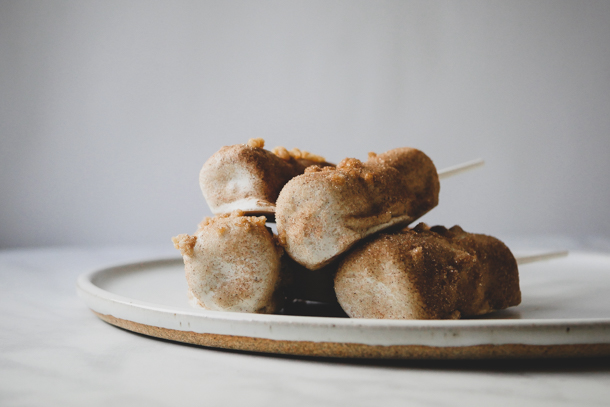 This treat was consistently selling out when they debuted it. When I tried one at Trolley Treats in DCA, the man behind the counter told me that just moments before a guy came in and bought 12 for his coworkers. WHAT A NICE COWORKER TO HAVE!!!
I'm sure they'll stock more, but in the meantime, making these in your kitchen is definitely an option. There's a lot of layers here, but if you get everything lined up and ready, it's pretty quick to move through all the steps and get a handful ready and made.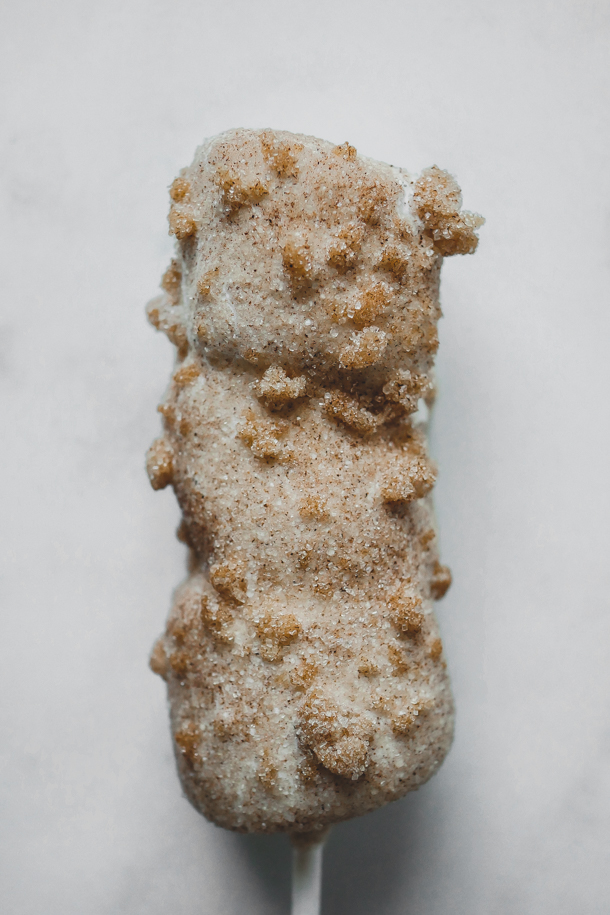 Now, the original treat has crushed pieces of the churro toffee dusted over the outside, i.e., very, very, tiny pieces of toffee. Here I opted not to crush mine too small, so that I get some nice crunchy pieces with the soft, pillow-y marshmallows. And if you're not familiar with these wands, they layer them as such: 3 marshmallows on a lollipop stick, dipped in caramel, and then dipped again in white chocolate and rolled in cinnamon sugar and dusted with churro toffee. I love how the buttery caramel stands in for that thick layer of toffee you get with the Churro Toffee.

If kids are helping in the kitchen, I'd stay clear of having them dip in the caramel unless they are experienced with the stove and hot things like caramel. Otherwise, dip and set the wands with the caramel, and then they can dip into the white chocolate and roll them in the cinnamon sugar and churro toffee.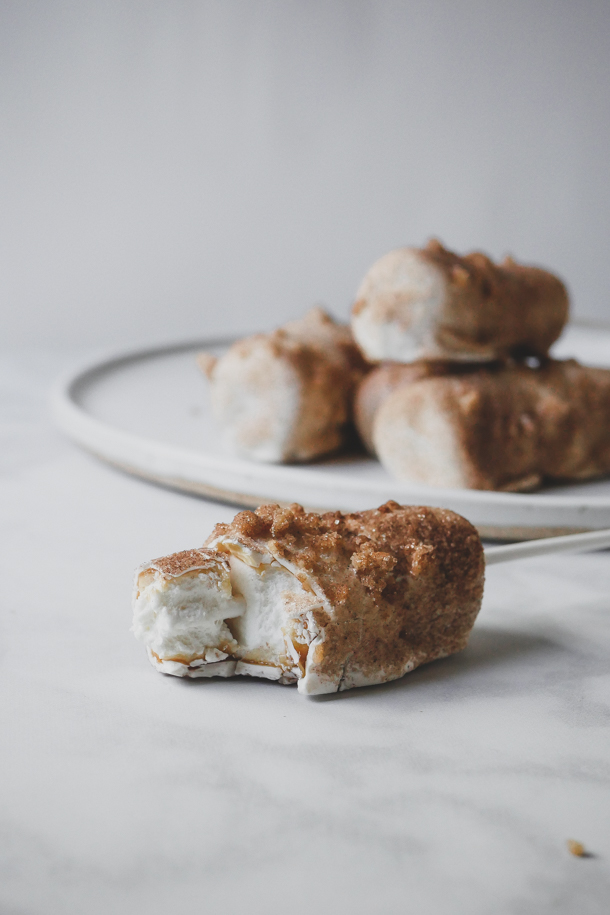 Ok churro toffee fans, time to try something a little new. And if you're looking for a recipe for just the churro toffee, we've got that too! And remember to check out all our notes at the end of the recipe!
Print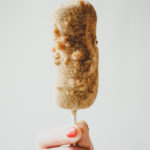 Churro Marshmallow Wand
Author:

Yield:

6

Churro Toffee Marshmallow Wands

1

x
---
Description
Soft and fluffy marshmallow wands are enrobed in creamy caramel and dipped in white chocolate with a dusting a cinnamon-sugar and churro toffee. A holiday-time Disneyland-inspired treat.
---
18

marshmallows

1

–

3/4

tablespoons water

1 cup

granulated sugar

2 teaspoons

ground cinnamon

1 teaspoon

of coconut oil

10 ounce

s of white candy melts

1/4 cup

of crushed churro toffee pieces (or if you don't have any stashed away in your freezer like me, any English-style toffee will do)
---
Instructions
Place 3 marshmallows on each lollipop stick and set aside on a parchment lined sheet pan.

Mix together the sugar and cinnamon in a large, shallow bowl that can accommodate the length of the marshmallow wand. Set aside.
Unwrap all the caramels and add to a small saucepan. Pour water in and heat over medium-low heat.
Stir constantly until everything has melted and caramels are smooth (about 7-8 minutes).
Once melted (caramels should drip in a ribbon from a spoon back into the pan), dip each wand into the caramel, turning quickly to coat OR ladle the caramel over the wand, turning to coat. Let excess caramel drip off for at least 30 seconds, turning while it drips for even coating, tap the wand gently but firmly on the edge of the pan to remove any additional excess caramel, and then place back on the  parchment.

When all the wands have been dipped, place the baking sheet in the refrigerator for 15-20 minutes so that the caramel will be set for dipping.

While the caramels set, melt your white chocolate for coating. Combine the white candy melts and coconut oil in the microwave inside a microwave safe bowl, like glass, for 30 seconds. Stir and microwave again for an additional 30 seconds. Keep stirring and microwaving in short bursts of 15-20 seconds until melted and smooth. Use can alternatively use a double boiler for melting. Do not let the white chocolate get over 110°f as it can burn the chocolate (use a candy thermometer if you're not sure about this).
Remove the marshmallow wands from the refrigerator. You'll know they are set when they lift easily off the parchment. If they still stick, keep them in 5 minutes longer.
Set up the cinnamon sugar bowl next to your white chocolate, and set out the crushed churro toffee in a small bowl as well.
Dip the marshmallow wand in the white chocolate, or ladle chocolate over, turning to coat. Tap the stick firmly on the side of your pan to remove any excess chocolate. Then sprinkle churro toffee over the white chocolate and immediately roll in the cinnamon sugar. You can also ladle the sugar over the wand, turning to coat. Whatever is easiest for you! Then place back on the parchment.
Repeat with the remaining marshmallow wands.
Let sit at least 30 minutes to firm up or in the refrigerator for quicker results. Enjoy!
---
Notes
Melted caramel is HOT! Use caution in the kitchen. Do not dip your fingers or hands into the caramel has it can adhere to skin and burn you. Keep away from children.
Use hot water to remove caramel from pans and utensils.
If the marshmallow wands start to stick to the parchment while you are dipping and coating, stick the pan with the uncoated wands back to chill in the refrigerator for a few minutes. If your kitchen is really hot, keep them in there the whole time, taking one at a time out to coat and decorate.
If you have extra melted caramel that has dried around your wand, use kitchen shears to remove it immediately after removing from the refrigerator.
Did your chocolate coating break when you first dipped your wand in? Wait for the chocolate to cool down more. It should drip freely from a spoon without it seizing when the spoon is shaken slightly (will cause crevices in the chocolate on the spoon). If it breaks on the wand, your wand also might be too cool, so let them warm up more. And don't worry, once that chocolate starts to firm up, you can dip it AGAIN into the chocolate to get a more even, although slightly thicker, coating.
Keywords: treat, marshmallow, caramel, white chocolate, cinnamon, toffee, churro toffee