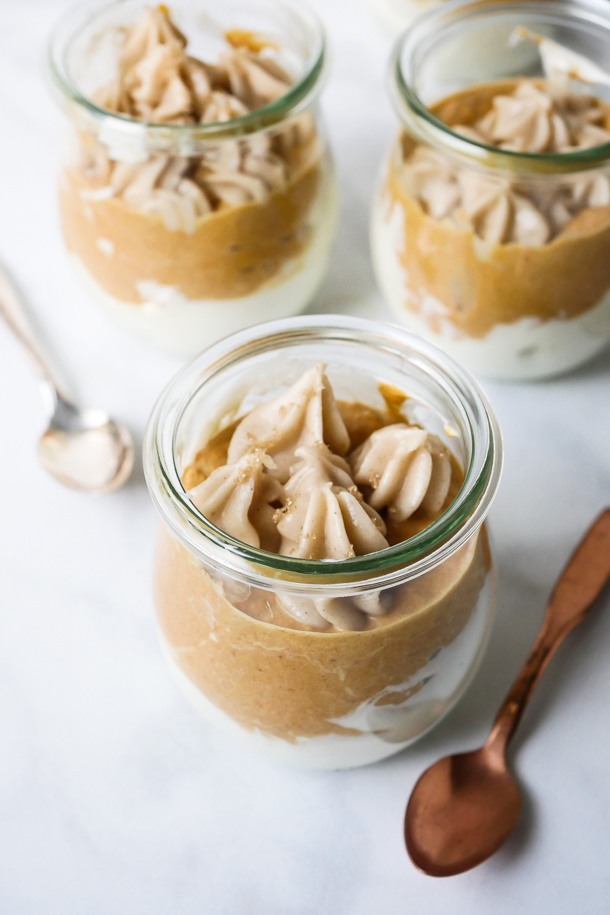 Where can I find the original treat?
This treat can be found at the Jolly Holiday Bakery Cafe at the Disneyland resort.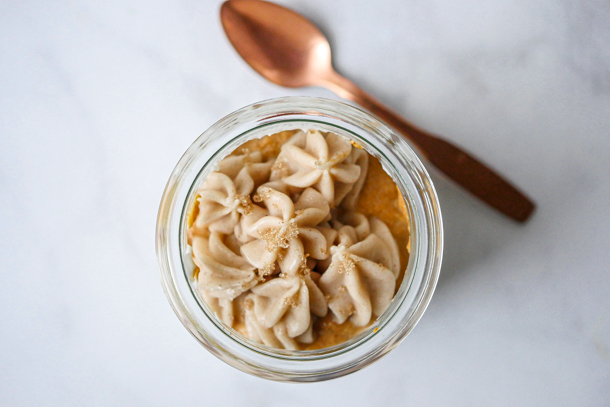 We've got our last of the pumpkin treats today as we say goodbye to all the fall decorations at Disneyland and head straight into Christmas. But wait! Yes, there is another holiday before then, and we're not talking about National Peanut Butter Fudge Day (although that lands on November 20 this year). We've still got Thanksgiving coming this month, and that means PIE! Pumpkin pie! But if making a whole pie from scratch is just not doable, try these mini Layered Pumpkin Cheesecake jars instead!
Last year at Disneyland I tried one of these and I inhaled it in seconds; it was just so good. Admittedly I am a lover of pumpkin flavored treats and I live for cheesecake, so this layered individual dessert cup was calling my name. I was so happy they brought it back this year, but on November 8th, *poof*, it's gone, and who knows if it will come back next year. So let's make our own now!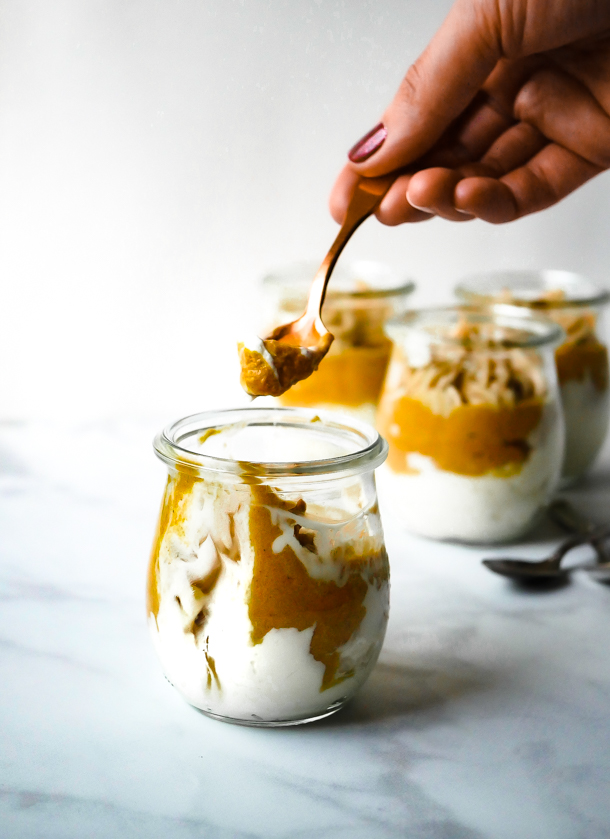 These are a really great option if you're thinking about desserts for the holidays and want to do all the prep ahead of time, even a whole day or two ahead of time. These jars are quick to put together because there's NO COOKING! Just dirty some bowls, store everything into little jars in the fridge, and then take them out when it's time to serve to guests (or let's be real, yourself, 4 times).
This recipe makes just 4 individual desserts, but this can be easily scaled up (the recipe box below has a handy tool to do that with too!). You may want to increase or decrease the sugar as you scale, so remember to do a taste test when adjusting!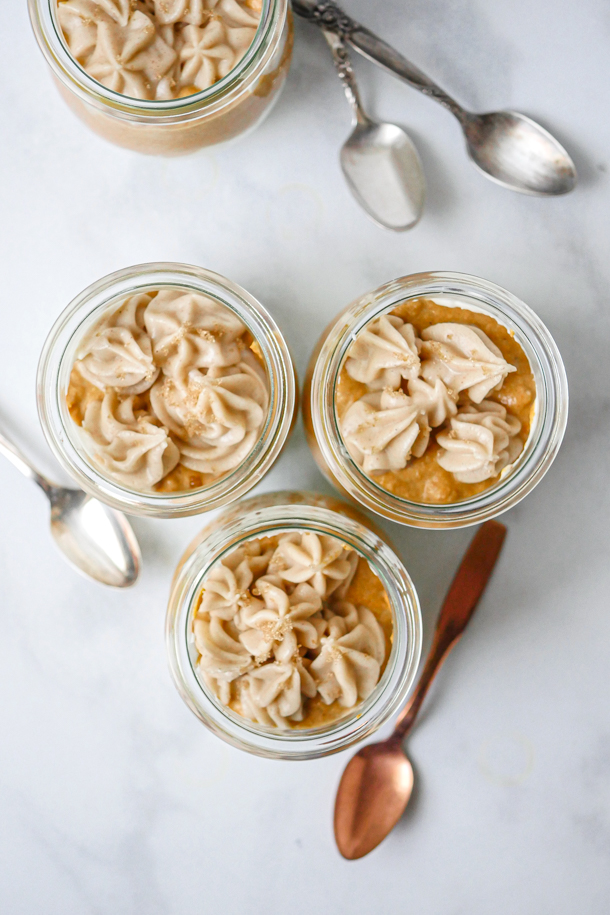 This might not be the most "fun" dessert for kids to make, but they can definitely help with assembly, and older kids can do the piping work. My kids always feel proud to eat anything they've helped make too, even if it doesn't include sprinkles.
A note here on the jars used. In the photos I am using a Weck tulip jam jar that holds about 7.4 ounces. These are a great size for individual portions, and cute looking too. However, I find these very fragile and I do not suggest them for use with kids. Tempered glass jars, like Wean Green, or plastic lidded containers would work best if you are making these for younger guests, or hey, for those holiday guests that have a designated driver.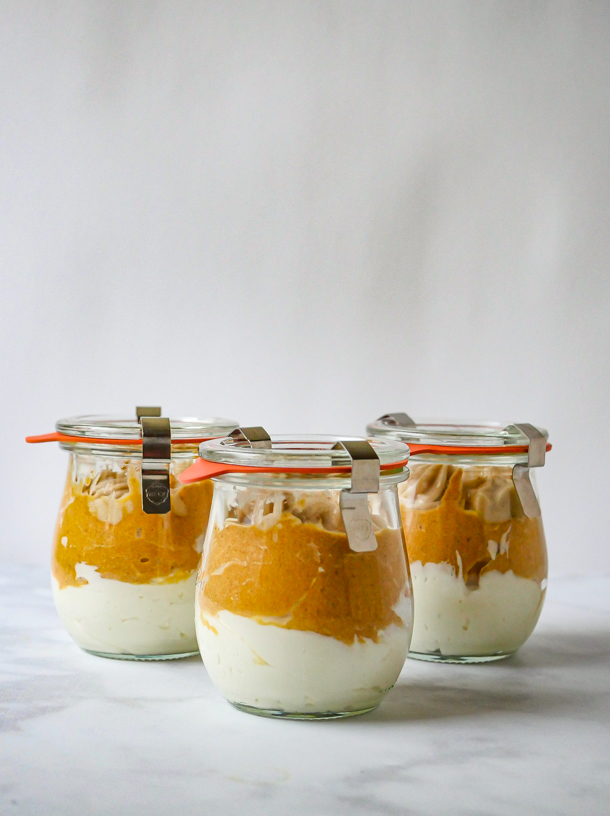 Print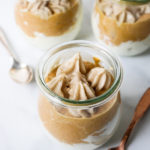 Layered Pumpkin Cheesecake
Author:

Yield:

4

servings

1

x
---
Description
Layers of pumpkin pie filling and creamy, no bake cheesecake are topped with cinnamon spiced cream cheese swirls in individual portions. A Disneyland-inspired treat.
---
Whipped Cinnamon Cream Cheese Frosting:
4 ounces

(

half a

block) cream cheese

1/4 cup

(

55 g

) unsalted butter

1

–

1/2

cups (

188 g

) powdered sugar

1/2 teaspoon

vanilla extract

1/2 teaspoon

ground cinnamon
pinch salt
Pumpkin Pie Filling:
1/4 cup

(

65 g

) heavy cream

2/3 cup

(

180 g

) pumpkin purée

1/4 tsp

cinnamon

1/2 tsp

pumpkin pie spice

2

–

1/2

tbsp brown sugar (

47 g

)
pinch salt
Cheesecake Layer (adapted from Sally's Baking Addiction):
1/2 cup

(

4 oz

) heavy cream

4 ounces

cream cheese (

half a

block)

3 tablespoons

(

45 g

) light brown sugar

1 tablespoon

(

15 g

) sour cream or Greek yogurt

1 teaspoon

lemon juice

1/4 teaspoon

pure vanilla extract
Topping:
Specialty Tools:
pastry bag
Weck tulip jam jars
---
Instructions
Whipped Cinnamon Cream Cheese Frosting:
In a stand mixer fitted with the paddle attachment, on high speed for several minutes, cream together the cream cheese and the butter until light and fluffy, and fully combined.
Next, add in the powdered sugar, vanilla extract, cinnamon, and salt. Slowly mix together until all the powdered sugar has been incorporated, and then bring the mixer to high speed until fully mixed, and frosting is light and fluffy.
Add the frosting to a pastry bag fitted with a small closed star (like Ateco #843). Set aside.
Pumpkin Pie Filling Layer:
In the bowl of a stand mixer fitted with the whisk attachment, pour in the heavy cream and whip until very soft peaks form. You want the cream to still slip off a spoon, but not be liquid-y.
Then remove the whisk and add the paddle attachment.
Add in pumpkin purée, cinnamon, pumpkin pie spice, brown sugar, and salt. Gently mix until combined.
Set aside.
Cheesecake Layer:
In a stand mixer fitted with a whisk attachment, whip the cold heavy cream into stiff peaks on medium-high speed, about 3-4 minutes. Gently remove into a separate bowl. Set aside.
Next, switch to a paddle attachment and in the same empty bowl you whipped the cream in, add in the cream cheese, sour cream, lemon juice, and vanilla extract together on medium-high speed until smooth and no more lumps.
Gently fold in the whipped cream into the cream cheese mixture by using a rubber spatula to cut down through the center of the mix, scooping through the bottom left, giving the bowl a quarter turn, and then repeating until the whipped cream is just barely incorporated. Set aside.
Assembly:
In a clean jar, add about 1/4 cup (2 ounce #16 disher) of the cheesecake mixture to each jar.
Next add in the same amount of the pumpkin filling.
Finally, dot the top of the pumpkin filling with small stars made of the cinnamon cream cheese frosting. Dust with finely chopped crystallized ginger or brown sugar. Enjoy!
---
Notes
Components can be refrigerated up to 5 days beforehand separately and then assembled to serve, or assembled into jars, sealed and kept refrigerated for 5 days.
Granulated ginger can also be used and mixed with brown sugar as a topping.
The dessert can also be assembled into a trifle dish for one larger serving.
Tempered glass jars, like Wean Green, or plastic lidded containers would work best if you are making these for younger guests as the Weck jars are fragile and can break easily.
Keywords: treat, pumpkin, cheesecake, individual dessert, Thanksgiving, cream cheese frosting