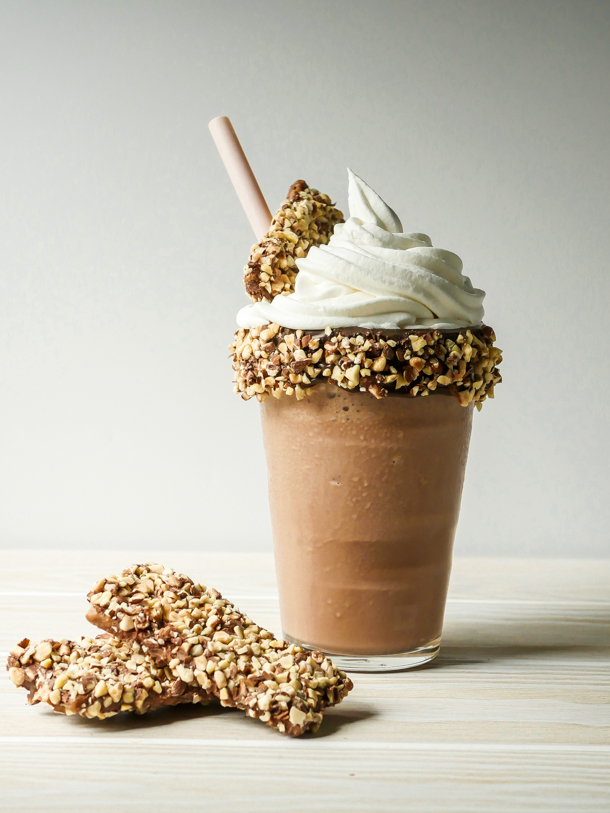 Where can I find the original treat?
This treat was originally found at Shmoozies! in DCA as part of the Food and Wine Festival.
It's been record-breaking hot in Southern California this weekend, and as today is the unofficial close to summer, I thought we'd end on a sweet, ice cold note. If there's one thing you can rely on to cool you off and satisfy a sweet tooth at Disneyland, it's their shakes. So today we're making the Almond Mocha Shake, which happened to be the very last thing I ate when I was visiting California Adventure back in March for the Food and Wine Festival.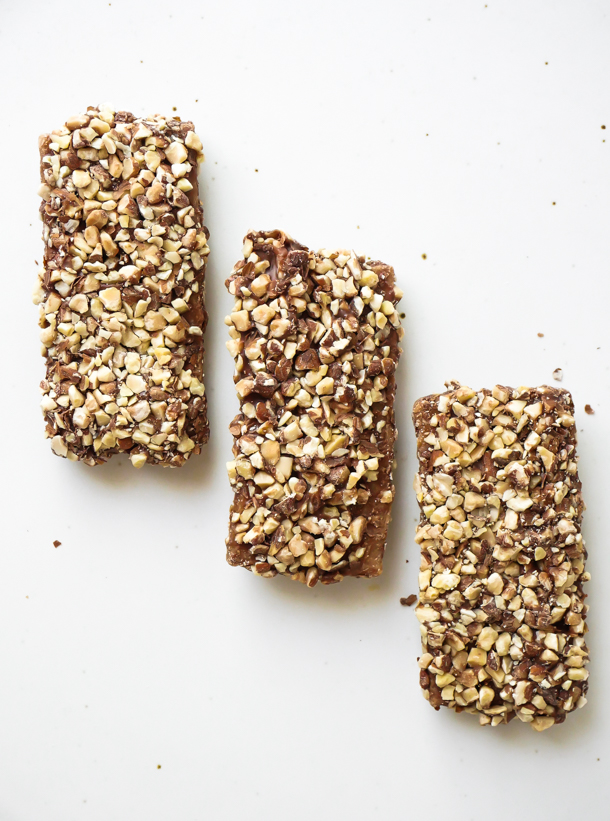 So no, for this recipe I will not ask you to make your own ice cream. That's because I recently discovered that Disneyland uses Dreyer's brand ice cream in the park. So, if you want an almond mocha shake… you can grab mocha almond fudge ice cream from the supermarket. For those of you who live on the east coast, that would be Edy's brand (not Breyer's!).
Now, one component here that you can either make yourself, or buy pre-made, is the English toffee. You've got a few options here. One, you can make it, and I have my favorite adaptation below. Second, if you're able to get to Marceline's in Downtown Disney, they are selling the English toffee BY THE BAG FULL!!!! It's the exact kind you'd find on the shake and it's a hefty bag and yes, I finished the whole package in less than two days… Your third option is to buy either an Almond Roca bar, a Skor bar, or Heath bar from the store. It won't be the same as what you get on the shake, but it will be reminiscent of the original.
The third component of this shake is the whipped cream and here's the thing about whipped cream on shakes in Disneyland: it's thick. My guess is stabilizers in there, but it could also be something like Cool Whip (but not the actual brand). At home I make homemade whipped cream because I have a dispenser, but you could pick up a canister at the store. If you want your cream to be closer to what's at the parks, I like the brand Truwhip. To create the swirl effect, spoon it semi frozen into a piping bag, attach a open star tip (or just cut the end off the bag), and pipe on top of the shake.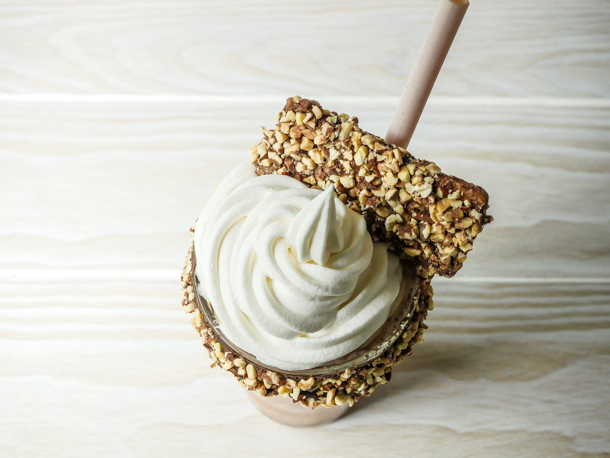 I love that this recipe can be quickly made by a few grocery store ingredients, but also can be adjusted to how much involvement you'd like in the kitchen. And since we're making this on Labor Day, I say just buy the ingredients and give yourself a day off.

Kids can help assemble the ingredients and add them to the blender (I used my Magic Bullet for this and it was a perfect one serving container). They can also help decorate the glass and top with whipped cream. Older kids can help to make the English toffee due to the extremely high temperatures you need. I would not recommend it for the younger kids.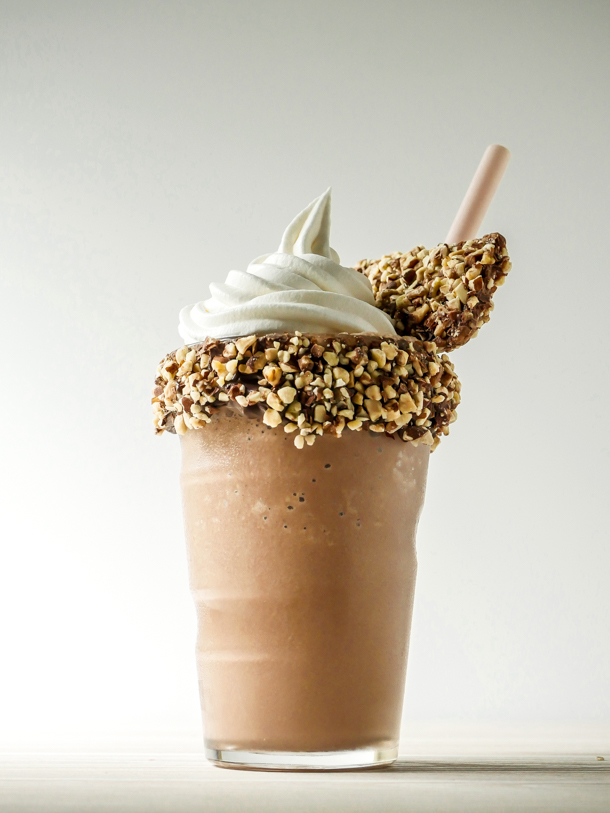 Extra credit: the shakes at Disneyland, like this shake, will sometimes come with a delicious decoration on the outside of the cup. Totally not necessary to enjoy at home unless you want the true park treat experience. So, if you'd like that, we've included the instructions below in the recipe card. It's pretty easy, but it's one more step.
Now let's relax and blend up some magic!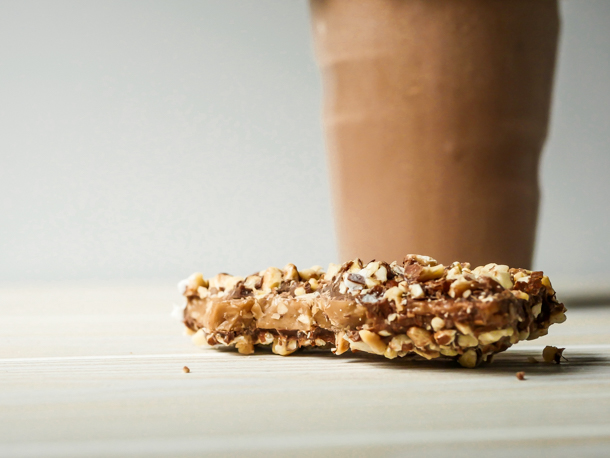 Print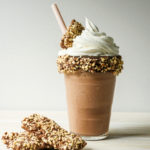 Almond Mocha Shake
Author:

Yield:

1

Almond Mocha Shake

1

x
---
Description
The 2020 Food and Wine Festival at DCA gave us this chocolatey-almond shake with buttery, crunchy toffee topping that you can make at home! A Disneyland-inspired recipe.
---
Almond Mocha Shake:
English Toffee (adapted from King Arthur):
16 tablespoons

(

227g

) unsalted butter, cold


1/2 teaspoon

salt


1

–

1/2

cups (

298g

) sugar


3 tablespoons

(

43g

) water


1 tablespoon

(

21g

) light corn syrup


2 cups

(

227g

) chopped peanuts, toasted (see notes below)


2

–

2/3

cups (

454g

) semisweet or bittersweet chocolate, finely chopped; or chocolate chips

Toppings and Decorations:
1/2 cup

light cocoa candy melts, optional if decorating cup (see tips about what chocolate to use below)

1/3 cup

chopped peanuts, toasted, optional if decorating cup
whipped cream (or 1 cup heavy cream, 1 teaspoon each vanilla extract and simple syrup or liquid sweetener of your choice with directions below for making from scratch)
Specialty Tools:
---
Instructions
For the English Toffee:
In a large, deep (3 quart) saucepan, melt the butter. Stir in the salt, sugar, water, and corn syrup, and bring the mixture to a boil. Boil gently over medium heat, without stirring, until the mixture reaches hard-crack stage (300°F on an instant-read or candy thermometer; you'll be taking it off the heat a few degrees sooner). The syrup will bubble without seeming to change much for awhile, but be patient; all of a sudden it will darken, and at that point you need to take its temperature and see if it's ready. (If you don't have a thermometer, test a dollop in ice water; it should immediately harden to a brittleness sufficient that you'll be able to snap it in two, without any bending or softness). This whole process should take about 10 to 12 minutes. Pay attention; too long on the heat, and the syrup will burn.
While the sugar is boiling, spread half of the nuts in an even, closely packed layer on a parchment-lined 9″ x 13″ pan. Top the nuts with half the chocolate.
When the syrup has reached 295°F, remove from the heat. Pour the syrup quickly and evenly over the nuts and chocolate. Top with the remaining chocolate and let sit for 2 to 3 minutes, until it softens; spread the chocolate with an offset spatula in an even layer and immediately sprinkle the remaining nuts on top.
While the candy is still slightly warm, pull it out of the pan and use a thin spatula to loosen it from the parchment. When completely cool, break into chunks.
For the shake:
Blend the ice cream and milk together until smooth. Set aside.

For the glass decoration (optional):
Pour the chopped, toasted peanuts into a wide, shallow dish. Set aside.
Melt the cocoa candy melts in a microwave safe bowl, like glass. Microwave for 30 seconds. Stir and microwave again for an additional 30 seconds. Keep stirring and microwaving in short bursts of 15-20 seconds until melted and smooth. Use can alternatively use a double boiler for melting or melt directly in a heat-safe piping bag.

Dip and coat the outer rim of a glass with the melted candy melts (or if melted in a pastry bag, clip the tip off and pipe the chocolate around the outer edge). Then dip into the chopped peanuts, turning to coat the entire outside rim. Place in the fridge for five minutes to harden.
Assembly:
Pour the blended shake mixture into your prepared glass.
Spoon or spray whipped cream on top of the shake mixture.

Place a piece of English toffee in the whipped cream and enjoy!
---
Notes
To toast nuts, place in a frying pan over medium high heat. Stir peanuts around until they start to smell, well, toasty. This can take anywhere from 5-10 minutes depending on the heat of your stove. Keep watch though, as the oils from the nuts will cause they to scorch.
Cocoa melts are best to use for coating the glass because they will melt but not become too thin and liquid. Regular baking chocolate will be thinner and run more.
English toffee can be kept, wrapped, at room temperature for several weeks. Or frozen for longer storage.
Keywords: treat, toffee, mocha, almonds, shake, DCA, Food and Wine Festival, Disneyland, Schmoozies, whipped cream, peanuts, ice cream, candy