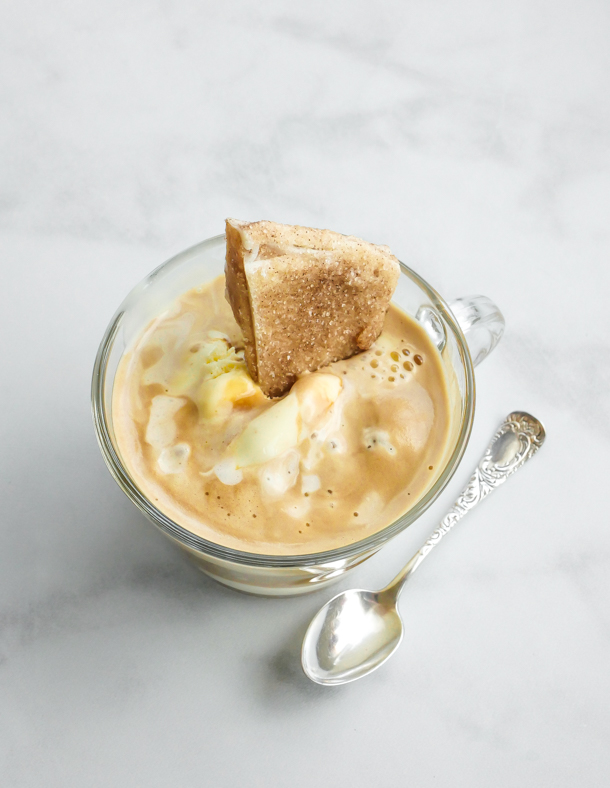 Where can I find the original treat?
This holiday time treat was available at Schmoozies! inside California Adventure.
We're back again today with another quick treat in our 5 Minute Treats series! This holiday time Cinnamon-Brown Sugar Affogato was nicknamed the Churro Affogato because of its delicious ice cream base. And today you can either make, or buy, the ice cream depending on how quickly you'd like the treat!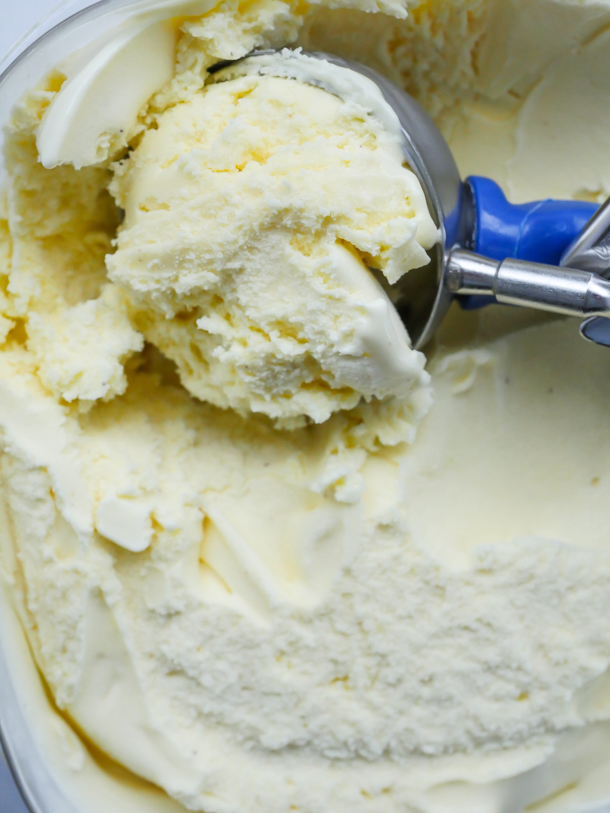 While we've been stuck inside, the kids and I have been doing some fun kitchen experiments. Making ice cream has definitely been a favorite! If you can score some cinnamon ice cream at the store, then this recipe really is a super quick treat. However, if you've got the time, and an ice cream maker, then I've also included a recipe for a super creamy, custard based cinnamon-brown sugar ice cream. I don't want to make the store bought people jealous, but this stuff is SO GOOD and SO CREAMY. I also love that you can adjust the amount of cinnamon and/or sugar to suite your tastes as well.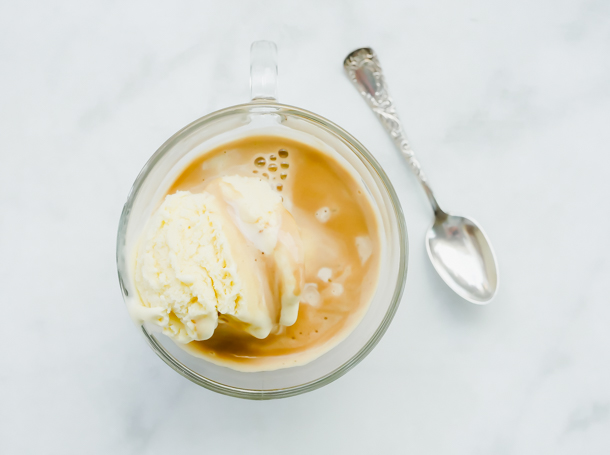 Affogatos are usually espresso based, but if all you've got is coffee right now, try brewing a stronger batch for this. The combination of the bittersweet coffee and the spicy cinnamon make for an extraordinary pairing. It's reminiscent of the Mexican coffee, or cafe de olla that we get at a local restaurant here in Los Angeles. It's also, quite tasty with a hunk of Churro Toffee dipped in as well.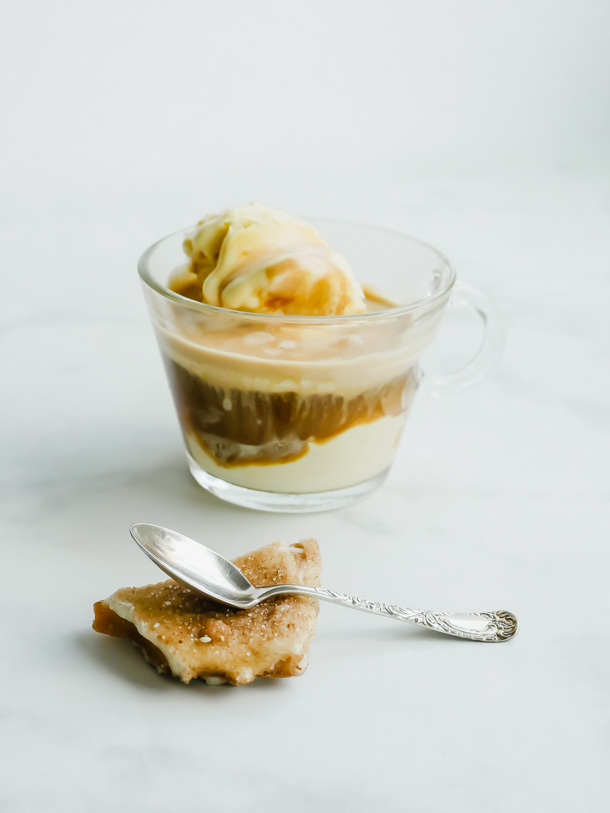 I hope you enjoy this super simple, and yet very elegant, treat today! (Or tomorrow if you make the ice cream!) It's about to get REAL HOT here in LA, so I'm thinking about making a few batches of ice cream this week. Have a magical week everyone!
Print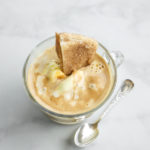 5 Minute Treats: Cinnamon-Brown Sugar Affogato (Churro Affogato)
Author:

Yield:

1

Cinnamon-Brown Sugar Churro Affogato +

1 quart

ice cream

1

x
---
Description
Creamy, spicy cinnamon and brown sugar ice cream is topped with a healthy pour of bittersweet espresso in this 5 Minute Treat. A Disneyland-inspired recipe.
---
For the ice cream:
adapted from David Lebovitz
3/4

cup (150g)

brown

sugar

8

cinnamon sticks

broken up (see notes below)


2

cups (500ml)

heavy cream

1/4 teaspoon

ground cinnamon
For the affogato
---
Instructions
For the ice cream:
Heat the milk, brown sugar, salt, cinnamon sticks, and 1 cup of the heavy cream together in a medium saucepan. Cover, remove from heat, and let steep 1 hour.

Place the pan back on the stove and rewarm the mixture, removing the cinnamon sticks with a slotted spoon. Be careful not to let the mixture start to boil or get too hot, you are just warming the milk up to barely simmering at this point.


Nest a medium-sized bowl in a larger bowl that's partially filled with ice water, to create an ice bath. Set a mesh strainer over the medium bowl and pour the remaining cream into the medium bowl.

Whisk together the egg yolks in a small bowl and gradually add some of the warm cinnamon-infused milk to the yolks, whisking constantly. Scrape the warmed yolks back into the saucepan and cook over medium heat, stirring constantly and scraping the bottom with a heatproof spatula, until the custard thickens and coats the spatula.


Remove from heat and immediately pour the custard through the strainer into the cream. Remove the strainer and stir the custard until cool, then chill thoroughly in the refrigerator at least 8 hours or overnight.

Before churning, add the ground cinnamon. Gently stir to combine.

Then, freeze the custard in your ice cream maker according to the manufacturer's instructions. Store in an airtight container in the freezer until ready to use.

For the affogato:
Place the desired amount of ice cream in a small bowl or heat proof cup (I like two small scoops for this dessert).

Pour the espresso over the ice cream.
Optionally top with crumbled churro toffee pieces. Enjoy!
---
Notes
To break up cinnamon sticks, you can either grind them in a mortar and pestle (which is what I did, and really, you're just breaking them up, not grinding into a powder), or wrap them in a kitchen towel and break them up with a hammer or meat tenderizer. I would not suggest a ziplock as is said in the original recipe, as they tend to poke through and tear the bag, getting pieces everywhere.
We are Nespresso users at home, so I found that a regular shot was plenty. The lungo shot was a bit too much and melted the ice cream more than I desired creating a warm soup.
If you want to make a batch for a party, portion out ice cream into small cups and freeze ahead of time. When ready to serve, brew lungo shots in a large measuring glass with a spout. Then you can pour small amounts of espresso all at once into each cup.
Keywords: treat, ice cream, 5 Minute Treat, cinnamon, brown sugar, affogato, DCA, Schmoozies!, holiday