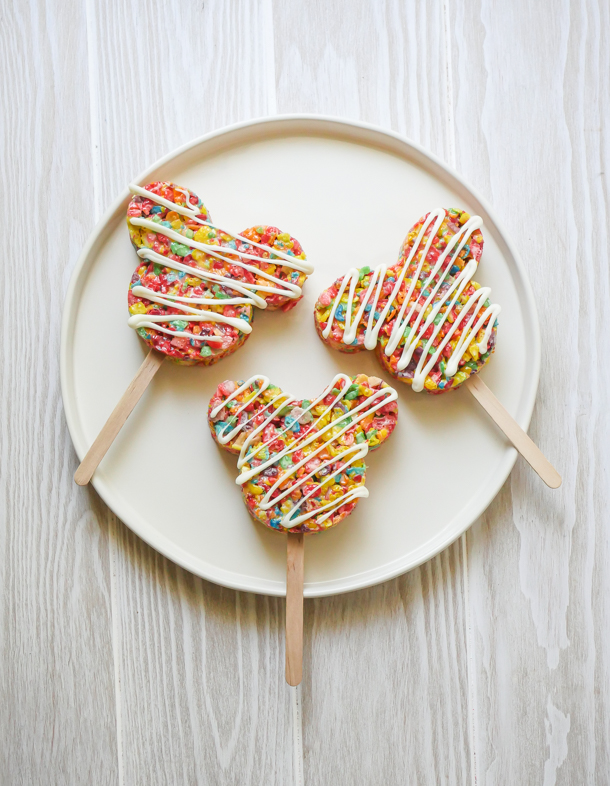 These were inspired by the Disney Parks Mickey Mouse shaped crispy treats.
If you've come to this site over the past year you'll have noticed that I'm a BIG fan of Disneyland's crispy treats. And who could blame me? They're relatively easy to make and there is always a cute seasonal design. However, we don't always keep the cereal on hand at home. So, after making the Baked Fruity Pebbles Doughnuts earlier this week, I thought, Hey! I could turn it into a crispy treat! And I'm so happy I did.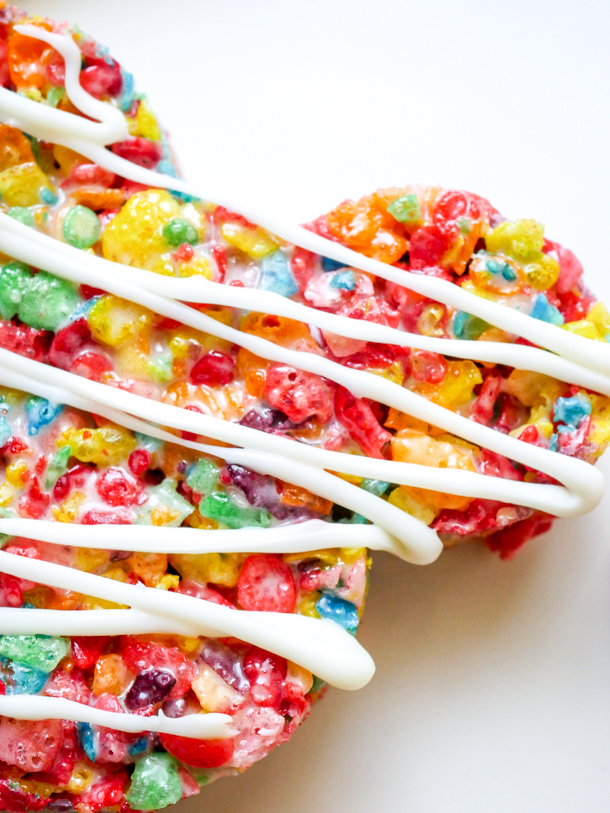 I kept it Mickey shaped because it's my favorite shape, although you can always use whatever cutter you have on hand, or to make it super easy on yourself, just cut into squares (or rip off bits like my husband does). To compliment the flavor of the cereal, I drizzled some white chocolate over the whole thing and that really made this a complete recipe for me.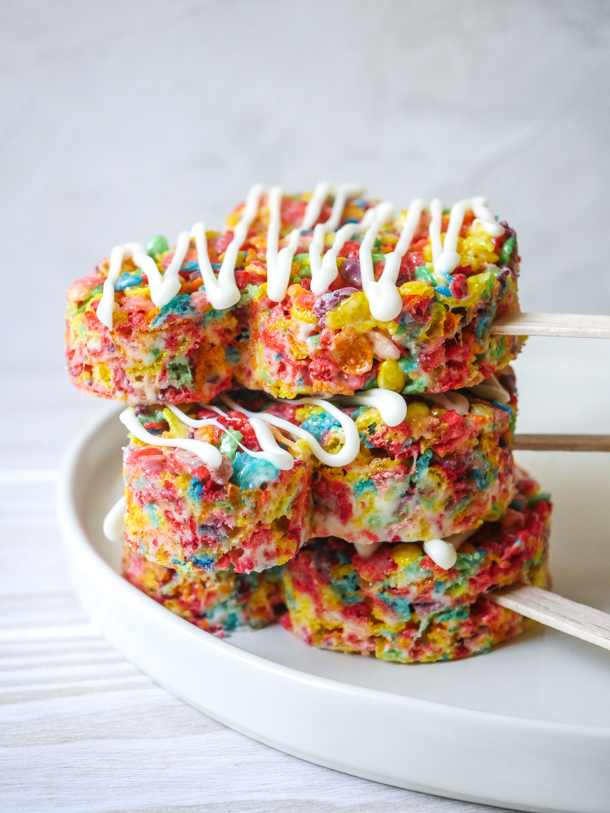 As an adult, Fruity Pebbles just taste like bergamot to me (which is the citrus flavoring used in Earl Gray tea). So I needed to tone that down a bit seeing as this was going to be one gigantic treat chock full of that cereal's flavor. Yes, the cereal is sweet, the marshmallows are sweet, so why choose white chocolate? It just worked. Using a semi sweet or milk chocolate would be heavy here and dull the flavor. White chocolate balances everything flavor wise.

Once you've gotten the treats into the pan and cooled, kids can help cut out shapes. Depending on their age, they can help melt the chocolate in the microwave, and can drizzle on their own designs. Just watch that they don't try to eat all the melted chocolate.
So, if you're a fan of Disney's crispy treats and want to venture out into new and bold cereal flavors, give this recipe a try!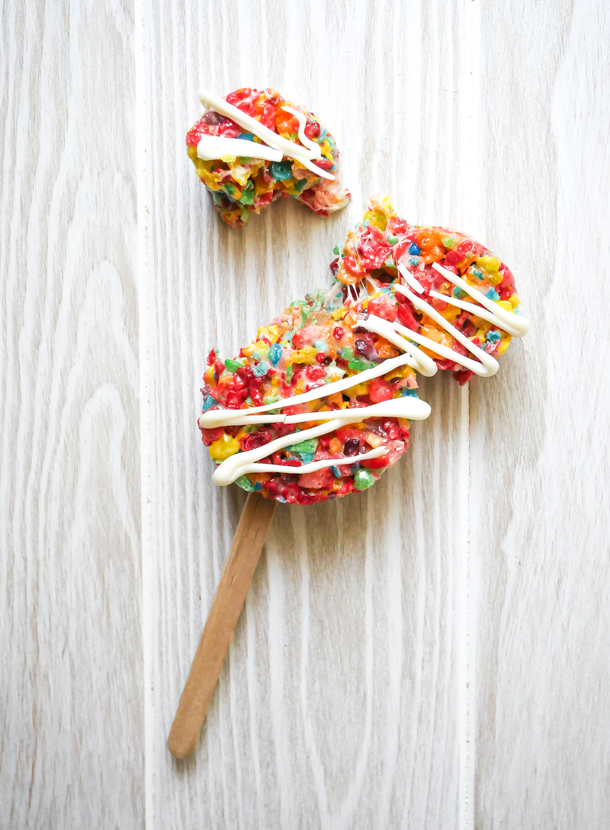 Print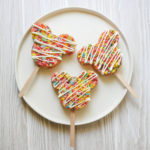 Mickey Mouse Fruity Pebbles Crispy Treats
Author:

Yield:

3

Mickey Mouse Fruity Pebbles Crispy Treats

1

x
---
Description
Turn your breakfast cereal into an anytime snack with these Mickey Mouse shaped Fruity Pebbles crispy treats! A Disney inspired treat!
---
For the crispy treat:
2 tablespoon

s butter or vegan butter substitute, unsalted

3

 cups mini marshmallows or

~30 regular sized marshmallows

3

cups Fruity Pebbles cereal
For the chocolate:
3 tablespoons

to 1/4 cup white chocolate, coarsely chopped
Specialty Tools:
---
Instructions
For the crispy treat:
Before beginning, line a loaf pan with parchment.
Combine the butter and marshmallows in a medium sauce pan over medium-low heat. Stir constantly until marshmallows have melted and mixture is smooth.
Immediately dump in the Fruity Pebbles cereal and quickly mix to combine.
Pour into the prepared pan and gently press mixture into place with a rubber spatula (or damp fingers, which is my favorite method). Set aside for at least an hour in the refrigerator (or 20 minutes in the freezer) so that the mixture can firm up enough to cut shapes.
When the treats have firmed up, use a Mickey Mouse cutter to cut out your shapes. Set aside.

For the white chocolate:
Melt the white chocolate in the microwave inside a microwave safe bowl, like glass, for 20 seconds. Stir and microwave again for an additional 15-20 seconds. Keep stirring and microwaving in short bursts of 15-20 seconds until melted and smooth. You can alternatively use a double boiler for melting. OR you can directly melt in a heat safe pastry bag similar to how you'd melt in the bowl. (20 second bursts, kneading bag in-between)
When melted, transfer to a pastry bag (if you did not melt directly in one), snip off the tip, and drizzle over the crispy treat shapes. You can also drizzle with a spoon from the bowl.

Repeat with all treats. Set aside in the refrigerator for 15 minutes and then enjoy.

---
Notes
Use a smaller pan than you think you'll need for this. As the marshmallows melt into the butter, if there's too much space in the pan, they will start to dry out and form strings. Keeping the marshmallows closer together in the pan will ensure they melt more evenly, creating a better mixture to add the cereal into.
When mixing cereal into the melted marshmallows, keep the mixture on the flame so that marshmallows stay liquid. Removing to mix in can seize up the liquid before the cereal is fully mixed.
After you've cut out your treats, extra cereal/marshmallow mixture can be recombined by hand and cut again (or just combined and shaped into another treat by hand).
Treats can be kept in an air-tight container refrigerated for up to 3 days.
Keywords: treat, Disneyland, WDW, Fruity Pebbles, Mickey Mouse, cripsy treat, krispy treat, krispie treat, rice krispie treats, white chocolate, cereal