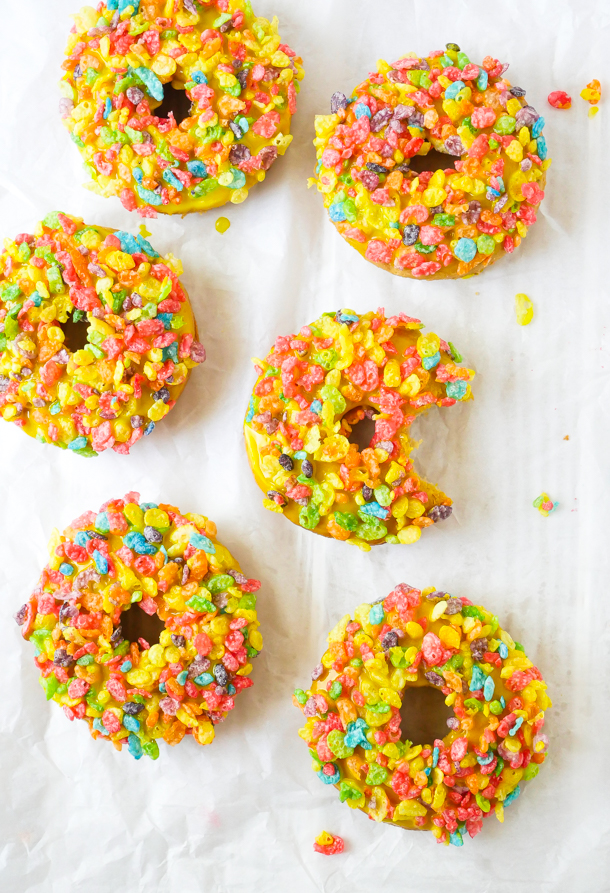 Where can I find the original treat?
This treat was found at the Jolly Holiday Bakery Cafe inside Disneyland.
Somehow summer is already over and everyone is starting to head back to school, in whatever form that looks like. Over here at Magical Treats Headquarters, we will be doing the entirety of the next school year (kinder and pre-k) virtually. There will be many bowls of cereal for future breakfasts. Or maybe it will be doughnuts covered in cereal, like today's recipe The Fruity Pebbles Doughnut. Hey, we all need to do what we got to do to make it through the day.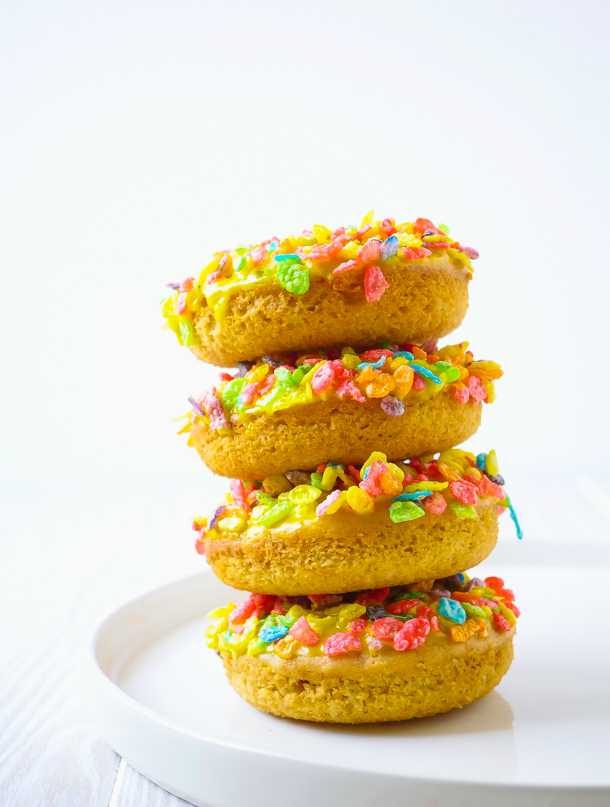 I've seen two versions of this at Disneyland, the classic circle and the rectangular Long John type, so basically you can make these whatever shape you'd like at home. The doughnut is also yeasted at the parks, and here today we will tweak that as well.
A yeasted doughnut is really the perfect base for the sweet and crunchy topping because it's light and airy and pushes your focus more to the Fruity Pebbles cereal and the lightly flavored lemon glaze than to the actual doughnut. Now, that said, it's been quite hot here in SoCal, and deep frying anything inside, with all the windows shut and the air conditioning going, is not how I'm spending my day. Because of this hiccup in my baking schedule, I decided that I'd try these on baked doughnuts instead.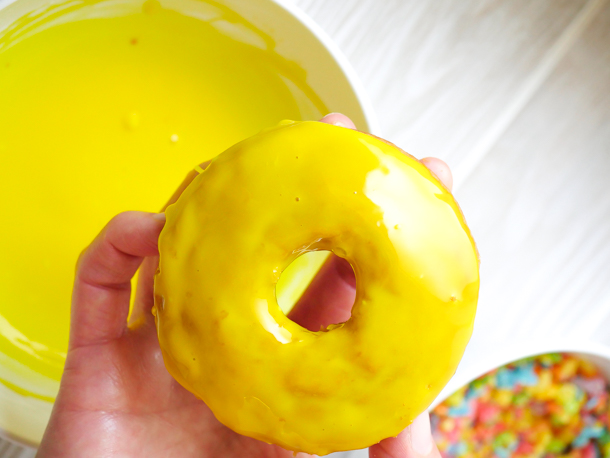 The verdict? Well, it's definitely quicker to make everything and get to eating them, but using baked doughnuts is a lot more… well, doughnut! Baked doughnuts are like little round cakes and as such, are heavier and can have a more pronounced flavor. Did it taste bad? No! Not at all. But just a warning that using a baked doughnut, or a cake doughnut too, just means you end up with more dessert to contend with. And maybe that's not all bad.
A note on the glaze. Consistency changes at the parks and again, I've had this lemon flavored, and not lemon flavored. Personally the lemon balances out the "fruity pebbles" flavor (which I find now as an adult to taste strongly of bergamot which you find in Earl Gray tea), however if you don't want to add it in, or are having trouble locating a decent lemon flavoring (check out our rec below!), then go ahead and leave it out.

My kids were SUPER into these at the parks and at home. Once the doughnuts are cooled, kids can help dip the doughnut into the glaze and decorate with cereal topping.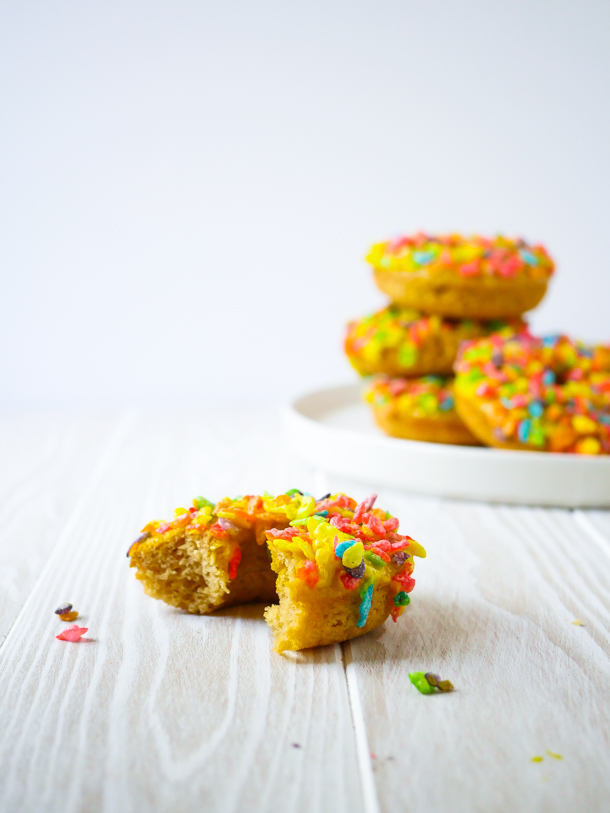 Ok, who needs a doughnut? If that's you, remember to check out our helpful tips and tricks at the bottom of the recipe! Let's bake (or fry)!
Print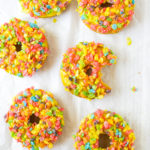 Fruity Pebbles Doughnuts
Author:

Yield:

6

doughnuts

1

x
---
Description
Lemony Fruity Pebbles topped doughnuts are a sweet and crunchy dessert for snack time or breakfast time. A Disneyland-inspired treat.
---
For yeasted doughnuts, please check out the recipe here!
For the baked doughnuts:
2 tablespoons

butter

25g

(

1/8 cup

) vegetable oil (or refined coconut oil)

49g

(

1/3 cup

) granulated sugar

35g

(

1/4 cup

) brown sugar

1

large egg

3/4 teaspoons

baking powder

1/4 teaspoon

baking soda

1/4 teaspoon

salt

1/2 teaspoon

vanilla extract

159g

(

1

–

1/3

cups) Unbleached All-Purpose Flour

113g

(

1/2 cup

) milk (or milk substitute like almond milk)
For the glaze and topping:
1/2 cup

powdered sugar

1/4

–

1/2

teaspoon pure lemon extract, optional (I used Nielsen-Massey lemon extract, see notes below about extracts)

1 tablespoon

milk (or milk alternative)

2

to

3

drops of yellow food coloring (I used Lemon Yellow from Americolor)

1 cup

Fruity Pebbles cereal

---
Instructions
For the doughnuts:
Preheat the oven to 425°F. Lightly grease one standard doughnut pan.
In a medium-sized mixing bowl, beat together the butter, vegetable oil, and sugars until smooth.
Add the eggs, beating to combine.
Stir in the baking powder, baking soda, salt, and vanilla.
Stir the flour into the butter mixture alternately with the milk, beginning and ending with the flour and making sure everything is thoroughly combined. 
Spoon the batter into the lightly greased doughnut pans, filling the wells to about 1/4″ shy of the rim.
Bake the doughnuts for 10 minutes. Remove them from the oven, and wait 5 to 7 minutes before turning them out of the pans onto a rack.

For the glaze and topping:
Once the doughnuts are cool, in a bowl wide enough to fit a doughnut, whisk together the powdered sugar, lemon extract (if using), milk, and food coloring until smooth. Pour the Fruity Pebbles into a shallow, wide bowl that can accommodate a doughnut.

Dip the top half of each doughnut into the glaze, letting any excess glaze drip back into the bowl.
Immediately press the doughnut glaze side down into the Fruity Pebbles. Gently press the doughnut down into the cereal and then gently lift and place on a drying rack to set. Repeat with the remaining doughnuts.

The glaze will take about 30-45 minutes to harden, however, don't let that stop you from eating right away.
---
Notes
Don't want to make doughnuts at all? Plain store bought doughnuts can be decorated instead!
Check the strength of your lemon extract  before adding more than a 1/4 teaspoon to your glaze. I had plenty of lemon flavor with a quarter teaspoon of my brand, but your brand might be different, so taste and adjust as necessary.
These are best eaten the day they are made as the Fruity Pebbles tend to go soft the longer they sit.
Keywords: treat, Disneyland, doughnuts, donut, donuts, Fruity Pebbles, cereal, lemon, glaze