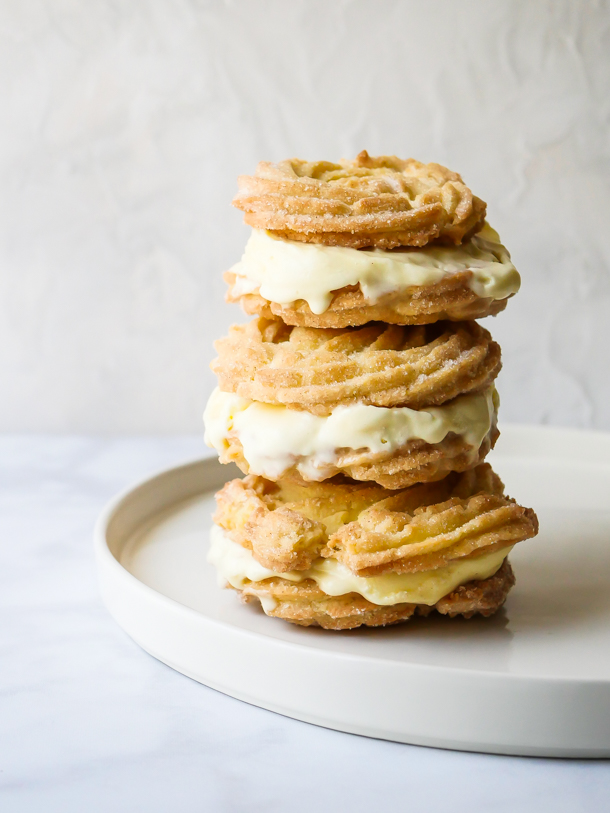 Where can I find the original treat?
This treat was found at Sleepy Hollow inside the Magic Kingdom, Walt Disney World.
Hello! I took a break on here and muted myself last week in support of amplifying voices for Black Lives Matter. This space is not just inclusive, it is anti-racist. That support does not die down as the food posts start back up again. Yes, this is a very niche blog about making treats found at Disney, but there are people behind this account, and I will absolutely not shy away about being vocal when I need to use my voice, especially when there is a public platform like this.
If you have a knee-jerk reaction somewhere along the lines of "ugh, not another food blog talking about something other than food…", I'd love for you to take a second and think why that makes you so uncomfortable.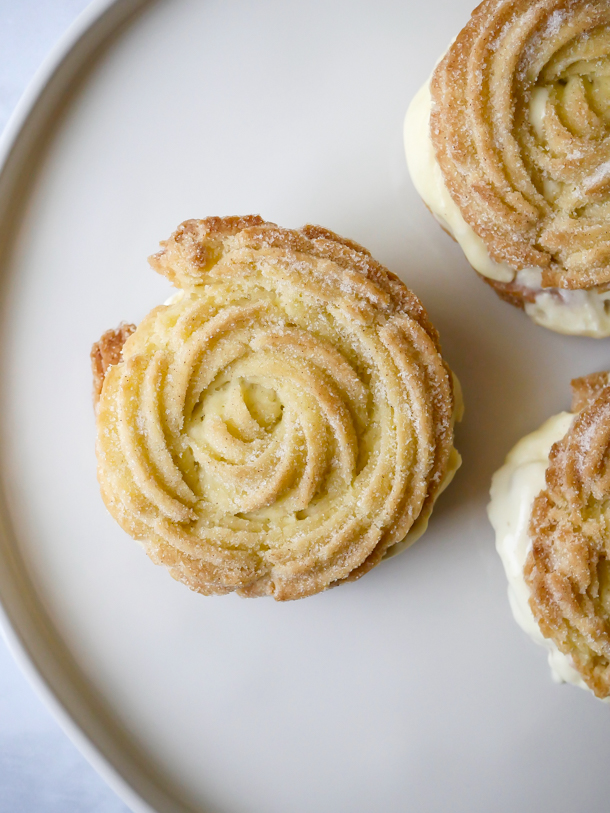 I cannot think of anyway to transition my above thoughts though into today's post other than saying, hey, I made those Churro Ice Cream Sandwiches from Walt Disney World. So that's what we're making today.
You can bake these (like I did), or fry them or try them in your air fryer (I bet they'd be great there too). The original treat had vanilla ice cream, but I highly suggest you make a batch of cinnamon ice cream and sandwich that in-between here too.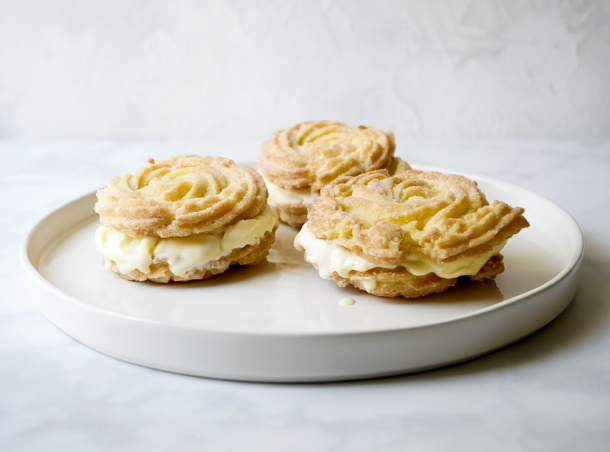 I took them a little lighter than the deep fried version as it gives the inside a custard-y, super soft center, but feel free to take it longer in the fryer if you'd like it crisper.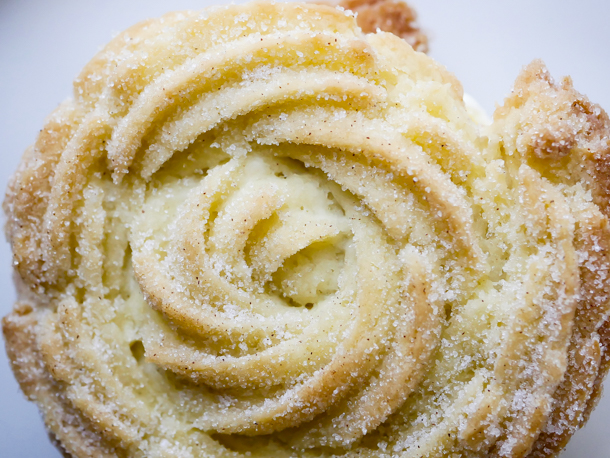 These churro wheels should be eaten the day they're made. They get soggy by the next day, although you can crisp them up again in the toaster oven (but I love them fresh).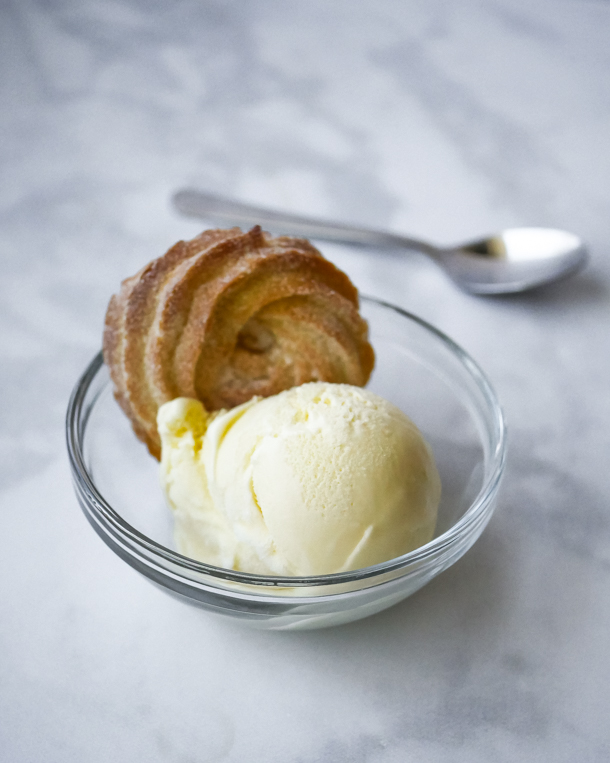 Print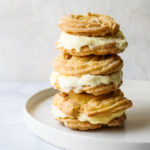 Churro Ice Cream Sandwich
Author:

Yield:

3

Churro Ice Cream Sandwiches

1

x
---
Description
Crispy, chewy, cinnamon swirled churros make the perfect sandwich base for vanilla ice cream with this Churro Ice Cream Sandwich. A Walt Disney World inspired treat.
---
For the churros:
1/2 cup

granulated sugar

1 teaspoon

cinnamon

1/2 cup

unsalted butter

1 cup

water

1 tablespoon

granulated sugar
big pinch of salt

1 cup

all purpose flour

1

egg
vegetable oil for frying
For assembly:
Vanilla ice cream (or cinnamon!!)
Ground cinnamon
Special Tools:
---
Instructions
For the churros:
Mix together 1/2 cup of granulated sugar and cinnamon in a shallow bowl, set aside.
In a medium sized saucepan over medium-high heat, combine water, butter, sugar and salt. Bring to a boil, or until butter has melted.
Turn burner to low and pour in all the flour at once. Stir until there are no visible flour lumps and dough has begun to stick together in a ball and pulled away from the sides of the pan.
Remove pan from heat and let sit 5 minutes. Stir in the egg until incorporated. Dough will appear to break or become lumpy. Continue to stir until it forms a smooth, sticky dough.
For baked churros:

Preheat oven to 425°f.
Line a half sized sheet pan with parchment. And then fill a pastry bag fitted with an Ateco 847 closed star tip half full with batter (see notes below on filling pastry bags).
Pipe out 2-1/2″ spirals spaced an inch apart (I was able to fit all 6 spirals on one sheet pan).

Bake in the oven 35-40 minutes.
Remove from the oven and let cool on the sheet pan until cool enough to touch, about 5 minutes. And then toss in the cinnamon sugar mix. Set aside.

For fried churros:

Line a half sized sheet pan with a sheet of parchment. And then fill a pastry bag fitted with an Ateco 847 closed star tip half full with batter (see notes below on filling pastry bags).Pipe out 2-1/2″ spirals spaced an inch apart (I was able to fit all 6 spirals on one sheet pan).
Refrigerate dough at least 30 minutes and up to two days. Batter will stiffen the more it sits, so let the dough come to room temperature before frying.
Place churros 2 at a time into the cooking oil for 6-7 minutes, turning after 3 minutes with a spatula or spider. Wait until oil comes back to temperature before adding next batch. Thicker churros may need an additional 30 seconds to one minute to fully cook through.
Using a spider or large spatula, remove churros from oil and drain on a cooling rack over parchment or on a paper towel. Wait at least a minute and then toss the churro in the cinnamon sugar, tapping off any excess. Set churro aside. Repeat with all the churros.
To assemble:
Scoop out about 2 ounces of ice cream and place on the bottom churro half. Sandwich with another churro.

Optionally sprinkle a little extra cinnamon over the whole sandwich and enjoy!
---
Notes
Do not overfill your pastry bag! Fill in two to three batches. If there is too much dough, it will seep out the top and will be hard to pipe.
Slowly pipe out dough all of a consistent size, smaller spots on the churro can cause them to become more fragile while handling and can break in the oil or while coating in sugar.
Churro dough can be piped out onto parchment and covered in the fridge up to 48 hours.
If you want to make you churros immediately after making dough without the chilling time, once oil has reached temp, starting about one inch above the oil, pipe a small line of dough down into oil and either snip end with scissors, or break the dough off the pastry tip on the side of your pan. Follow directions above for frying.
Thicker churros will require a longer cooking time to fully cook through the center. Test one churro first to adjust your cooking time.
Sugar not sticking to your baked churros? Melt 2-3 tablespoons of butter in a small saucepan, and then brush on the churro. Immediately toss in the sugar mixture and set aside on a grate to cool.
Cooking oil can be fine strained and stored again for another use. I strain back into the bottle it came from. Well strained oil can be stored in a cool, dry place and used up to several times.
These churros are best eaten the day of, however, they can be frozen between sheets of parchment without the sugar coating and crisped in the toaster oven for a few minutes.
Keywords: treat, Walt Disney World, Magic Kingdom, Sleepy Hollow, churro, ice cream, cinnamon, vanilla