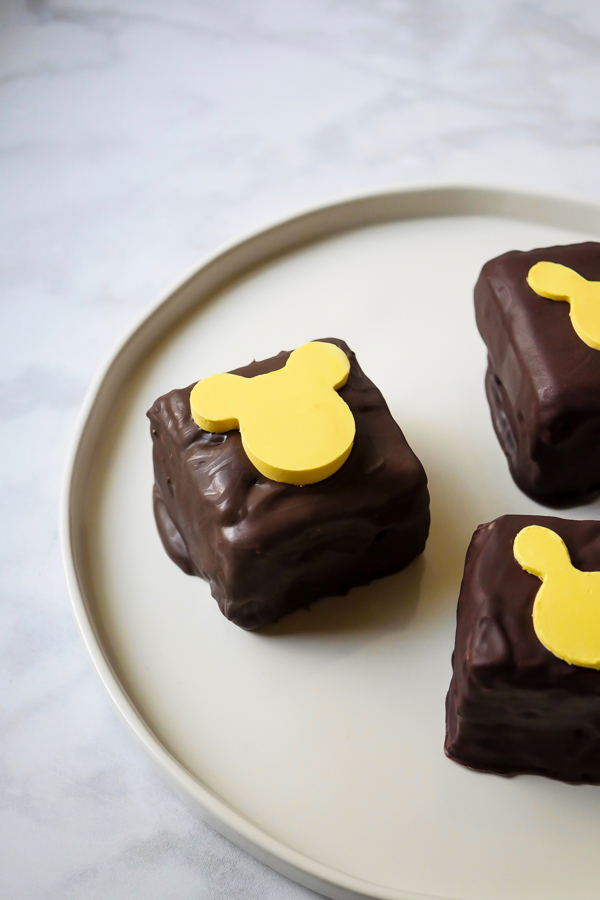 Where can I find the original treat?
These treats can be found all over the Disneyland Resort.
Did you know that Saturday was National S'mores Day? Don't worry, you won't find it marked on the calendar, and there isn't an elf that sneaks into your house at night and leaves s'mores in your shoes. It's just an excuse to enjoy one of the BEST treats for summer. And Disneyland has you covered… with no fire required!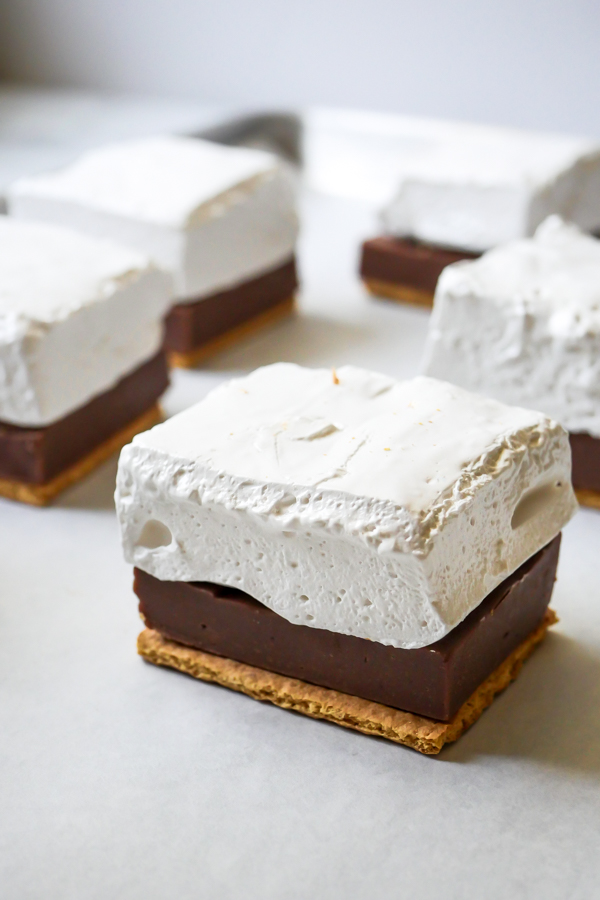 One of the year-round favorites at the resort, you can usually find this square at Candy Palace, Pooh Corner, Marceline's in Downtown Disney, and Trolley Treats at DCA. And now you can have it at home too!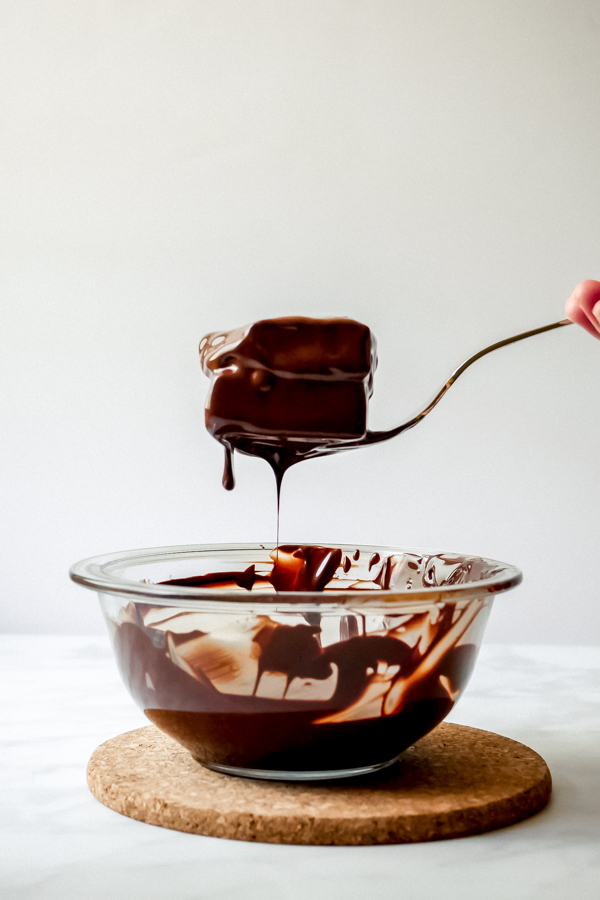 The Mickey S'more square is made up of a crisp graham cracker base, a layer of rich milk chocolate fudge, a layer of thick marshmallow, and it's all covered in a semi-sweet chocolate topped with a yellow chocolate Mickey Mouse. Our recipe below has a few steps, but it all comes together fairly easily once you're ready to assemble. There's just the added wait time for the fudge to set up, and the chocolate to set. You WILL NOT need to make graham crackers for this recipe, however, if you do have a homemade recipe you love, by all means use it! We're using store bought here for consistency and time. For your final square, the Mickey chocolate on top is definitely optional, but we do give an easy way to make one below too, just in case you want a few to snack on!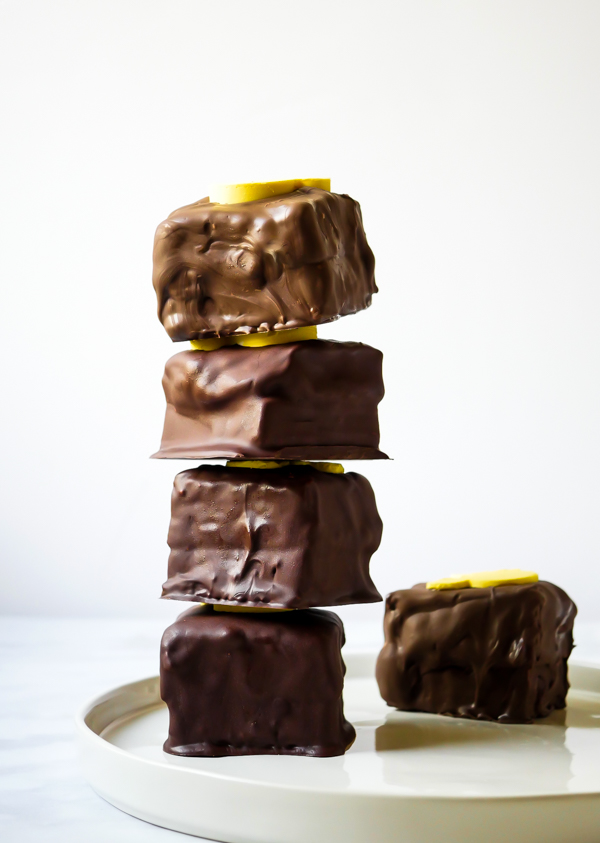 We won't be making any campfires for this recipe, and the only fire you'll see is on a gas stove, but you'll definitely know you're eating a S'more when you take a bite of this yummy treat.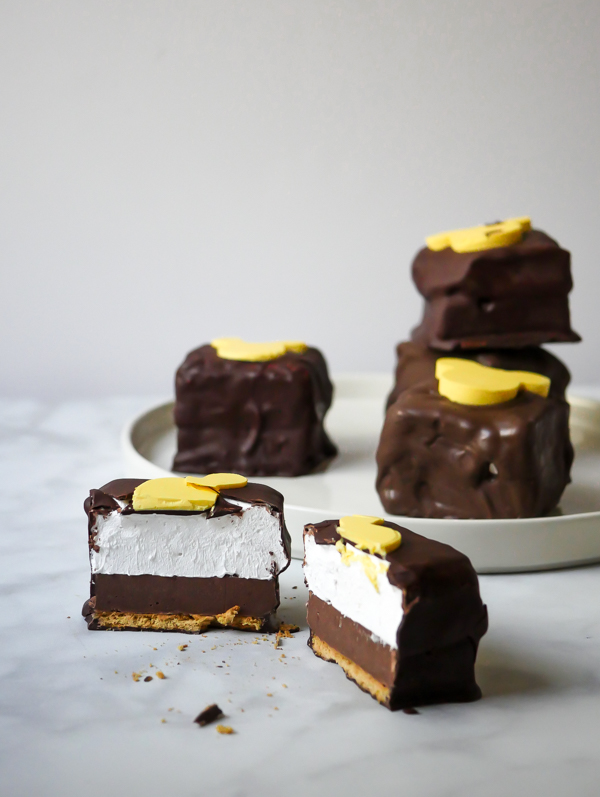 Print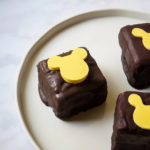 Mickey S'more Square
Author:

Yield:

6

S'mores Squares

1

x
---
Description
Layers of crisp graham crackers, rich milk chocolate fudge, and gooey marshmallow are covered in semi-sweet chocolate and topped with a yellow Mickey Mouse chocolate in this dessert reminiscent of the classic s'mores. A Disneyland-inspired treat!
---
For the Milk Chocolate Fudge:
8 ounces

(

227 g

) milk chocolate, finely chopped

2 tablespoons

unsalted butter

7 ounces

sweetened condensed milk
pinch teaspoon salt
For the Marshmallows:
1

–

1/2

cups granulated sugar

3/4

corn light corn syrup
pinch salt

1 teaspoon

vanilla extract

2

packets of gelatine

2/3 cups

of water, divided
For assembly:
Special Tools:
---
Instructions
For the Milk Chocolate Fudge:
Line a loaf pan with parchment paper or wax paper.
In a double boiler, combine milk chocolate, butter, sweetened condensed milk, and salt. Stir occasionally, until smooth.
Pour into loaf pan and chill, uncovered, until firm, about 4 hours. Set aside.
For the Marshmallows:
Grease a loaf pan and line with parchment paper or wax paper. Grease top of paper as well. Set aside.
In a medium saucepan over high heat, combine sugar, corn syrup, salt, and 1/3 cup of water. Stir to dissolve sugar. Once mixture reaches a boil, do not disturb. Let the mixture reach "soft ball" stage, approximately 238°F (use a candy thermometer or probe thermometer to get an accurate temperature).
While syrup is boiling, in the bowl of a stand mixer, pour in the other 1/3 cup of water and sprinkle gelatine over it. Let sit for five minutes so water can absorb the gelatine. Not all of it will absorb and that's ok.
Then, attach the whisk attachment and turn mixer on slowest speed. Wearing oven mitts in case of splashing, slowly pour in the syrup mixture into the mixer. Whisk two minutes and then raise speed to medium. Whisk another two minutes and then gradually move speed to highest. Whisk another 3-5 minutes until mixture is stiff. Beat in vanilla extract for 30 seconds and then pour everything into the prepared pan. Mixture will be very sticky and you might not be able to get everything out of the bowl. See notes below.
Use wet fingers to smooth out the marshmallow top and let sit out, uncovered, until firm. About 3 hours.
Mickey Mouse chocolate toppers (optional)
In a microwave safe bowl, combine chopped white chocolate and a few drops of the oil-based yellow food coloring.
Heat in microwave for 30 seconds, stir, and continue to microwave in short 15 -20 second bursts, stirring between, until chocolate is melted and smooth.
Pour into molds and let sit in the refrigerator about 30 minutes to harden. Remove from molds and set aside.
Assembly:
First, temper the semi-sweet chocolate for coating: In a microwave safe bowl, add 2/3 of the chocolate. Microwave for 30 seconds, stir, microwave for another 30 seconds. Stir again and microwave in short bursts of 15-20 seconds until chocolate has uniformly melted and has reached between 114° – 118°F. Then add in some of the remaining chocolate, stir to completely melt and then add more (I did three batches). Continue to stir the chocolate until it has cooled to 88° – 89°F (this can take several minutes of stirring). The chocolate is now tempered and ready to use. Set aside.
Un-mold the fudge from the pan and using a graham cracker as a guide, divide and cut the fudge to fit on the base of cracker. You may need to combine some pieces of fudge if your graham crackers are larger.
Next, remove the marshmallow from the pan keeping it on the parchment. To square off ends of marshmallows, use a long, sharp knife to trim sides. Clean knife with hot water between cuts.
Then, using a graham cracker as a guide, divide the pan into roughly 9 squares, using the same, long, sharp knife to make cuts. You will only need six of the marshmallows for this recipe. See notes below for storing extra marshmallows. Use damp fingers to remove marshmallows from each other if they get stuck together.
Create each stack by starting with the graham cracker base, a piece of fudge, and then top with the marshmallow. Set aside on a sheet pan lined with parchment.

Dip each stack into the tempered chocolate, using a spoon to pour chocolate on top and let drip down sides. Use a chocolate fork or slotted spatula to remove the stack from the chocolate. Allow the chocolate to drip from the stack for a minute or two (or you'll end up with lots of pooled chocolate) and then place on sheet pan. Repeat until all stacks have been dipped.
If you are using the yellow chocolate Mickey Mouse topper, place one on each stack after you have dipped it.
Allow everything to set at least 4 hours or overnight. Enjoy!
---
Notes
Making marshmallows is a sticky, hot mess. You will need to wear an apron, close toed shoes, and make sure you have a candy thermometer and the clear space to work.
Be OK with the fact that you were going to lose some of the marshmallow in the mixing bowl, on your spoon, and probably on your hands. It's OK! You'll have plenty left over.
Any leftover marshmallows in the pan can be cut and tossed in powdered sugar. Keep in an airtight container up to a week.
When tempering chocolate, keep all moisture and liquids away from the chocolate.
If chocolate starts to cool after it is tempered, microwave for 5-10 seconds.
A note on pan sizes. I mention that the fudge is made in a loaf pan and the marshmallows are made in an 8″ square pan. Both hold around 8 cups capacity so you would be able to make both in the 8″ square pan. I was able to get 6 squares of fudge from the loaf pan, I just had to smoosh a few pieces together as noted in the recipe above. Force of habit of making fudge in a loaf pan automatically had me write the recipe this way!
Keywords: chocolate, treat, s'mores, marshmallow, graham cracker, fudge, Mickey Mouse