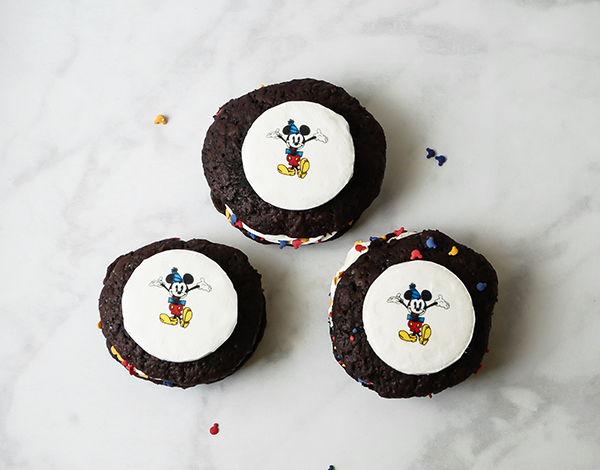 Where can I find the original treat?
These specialty treats were found at the Grand Californian Hotel.
Disneyland's "Get Your Ears On" celebration is sadly coming to a close this week at the parks, but that doesn't mean the celebration has to stop in your kitchen! We're popping back in to White Water Snacks at the Grand Californian Hotel to recreate their massive Mickey Mouse Celebration Whoopie Pie. Bonus: there's sprinkles involved.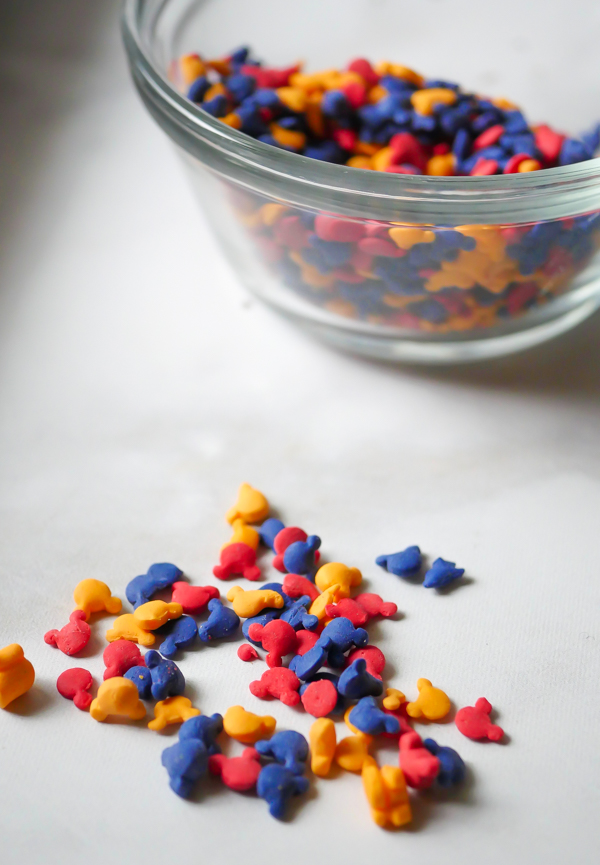 I consider myself a bit of a whoopie pie master. A few years back I decided to make some for a friend's party and they were such a hit I feel like I haven't stopped making them for friends and clients ever since. (I even made an adult's only version with Kerrygold Irish Cream that is definitely worth checking out if that's your thing.) The cakes are not super sweet because HELLO! they're filled with vanilla buttercream and sprinkles; it's a great balance that prevents them from becoming too sweet.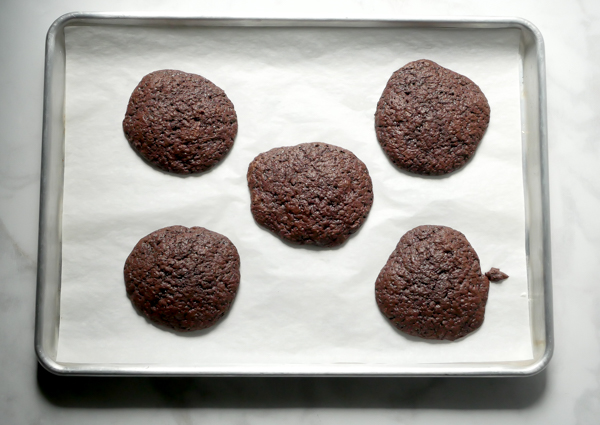 Now let's talk about the white chocolate medallion. This was purely an optional step on my part to really recreate what you get in the parks. The Mickey Mouse design on there is done with a printer outfitted with edible inks!! I have one!! If you are considering purchasing one, they're not really that expensive. But unless you are doing lots of decorating that requires such a thing (or, *coughcough*, starting a side project based on a certain theme park's foods), this is definitely not something you need to get. My kids didn't even bother eating the medallion because they found the artwork too interesting to destroy.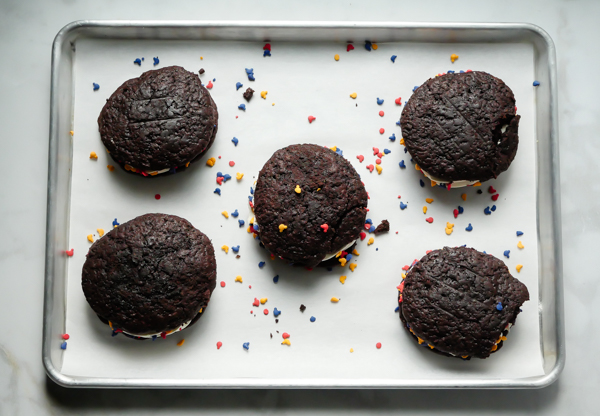 One tool that I do find helpful for making the whoopie pies is a disher. Dishers are used a lot by institutions for serving food that needs to be a certain amount. They are usually color coded to help identify them in the kitchen. However, they are excellent products to have in your kitchen since they scoop perfect sized cookies, or ice cream, or meatballs, or anything else that needs to be measured. A blue handled, #16, 2 ounce disher is the perfect way to dish out the batter for each whoopie pie half (yes, there is FOUR OUNCES OF CAKE you're getting per whoopie pie). Feel free to size this down though if you'd like more petite whoopie pies. You'll need to reduce baking time though depending on how small you go.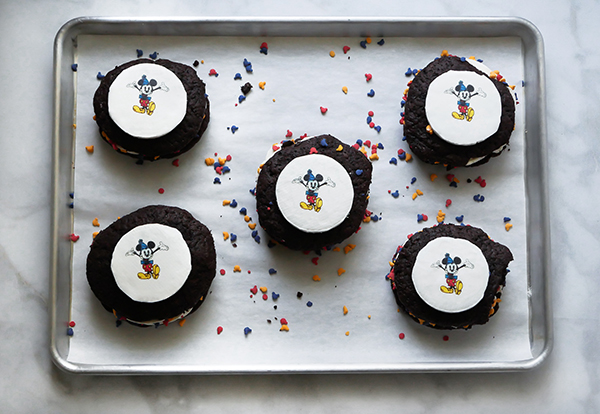 Ok, I feel like I've written enough here, let's make some whoopie pies!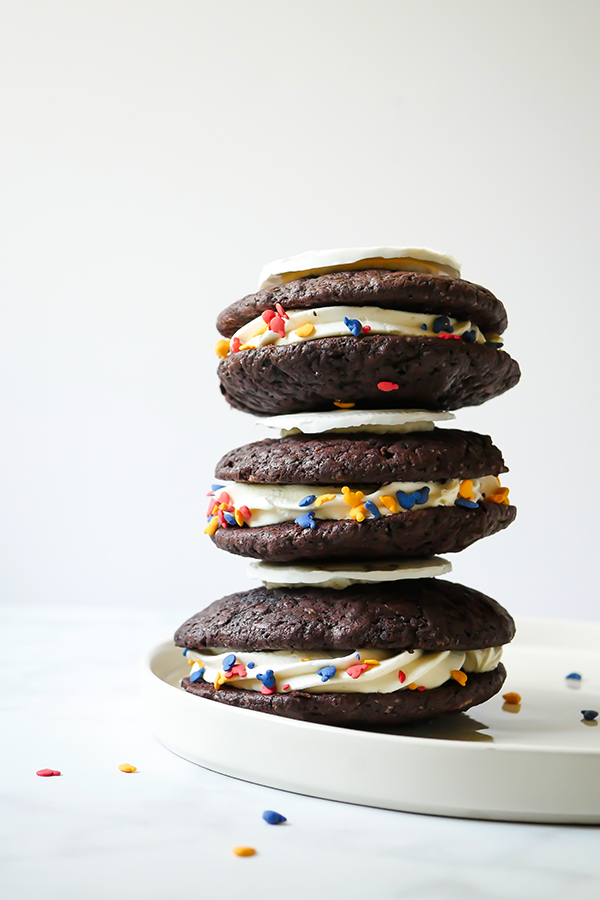 Print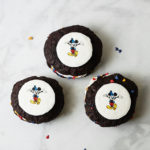 Mickey Mouse Celebration Whoopie Pies
---
Description
Rich chocolate whoopie pies are filled with sweet vanilla buttercream, sprinkled with Mickey Mouse decorettes, and topped with a white chocolate Celebration Mickey Mouse. A Disneyland-inspired treat from the "Get Your Ears On" celebration.
---
Cakes:

1/2 lb. butter

1 cup light brown sugar, packed

1 egg

1 teaspoon baking powder

1/2 teaspoon baking soda

3/4 teaspoon salt

1 teaspoon vanilla extract

1/2 cup cocoa, dutch-processed

10 ounces all purpose flour

1 cup milk (or milk substitute like almond)
Filling (this filling can be doubled if you want extra filling):

1/2 stick (2 ounces) unsalted butter, room temperature

1/2 pound powdered sugar

2-1/2 tablespoons heavy cream
Mickey Mouse celebration decorettes
2-1/2 ounces white candy melts, optional (for medallions)
Tools:
#16, 2 ounce disher
---
Instructions
Filling:
Prepare the frosting by creaming together the butter and powdered sugar until smooth.
Pour in the heavy cream until incorporated. Filling can be kept refrigerated in a sealed container up to three days.
Cakes:
Preheat oven to 350 degrees.
Make the cakes by creaming the sugar and butter together until smooth. Add in the egg and mix until incorporated.
Next add in baking powder, baking soda, salt and vanilla extract. Mix until well combined.
Sift in cocoa powder and mix until combined.
Mix in 1/2 of flour and 1/2 the milk, and then mix in second half of flour and then the rest of the milk. Stir until just combined.
Scoop out a 1/4 cup of mixture (or use the #16 disher) onto a sheet pan covered in parchment. You can fit 5 scoops on each sheet pan. Bake 18-22 minutes until a toothpick comes out clean from the center.

Cool on sheet pan and then transfer to a wire rack to finish cooling completely. Store in an air tight container until ready to use.
To assemble, spread filling on flat side of one half of the cakes. Top with second half of cake.
Sprinkle Mickey Mouse decorettes to sides of whoopie pies.
Set any extra frosting aside to attach medallions if making.
Medallions (optional)
Melt the white candy melts in a microwave safe container like glass for 30 seconds, stir, and then continue to microwave in short bursts of 15-20 seconds, stirring between times, until fully melted and smooth. Optionally, melt using a double boiler.
Next, line 5 standard muffin tins, covering bottoms and all the way up the sides, with cling wrap.
Pour in candy melts among the 5 tins, making sure it is evenly distributed.
Let set about 30 minutes and then, using the cling wrap, gently remove the discs and set aside.
If using a chocolate transfer design, follow the directions on the package and adhere to medallion.
Use remaining frosting to add a dot to the top of each assembled whoopie pie and adhere the medallion to the top.
---
Notes
A disher will help get even, rounded whoopie pies that are also consistent in size.
Frosting can be made ahead of time and kept refrigerated up to 3 days.
Keywords: chocolate, Mickey Mouse, cake