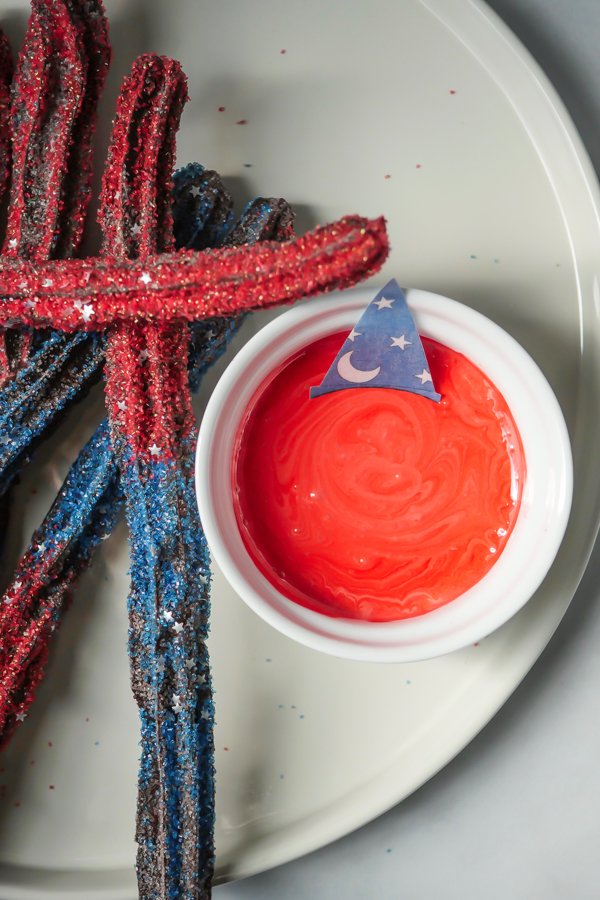 Where can I find the original treat?
This specialty churro was part of the "Get Your Ears On" celebration found in Frontierland at the Disneyland resort.
Welcome to CHURRO MONTH! While there is nothing quite like the classic Disneyland churro (and our Facebook poll told us you LOVE the classic one), Disney has put out quite a number of fun and delicious churros this past year that are deserving of some attention here. Whether it was a sweet topping, or a sweeter dipping sauce, we've picked out four recipes to highlight this month that are sure to please!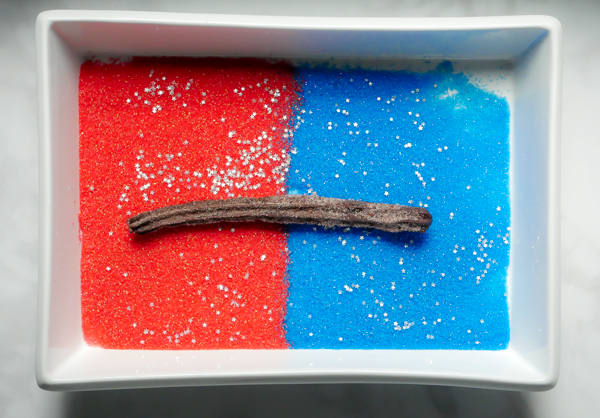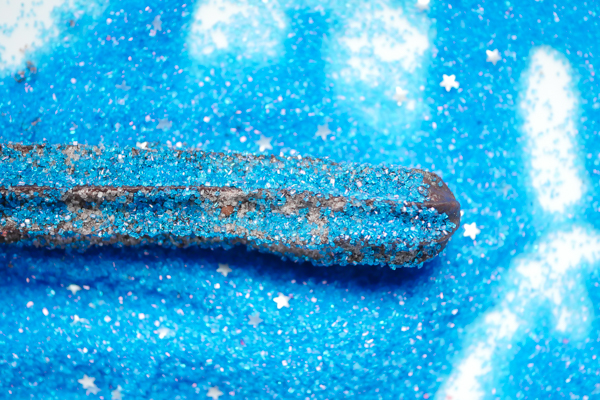 Since we're starting this in July, our first recipe up today is the Fantasia Mickey Churro from the "Get Your Ears On" celebration (and yes, we did just conclude a month of our favorite dishes in June but we withheld the churro recipes so we could indulge in a whole MONTH) with its red, white (I'm counting the paper wrapper here), and blue color scheme. This was a sugar bomb that dyed your mouth and hands red. I thought it was super pretty to photograph and the kids liked it because… well, sugar bomb.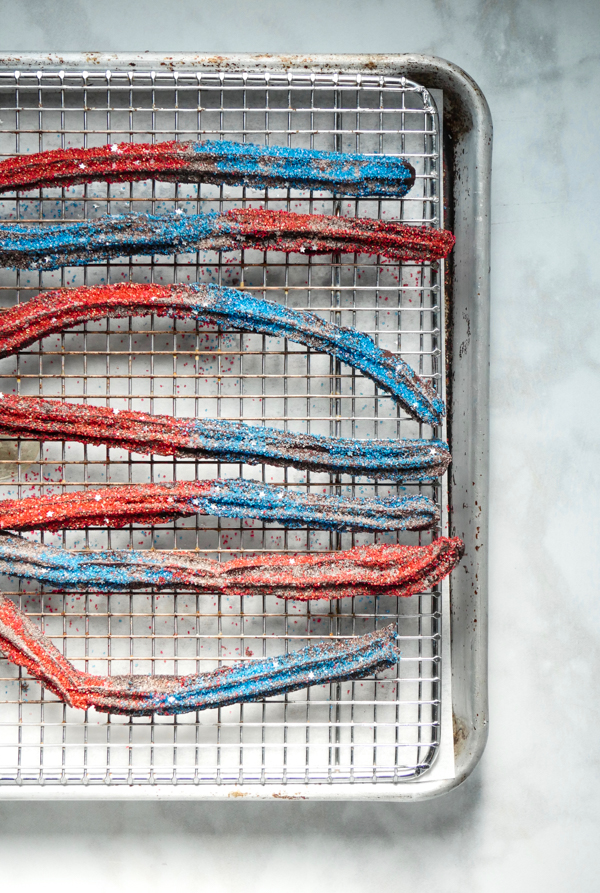 The Fantasia Mickey Churro is also one of the chocolate churros that pop up and I love the flavor of these. If you're not a fan, go ahead and make this without the cocoa powder! It will still be good!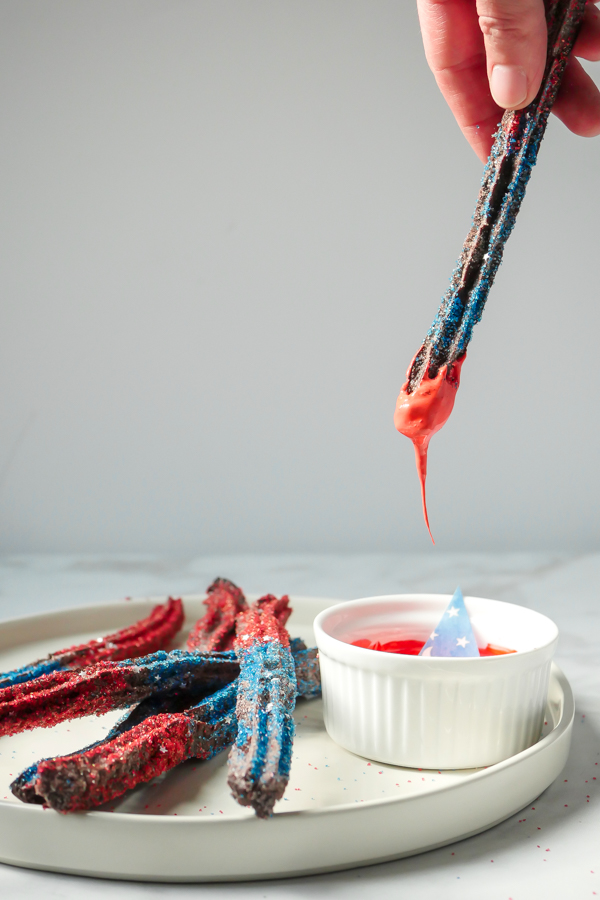 Lastly, these were paired with a bright red, marshmallow dipping sauce adorned with a teeny-tiny sorcerer hat that is worn by Mickey Mouse in Fantasia. Quite possibly I spent the whole day at the park with stained hands and a red tongue due to this dip. Also, that tiny hat fell right to the bottom of my dip before I even got to look at it so I'm going to say it's not worth the effort when recreating this unless you really want it to be an exact replica of the dessert (it was white chocolate with a printed overlay of the hat and yes I fished it out of the dip and licked it clean so I could check out the design thus staining my hands red that day). It was a lightly flavored vanilla marshmallow creme type of dip which we'll recreate in a minute. My recipe below is for more than you might need for this recipe, but it keeps in the fridge for a few weeks and you can always make more churros. Or maybe dip some fruit in it.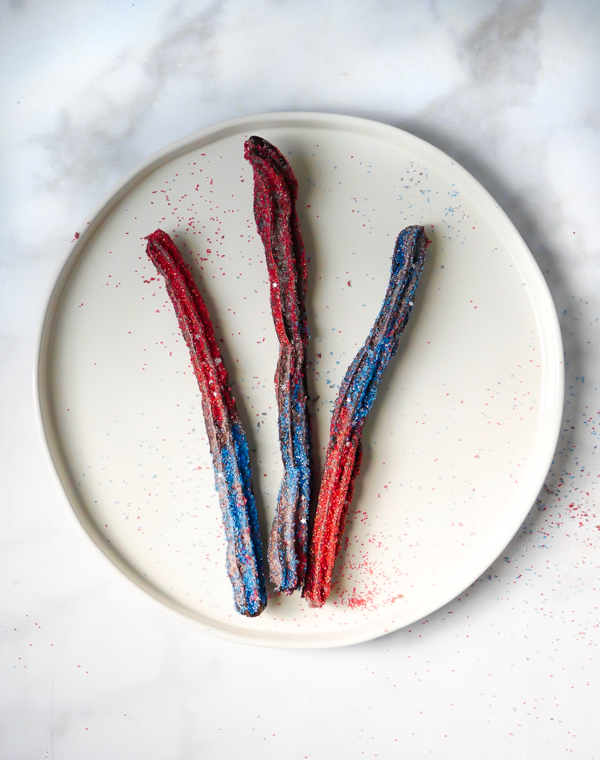 I have lots of notes and tips on making these churros so please check out the "notes" section right below the actual recipes. These will be repeated on all the churro posts because I think it will help make the churros a breeze. If you have any questions on these, drop a comment below or shoot us an email!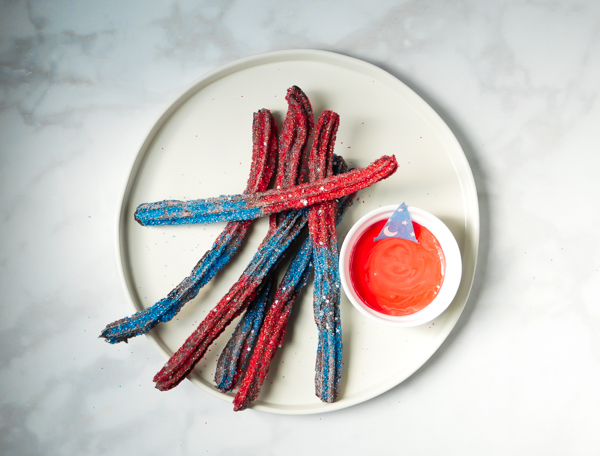 Print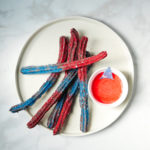 Fantasia Mickey Churro
Author:

Yield:

16

–

8

" churros

1

x
---
Description
This sparkly red and blue chocolate churro with red marshmallow dipping sauce was part of the "Get Your Ears On" celebration found in Frontierland. A Disneyland-inspired treat.
---
Chocolate Churros
1/2 cup

granulated sugar

1 teaspoon

cocoa powder
red sanding sugar
blue sanding sugar
vegetable oil for frying

1 cup

water

1/2 cup

unsalted butter

1 tablespoon

granulated sugar

1/4 teaspoon

salt

1 cup

all purpose flour

1/4 cup

cocoa powder

2

eggs
Marshmallow Creme
3/4 cup

glucose or corn syrup

1 ounce

egg white

1/4 teaspoon

salt

3/4 cup

powdered sugar

3 tablespoons

vanilla extract

1

–

2

tablespoons milk (start with

one

and increase if needed)
Tools:
---
Instructions
Chocolate Churros:
Line two half sized sheet pans with parchment, set aside. Mix together 1/2 cup of granulated sugar and cocoa powder in a long shallow bowl or loaf pan, set aside. In a 9×12 baking pan, pour red sanding sugar on one side, and blue sanding sugar on other sprinkling stars over all the sugar, set aside.

In a medium sized saucepan over medium-high heat, combine water, butter, sugar and salt. Bring to a boil, or until butter has melted.
Turn burner to low and sift in all the flour and cocoa powder. Stir until there are no visible flour lumps and dough has begun to stick together in a ball and pulled away from the sides of the pan.
Remove pan from heat and let sit 5 minutes. Then stir in each egg until incorporated. Dough will appear to break or become lumpy. Continue to stir until it forms a smooth, sticky dough.

Fill a pastry bag fitted with a Wilton 1 M open star tip half full with batter (see notes below on filling pastry bags) and pipe 8″ long dough onto the sheet pan. I was able to fill two sheet pans with all the batter.
Refrigerate dough at least 30 minutes and up to two days. Batter will stiffen the more it sits, so let the dough come to room temperature before frying.
Fill a dutch oven or deep frying pan with vegetable oil at least 2″ up the side of the pan (I found a 1/2 gallon of avocado oil worked for me in my large dutch oven. See note below about reusing oil.). Heat oil to 340-350°f, using a candy thermometer to keep the temperature constant. You may need to adjust heat up or down during cooking.
Place churros 2-3 at a time in the cooking oil for 6 minutes, turning after 3 minutes with a spatula. Wait until oil comes back to temperature before adding next batch.
Using a spider or large spatula, remove churros from oil and drain on a cooling rack over parchment or on a paper towel. Wait at least a minute and then toss the churro in the chocolate sugar, tapping off any excess, and then moving the churro in the red and blue sugar mix, keeping the colors separate while mixing.
While churros cool slightly, make the marshmallow creme dip.
Marshmallow Creme:
Combine glucose or corn syrup, egg white, and salt in the bowl of a stand mixer. Beat on high for 5-10 minutes until doubled in size.
Once doubled, move speed to low and pour in powdered sugar in a constant stream and mix until fully combined. You may have to stop and scrape down sides of bowl. Add in one tablespoon of milk. Add in additional milk if you'd like the creme runnier. Mix in vanilla extract.
Remove 1/2 cup of mixture into a separate container and add in 3-4 drops of red food dye until desired color is reached.
The rest of the marshmallow creme can be sealed in an air-tight container and refrigerated up to two weeks.
Dip churros in marshmallow creme. Enjoy!
---
Notes
Do not overfill your pastry bag! Fill in two to three batches. If there is too much dough, it will seep out the top and will be hard to pipe.
Slowly pipe out dough all of a consistent size, smaller spots on the churro can cause them to become more fragile while handling and can break in the oil or while coating in sugar.
Churro dough can be piped out onto parchment and covered in the fridge up to 48 hours.
Thicker churros will require a longer cooking time to fully cook through the center. Test one churro first to adjust your cooking time.
Cooking oil can be fine strained and stored again for another use.
Churros curling? That could be one of a few reasons. One is that it will naturally shrink and change shape as the dough hits the oil and puffs up. I found that the stiffer dough from sitting in the fridge resulted in straighter churros while fresher dough tending to curl more. Also, if you're using a circular pot like a dutch oven, churros may rest against the inside edge of the pan while cooking causing them to take on the curved shape of the pan. To prevent this, nudge your churro with the spider or spatula immediately after placing in oil when it pops back up to the surface. Continue to nudge back and forth for about 20 seconds or until the dough has gotten stiff in the oil.
Keywords: treat, churro, chocolate