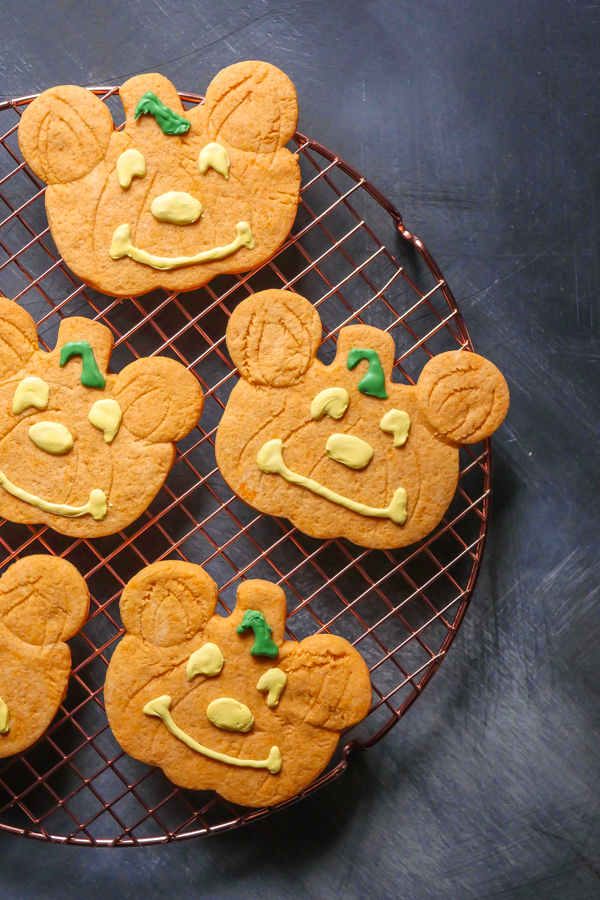 Where can I find the original treat?
These treats can be found all over the Disneyland resort.
The start of the fall season is pretty much the start of cookie season for me. Sure, I'm baking the odd chocolate chip cookie for after school snacks every so often, but when I say "cookie season" I mean the decorated, complicated looking cookies. The ones that are given as gifts or swapped for other elaborately decorated cookies. However, just because a cookies looks complicated to make, doesn't mean it is complicated. Like today's treat: the Mickey Mouse Pumpkin Cookie.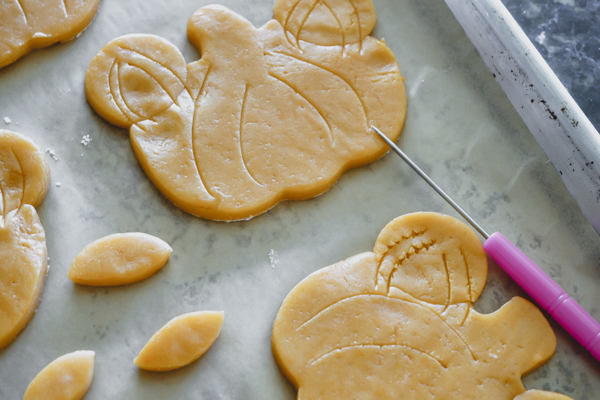 Actually, this isn't complicated AT ALL. You just need to do a little cookie puzzle piece action and melt a little chocolate. I think you all can handle that! I saw somewhere online that you could actually buy a Mickey Mouse pumpkin cookie cutter, but I figured that if you bake holiday time cookies, chances are you already have a pumpkin cutter, and a circle cutter, so I opted to just try it this way at home. Check out the photos in the recipe for examples of how I attached the ears to the pumpkin cut outs.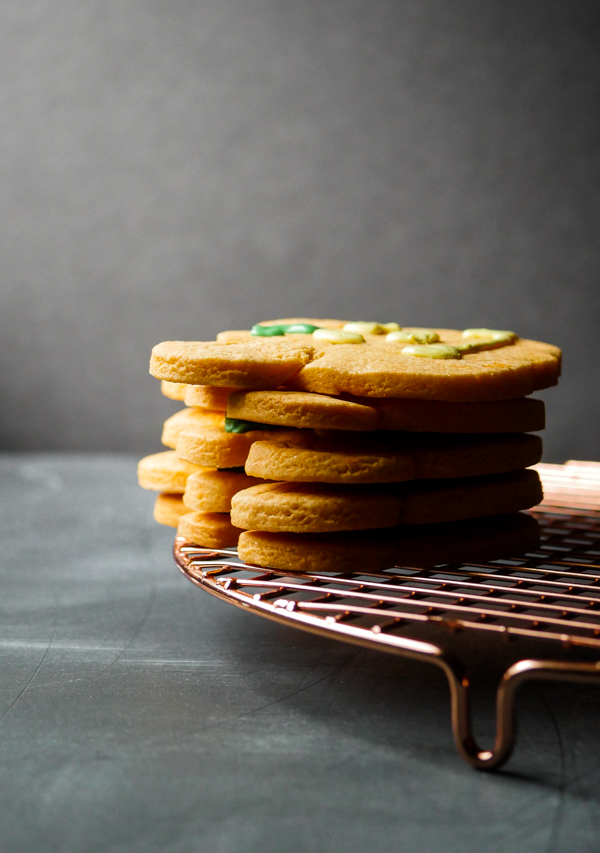 Now, the cookie at the parks is SO almond flavored, and I love almond extract, but I decided here to dial it back just a bit in case you wanted it not so overpowering; feel free to add more extract though if that's your thing. The parks seem to work a lot with chocolate for decoration, so the piping here is with candy melts. I'm sure you could also sub royal icing as well.
EXTRA EXTRA: if you really wanted these cookies to be more… PSL like, you could also add in a tablespoon of pumpkin pie spice mix to the dry ingredients here.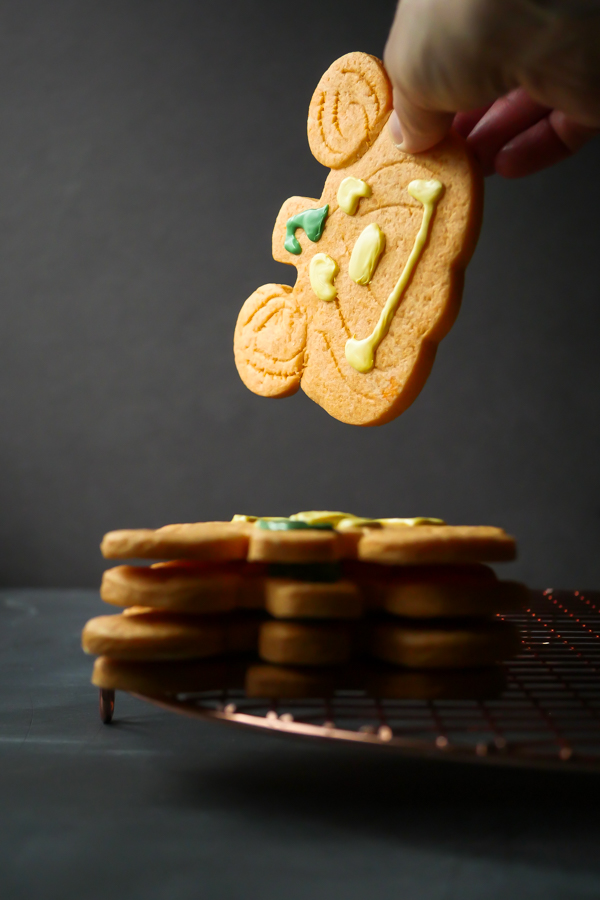 Ok, grab those cookie cutters and let's get baking!
Print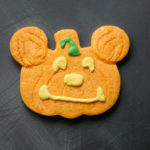 Mickey Mouse Pumpkin Cookies
Author:

Yield:

5

–

8

Mickey Mouse Pumpkin Cookies

1

x
---
Description
Almond laced sugar cookies, shaped like the iconic Mickey Mouse pumpkin, are perfect for fall! A Disneyland-inspired treat.
---
For the cookies:
2 cups

(

240 g

) all purpose flour

2

–

1/2

tablespoons arrowroot powder (or cornstarch)

1/2 teaspoon

salt

1/2 cup

(

114 g

) unsalted butter

1/2 cup

(

100 g

) granulated sugar

1

large egg

1/2 teaspoon

vanilla extract

1/4

–

1/2

teaspoon almond extract
orange food coloring
For the decoration:
Special Tools:
---
Instructions
For the cookies:
Sift the flour, arrowroot powder, and salt in a large bowl.
In your stand mixer fitted with a paddle attachment, cream the butter and sugar together. Add the eggs while mixer is going. Scrape down the sides of the bowl.
Add vanilla and almond extracts and mix to combine.
Add in 4-6 drops of orange food coloring. Mix again to combine.
Pour in the flour mixture and mix until everything is well incorporated, scrape down the sides a few times.
Put the dough in a plastic bag, roll it out to fill the bag, and then chill it in the refrigerator at least 20 minutes or up to two days.
Preheat oven to 375°F and line a baking sheet with parchment.

Once the dough is chilled, place it on a rolling mat, sprinkle with flour and roll out with a rolling pin. 
Cut pumpkin shapes out, and then two circles for each pumpkin. Using the circle cutter, cut half circles in the sides of the pumpkin to attach the ears. Gently press the circles into the half moon indentations to connect. Re-roll any extra dough for more cookies if necessary.

Place them on a non-stick baking sheet and, using a scribe, draw pumpkin lines on the pumpkin.

Bake for 12 minutes and let cool before decorating.
For the decorations:
Melt the yellow candy melts in a microwave safe bowl, like glass. Microwave for 30 seconds. Stir and microwave again for an additional 30 seconds. Keep stirring and microwaving in short bursts of 15-20 seconds until melted and smooth. Use can alternatively use a double boiler for melting. Pour melted chocolate into a piping bag with a small amount of the tip cut off.
Draw on the eyes, nose, and smile, using a scribe to smooth out any lines or bumps in the chocolate. If chocolate starts to harden too soon, microwave bag for an additional 5-10 seconds.
Next melt the green chocolate in the same manner as above. Draw on the green stems for the cookies.
Set aside to cool and let the chocolate harden, up to 30 minutes, and enjoy!
---
Notes
Dough can be refrigerated up to two days and frozen up to three months.
Dough can be made in larger batches and colored after it's been brought to room temperature by kneading color in (use gloves!).
You can also bake off the leaf/football shapes that get created when removing the dough to attach for ears. Just bake a few minutes less than the larger cookies. I made mine into a few small leaf cookies.

By not including a leavening agent in, these cookies do not puff up or expand while cooking.
Cookies can be kept at room temperature in an air tight container up to one week.
Keywords: treat, cookies, Mickey Mouse, Halloween, sugar cookies