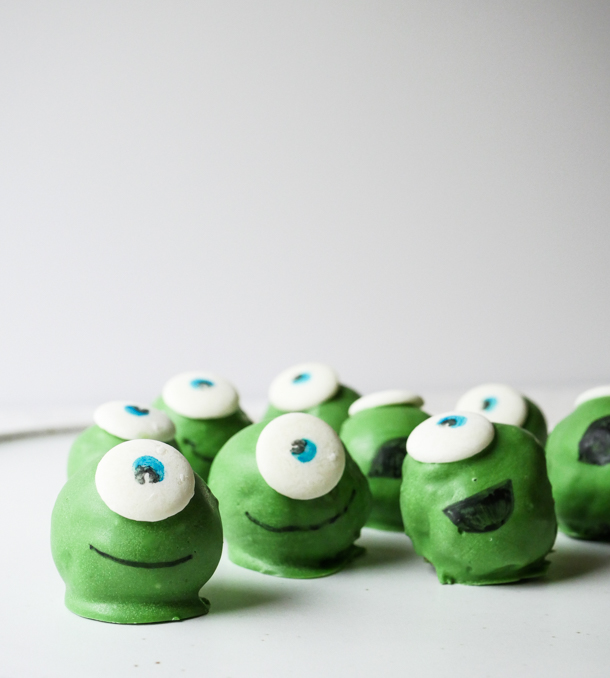 These were inspired by Disney Family and the Monsters, Inc. movie.
While bunkered down here at the house I discovered a bag of frozen cake balls I had made from a project months ago. To say I was happy does not quite convey the sheer joy this ziplock bag brought me today. Not only would I have a fun project to make, but I also got to eat some cake, and that's a good day.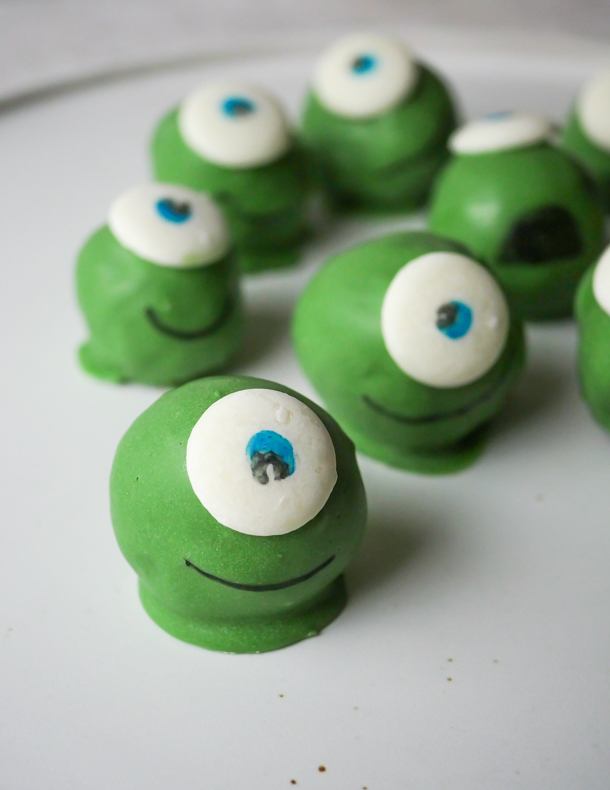 Days ago I had caught a post from the Disney Family Instagram where they had Studio DIY making a Monsters, Inc. family movie theme night with crafts and food projects. The food project was cupcakes with Mike Wazowski cake balls on top. Now, while one might say putting cake on top of cake is like a hat on a hat, I would say, NO YOU'RE WRONG IT'S ALWAYS A GOOD IDEA TO PUT MORE CAKE ON TOP OF CAKE.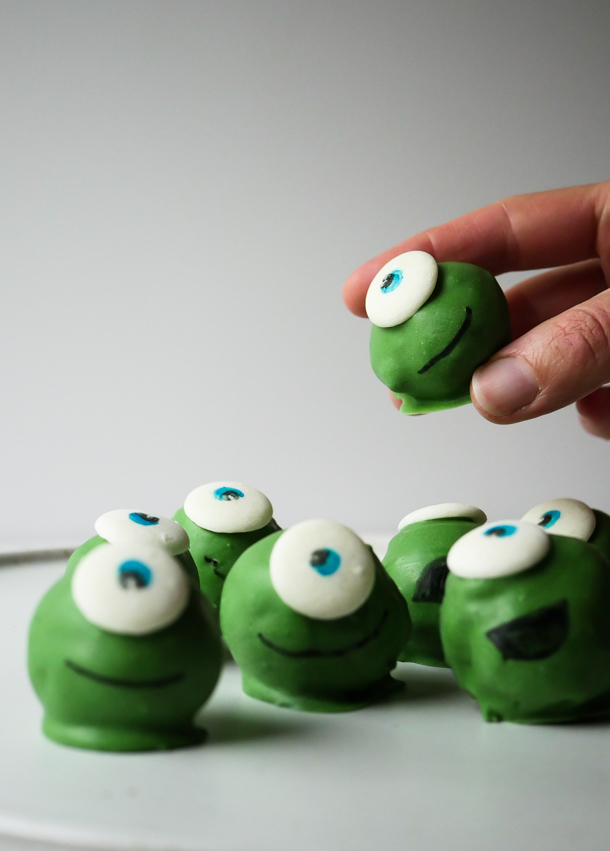 However, since we are in a bit of a food shortage, and I already had the pre-made cake balls, today I decided to skip the cupcake part and just make Mike. And a cake ball seems like the perfect vehicle to create that green, one-eyed monster.
I'm linking to my cake pop recipe below that covers the vanilla, chocolate, and red velvet cake pops found in Disneyland. (And if you want to make a pumpkin spice version, we've got that too!) As this is more of a tutorial post, I wanted to keep it short with just the decorating tips. You can always use box cake too and canned frosting if that's what you got on hand!

Other than melting the candy melts, kids can definitely be hands on here. Let them decorate the eye balls, dip the cake balls, and draw on mouths. If you're in the homeschooling boat unexpectedly right now, you can call this art, science, and a team building workshop all rolled in one. At least that's what I called it.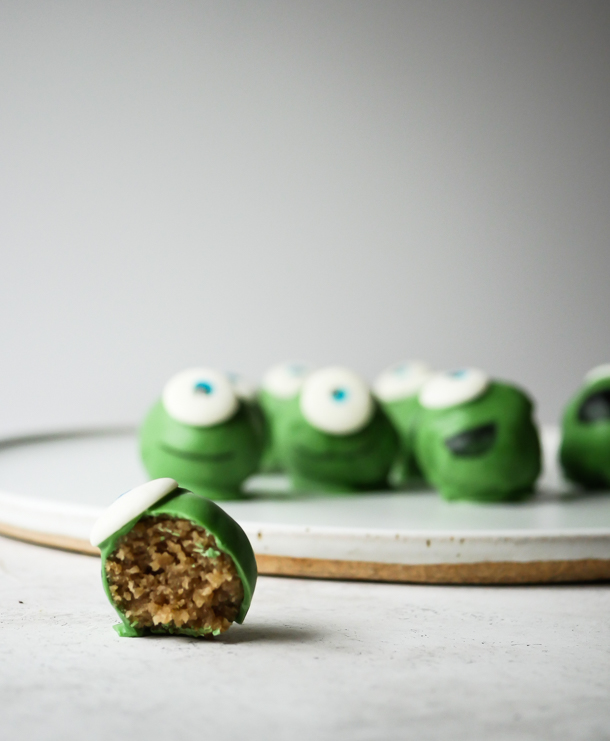 If you're baking at home right now and you make one of our recipes from here, please tag us so we can check out what you've made! It's been SO awesome to see your projects.
Ok, let's draw some eye balls!
Print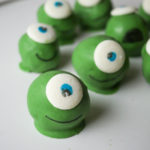 Mike Wazowski Cake Balls
Author:

Yield:

8

–

10

Mike Wazowski Cake Balls

1

x
---
Description
Turn your cake balls (or cake pops) into the lovable Mike Wazowski from Monsters, Inc. with just a few ingredients! A sweet Disney Family and Studio DIY inspired recipe.
---
---
Instructions
First, draw eyes on the white chocolate discs using the edible ink markers. Set aside.

Next, melt the green and yellow candy melts together. You can do this one of several ways:

Melt in a candy pot until smooth (Wilton makes this one for their candy melts I use for dipping projects like this). This can take up to 20 minutes to get fully smooth candy melts. Follow the directions for your particular pot!
Melt in the microwave in a microwave safe bowl, like glass, for 30 seconds. Stir and microwave again for an additional 30 seconds. Keep stirring and microwaving in short bursts of 15-20 seconds until melted and smooth.
Melt in a double boiler on the stove. In a medium saucepan, bring about an inch of water to a simmer. Place a glass bowl on top and add candy melts. Stir until melted and smooth.


Place your cake ball in the candy melts and toss with a spoon to coat.
Lift out with a candy fork or large serving fork, tapping any excess candy melts off and gently scraping off any hanging bits.
Place on a piece of parchment and immediately press one of the "eyes" onto the cake ball. Gently hold in place about 5 seconds.
Repeat with remaining cake balls.
Place the cake balls in the refrigerator to set about 15 minutes.
Once hard, use a black edible ink marker to draw on smiles, frowns, or whatever face you'd like to give Mike. Enjoy!
---
Notes
Boxed cake and canned frosting will also work for the cake balls if you don't want to make from scratch. Just follow the amounts for the crumbled cake and amount of frosting on those recipe pages listed above.
The amount of candy melts here will fully cover at least 10 golf ball sized cake balls. You can always add more candy melts in to the mix if you need to cover more cake balls.
Extra candy melts that are free from food bits can be left to cool and harden, and then stored in an airtight container. You can re-melt and use again at a future date.
If you want to make these into cake pops, follow the instruction for the cake pop recipe listed in the ingredient section above.
Cake balls will last up to one week in the refrigerator in an airtight container.
Keywords: treat, cake, cake pop, cake ball, Monsters Inc, Mike Wazowski, candy melts, chocolate, edible ink, cake pops