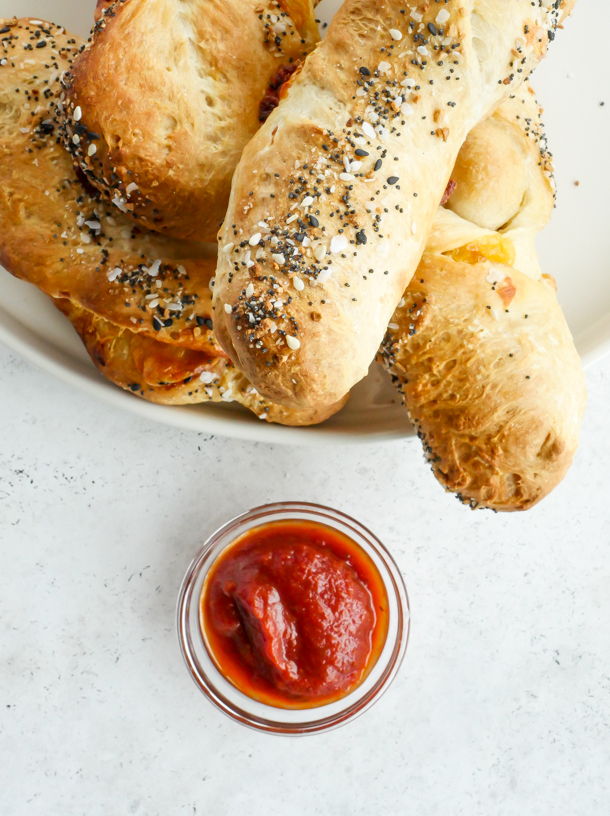 Where can I find the original treat?
This treat can be found at Maurice's Treats in Disneyland.
Tucked away just off the side of Sleeping Beauty Castle you might just miss Maurice's Treats. And that would be a shame. Because then you would also miss this super sized, carb lovers treat: the Cheddar Garlic Bagel Twist. And in case you have, now you can make it at home!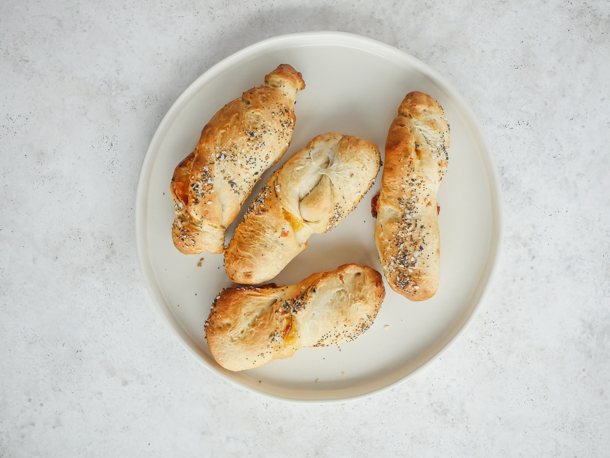 When I polled over on Instagram a few weeks ago if people would like to see more savory treats, there was a resounding YESSSS! I also have heard from readers that not everyone likes to make dough from scratch. I hear you, and today this recipe hits upon both those notes. So, unless you are deathly afraid of popping open a tube of dough, you can have this cheesy, garlicky, everything bagel topped treat in no time at all!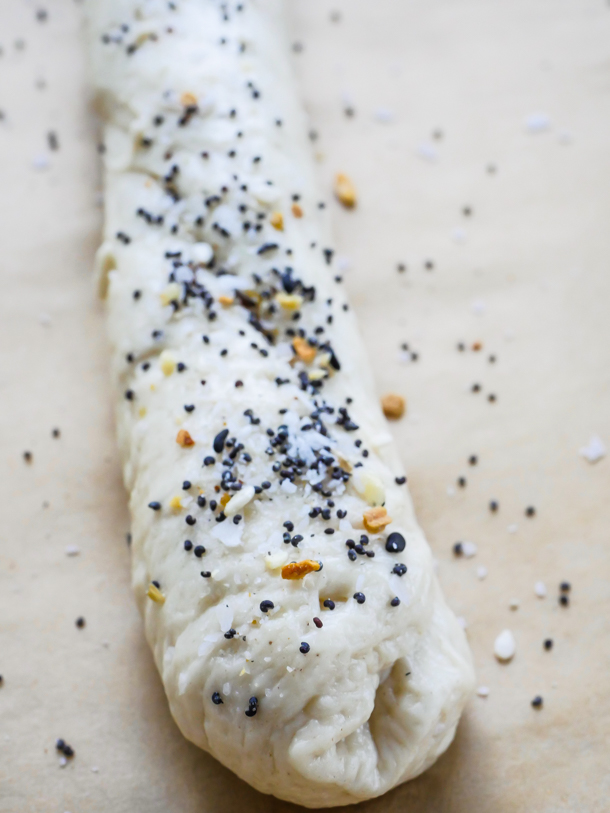 I used the French bread dough tube here, but it wasn't always available at all the grocery stores near me (I made sure to check for you all!). If that happens to you, sub out the crescent rolls and just be prepared for a flakier twist (which, honestly doesn't sound that bad). I'm also using specifically the Trader Joe's everything bagel topping mix. If you don't have a TJ's near you, don't fret, Amazon has so may alternatives, including the TJ's mix, so you can always find that there. Or check your pantry! You might have all the ingredients on hand to make your own (I've included an easy recipe in the notes below if you do want to try making your own).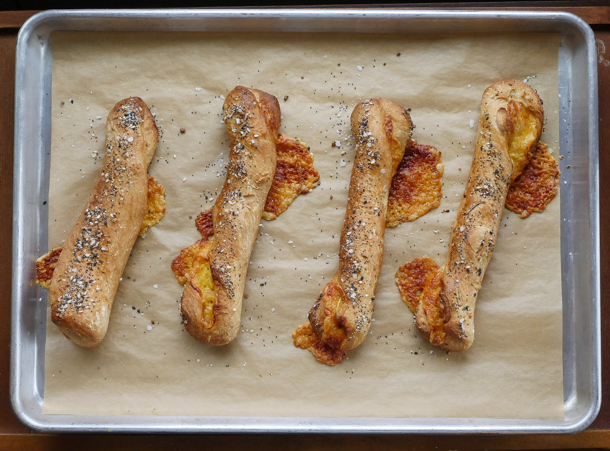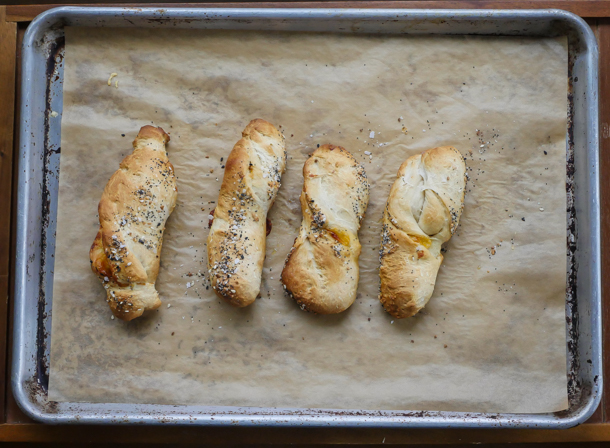 Now, you can stuff these with as much or as little cheese as you'd like, but keep in mind, the finely grated cheese will incorporate better into the dough. I loved the idea of chunks of cheese in my first round, but it mostly melted straight out of the dough. Also, I found that after flattening the dough out and filling with ingredients, folding the dough over on itself from end to end and then twisting kept all the ingredients in a lot better.

This is a fun, interactive treat, and kids could definitely get involved here. From rolling out dough, to filling, and even adding the egg wash and toppings. If they have fun with Play-Doh this is a step up (because you will let them eat the *cooked* dough, and they won't poop purple later).
So let's crack open a roll of dough and get baking!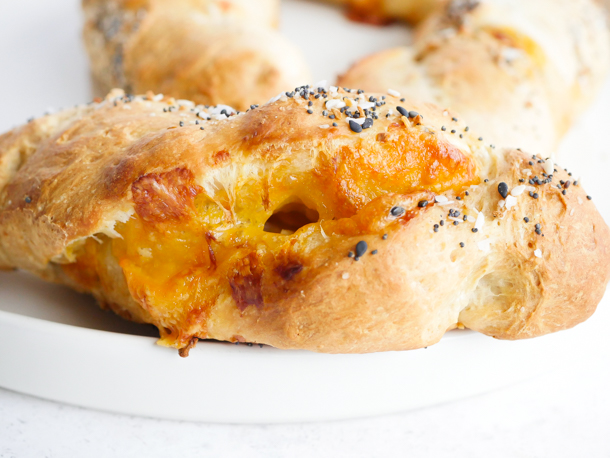 Print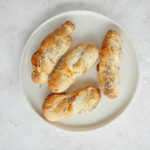 Cheddar Garlic Bagel Twists
Author:

Prep Time:

5

Cook Time:

25

Total Time:

30

Yield:

4

Cheddar Garlic Bagel Twists

1

x
---
Description
Warm, garlic scented bagel twists are stuffed with cheddar and topped with everything bagel mix. A Disneyland-inspired treat.
---
1 refrigerated tube of French bread
1/2 cup finely shredded cheese
1 garlic clove, finely chopped
1 egg white
1 teaspoon water
1 tablespoon Everything Bagel Mix
marinara sauce for dipping, optional
---
Instructions
Preheat oven to 350°f and line a baking sheet with parchment. Set aside.
Open the tube of dough and cut into 4 equal pieces.

Roll out the first piece into a flat rectangle and sprinkles in a few pieces of the garlic and about a tablespoon of the cheese. Use your fingers to push the garlic and cheese into the dough.
Then, fold over the dough on itself end to end, and then twist both ends and flatten the dough down slightly. Pinch together any open parts, or places where the cheese and garlic might be peeking through. Set on the parchment and repeat with the other three pieces.

Next, mix together the egg white and water in a small bowl. Using a pastry brush, lightly brush the tops of the dough with the mixture, careful not to saturate the dough. Sprinkle the everything bagel mix over the tops of the twists.

Bake 25-28 minutes until golden brown.
Let rest 5 minutes out of the oven, and then serve. Marinara makes a great dipping sauce for these!
---
Notes
If you cannot find French bread, crescent rolls could also be used in place, or even puff pastry. The texture will be more crisp and less chewy though.
If your rolls start to unravel while twisting, roll each hand in alternate directions while pressing down lightly on the dough.
We use cheddar here like the park's version, but pepper jack would also be great!
If egg whites are not available, you can sub in a tablespoon of cream or milk with the water and use that on the tops to hold the toppings in place.
For extra garlic flavor, add finely sliced garlic pieces on the top of the bread in addition to chopped garlic inside.
To make your own everything bagel seasoning recipe, mix together  1 tablespoon poppy seeds, 1 tablespoon black sesame seeds, 1 tablespoon white sesame seeds, 1 tablespoon dehydrated onion pieces, 1 tablespoon dehydrated garlic pieces, 2 teaspoons flaky sea salt.
Keywords: treat, savory, cheddar, garlic, bread, bagel, everything bagel, Maurice's Treats, Disneyland