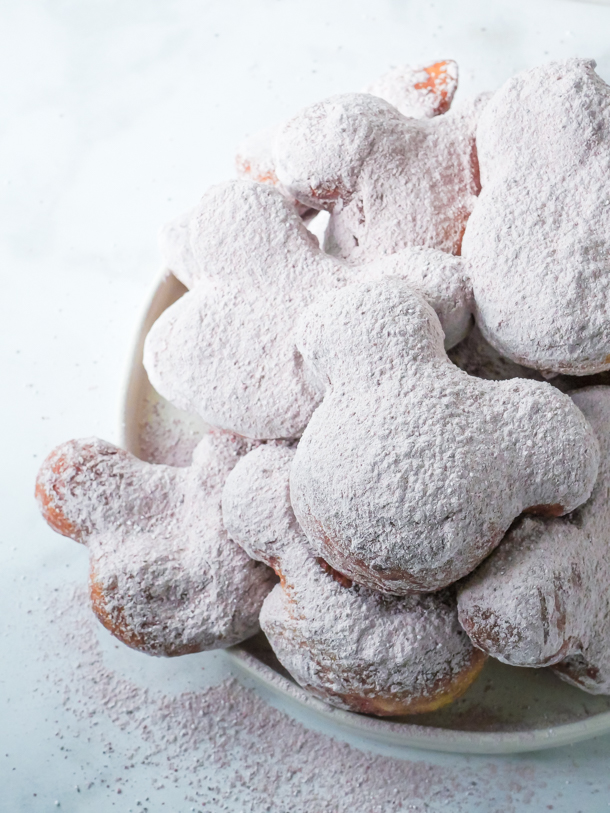 Where can I find the original treat?
This seasonal treat can be found at the Mint Julep Bar in Disneyland.
Valentine's Day at Disneyland brought a whole lot of strawberry-themed treats this year. Including beignets! So today we're whipping up a batch of the Chocolate Strawberry Mickey Mouse Shaped Beignets that you can enjoy all year long.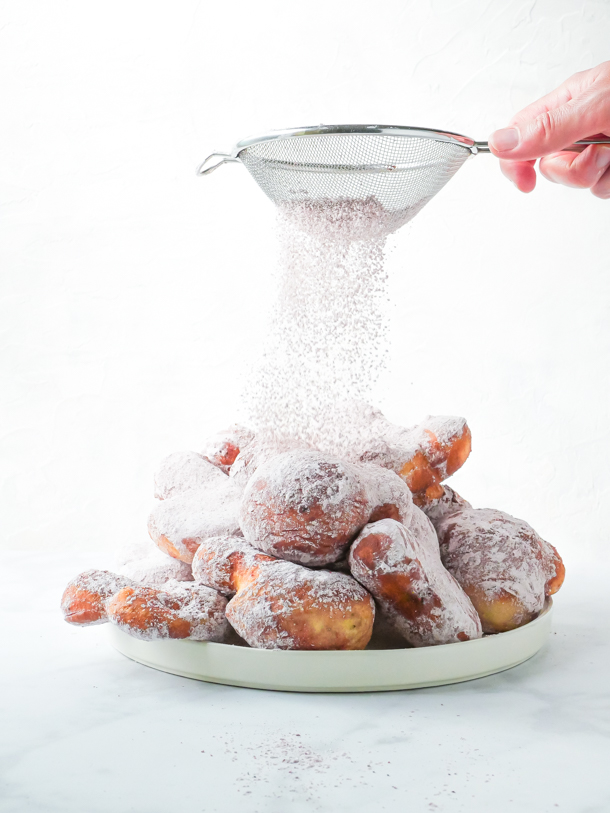 These are currently "seasonal" beyond Valentine's Day right now, but they're definitely reminiscent of the flavors of chocolate covered strawberries. And that's due to the use of finely ground dehydrated strawberries (or strawberry powder if you can find it!). The powder still has a nice tart super strawberry flavor that stands out while the beignets melt in your mouth. I found the beignets at the park were more strawberry tasting than chocolate tasting, so I've kept just a hint of chocolate here with some Valrhona cocoa powder (which is insanely good cocoa powder and I highly suggest trying some).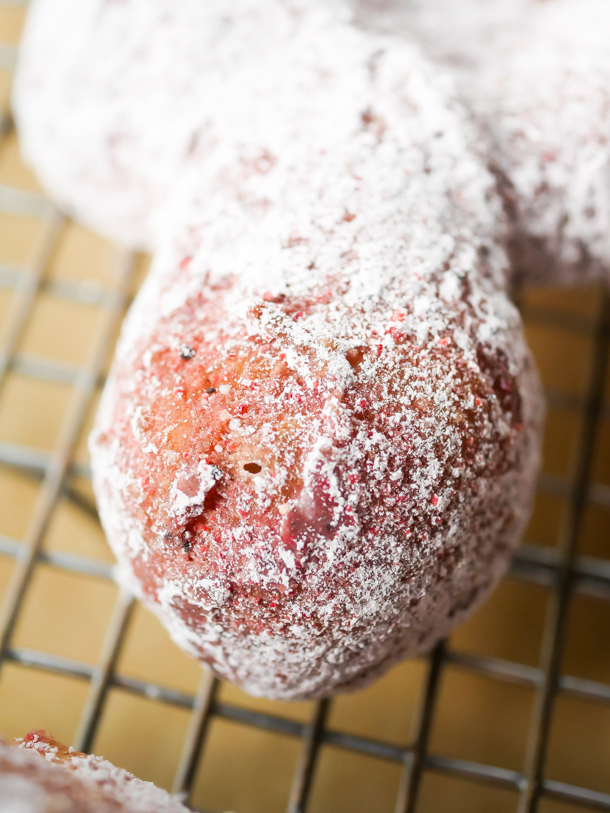 Now, strawberry powder might seem convenient, but it will come with a price tag. I've seen bags over $20 for very little in the actual bag. My suggestion here is to pick up a bag of dehydrated strawberries from your local supermarket (I found bags at Trader Joe's and Sprouts). If your local mart doesn't carry them, I've linked out to Amazon below. A quick spin in a coffee grinder pulverized them, but you could get to the same place crushing them in a baggie with a rolling pin too. I like grinding mine over the already ground powder because you also get a little inconsistency in size and that makes for some extra pops of strawberry flavor in some bites, and pretty red speckles all over your beignets.
For this recipe I tried something a little different with the flour and subbed in bread flour for the all purpose I generally use in these recipes. And you know what? You can sub these flours here 1:1. I've heard that bread flour can help with a yeasted recipe's rise, and that you can get a chewier end product… but every step here felt the same as if I was making the beignet recipe with all purpose. So, if you suddenly crave some beignets, but only have bread flour in the house (hey, it could happen!), fear not! They'll come out just fine.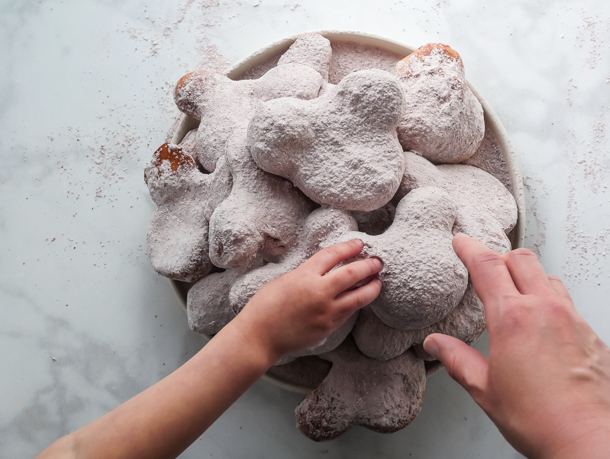 Kids can help here in the kitchen to toss the beignets in the powder. Beyond that I wouldn't recommend any other help. That is unless you have maybe a teenager who is pretty comfortable around a stove and hot oil, and I'd still recommend supervision.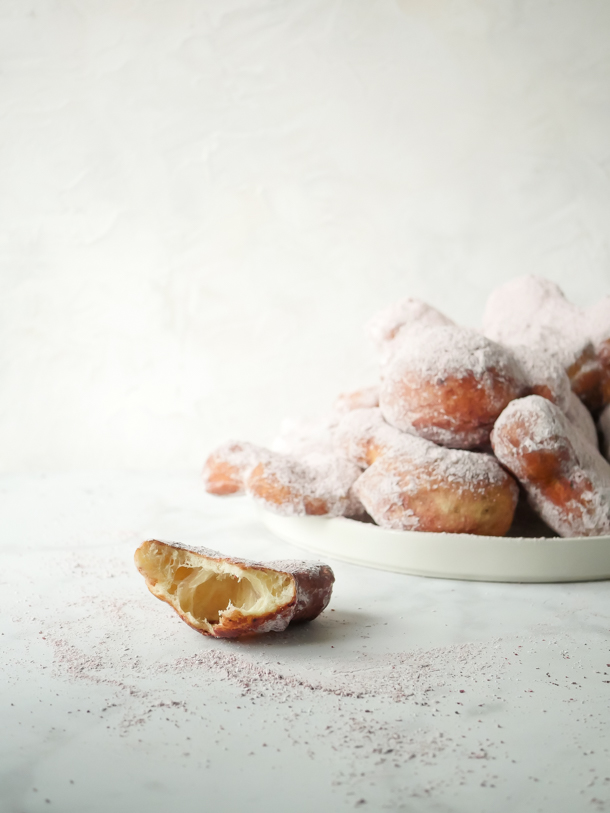 Alright, there's a few notes after the recipe so please read through before starting. Now let's fry up some dough!
Print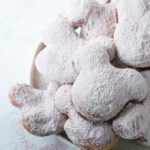 Chocolate Strawberry Mickey Beignets
Author:

Yield:

15

–

18

Mickey Mouse Chocolate Strawberry Beignets

1

x
---
Description
Melt-in-your-mouth Mickey Mouse Chocolate Strawberry Beignets are reminiscent of sweet-tart chocolate covered strawberries! A Disneyland-inspired treat.
---
1/4 cup

warm water (110º)

1/4 cup (50 g)

sugar

2 tablespoon

s vegetable shortening (I used refined coconut oil)

1/2 teaspoon

salt

1/2 cup

heavy cream, or alternative milk

1

egg

4 cup

s all-purpose flour

1/2 cup

boiling water
Vegetable oil for frying, like avocado

1 cup

powdered sugar

2 teaspoons

unsweetened cocoa powder

1/2 cup

dehydrated strawberries, ground
Specialty Tools:
---
Instructions
Sprinkle yeast over warm water in a small bowl, gently stirring to dissolve. Let stand for 5 minutes.
Combine sugar, shortening, salt, heavy cream, egg, flour and boiling water in a large bowl. Mix until everything is just combined and then stir in yeast mixture. With the dough hook attachment of an electric mixer on medium-low speed, mix the dough just until combined and smooth. About 3-4 minutes. Let dough rest for 30 minutes in the bowl.
Flour your surface and roll to 1/4-inch thickness. Using the Mickey Mouse cutter, cut dough pieces, twisting slightly, and carefully removing dough from around cutter before releasing. You may have to combine dough and roll out again to cut more shapes out. Cover with a towel and let dough rise until doubled in size in a warm, draft-free area, about 1-1/2 to 2 hours.
While dough is rising, sift together the powdered sugar, cocoa powder, and ground dehydrated strawberries in a large bowl. Set aside.
Pour enough oil into a deep-sided, heavy bottomed pot until it reaches 2 inches up sides; heat oil over medium heat to 370°F.
Add 2-3 beignets to oil; fry until golden brown on both sides, about a minute each, turning once.

Remove from hot oil with a slotted spoon and place on a baking sheet lined with paper towels.
Let rest at least five minutes, and then toss in the powdered sugar mix. You can sift extra sugar over all the beignets before serving.

---
Notes
Sifting the powdered sugar, cocoa powder, and strawberries helps to loosen any clumps, especially in the cocoa powder.
If you are in a higher altitude, your dough may need less time to rise for the second proof.
Dough may have to be recombined and rolled a second time if you have a lot of scraps.
Wait for oil to come back to temperature before adding next batch of beignets to the pot.
No dough hook attachment? Knead dough until smooth and shiny, about 5-8 minutes and then proceed with the recipe.
Want to make these at night for the next morning? After cutting Mickey Mouse shapes out. Transfer to a baking sheet and let rest, covered with a towel, in the refrigerator overnight. Let come to room temperature before frying in the morning. Dough shapes can also be frozen and then left in refrigerator overnight and fried off.
If your dough gets a skin while rising, put the sticky side down first into the oil to avoid tearing while the beignet expands.
Strain your oil after it reaches room temperature. It can be used again!
Keywords: treat, chocolate, strawberry, beignet, doughnuts, Mickey Mouse