Where can I find the original treat?
This treat is available at Clarabelle's in Disney California Adventure Park.
Welcome to the next post in our new series, 5 Minute Treats! And today's recipe is just TWO ingredients! Sound too good to be true? Well, now you have the magic power to make Hand-dipped Ice Cream Bars!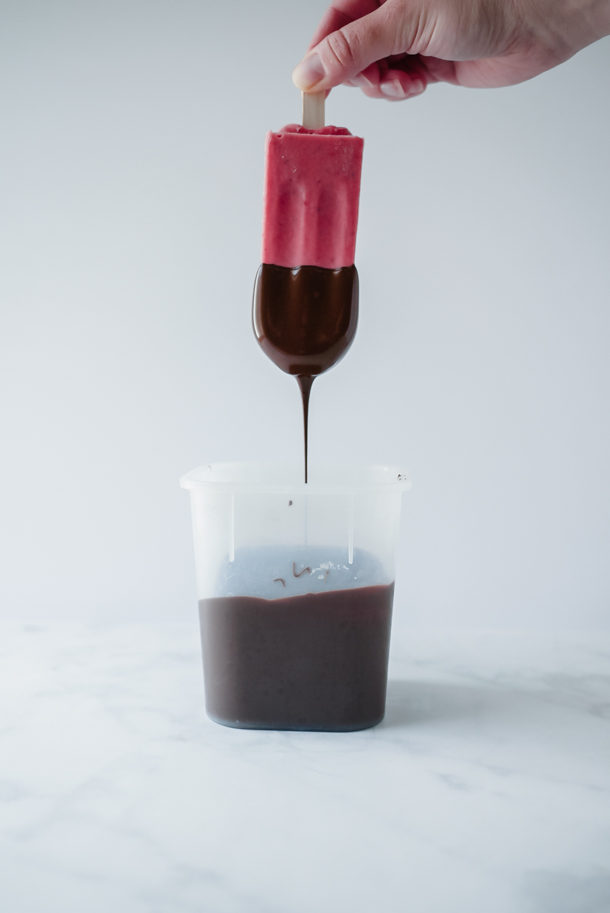 Otherwise known as magic shell, you just need chocolate (either milk or dark or somewhere in-between, or even white chocolate if you'd like) and coconut oil. That's it! Melt them together, and when they hit the frozen ice cream… BAM! The chocolate is instantly hardened and ready to eat. You'll need to time adding your ingredients so that they stick if you choose to do that. Clarabelle's, where we originally tried this treat, has lots of options including sprinkles, chocolate chips, even POP ROCKS!! And if you get "The Whole Herd", you get ALLLLLLLL the toppings. We usually go that route.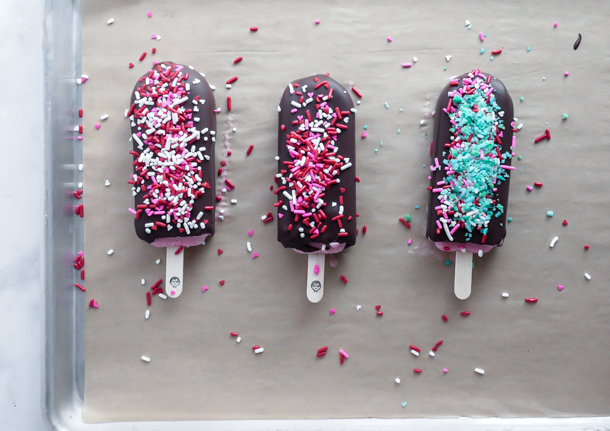 This is a really fun treat for kids to get involved in making. They can dip their ice cream and add all the toppings they want. And you can always drizzle on more chocolate sauce if you need a stronger "glue" for the items.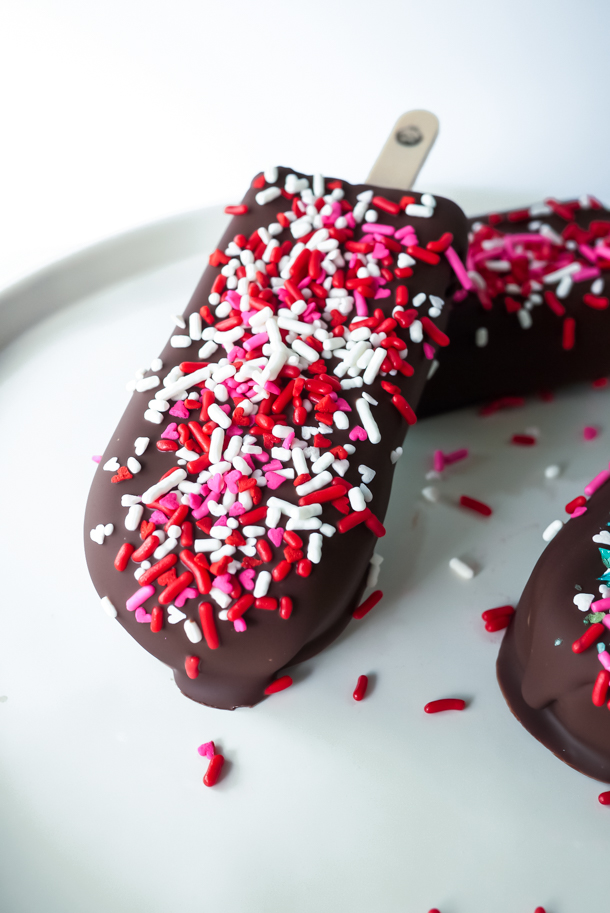 Now, the magic here happens because the frozen surface of the ice cream hardens the coconut oil (coconut oil reaches a solid state just below 76°f). If you dip non frozen items in this magic sauce, well, it won't instantly harden. However, a quick trip to the freezer will take care of that!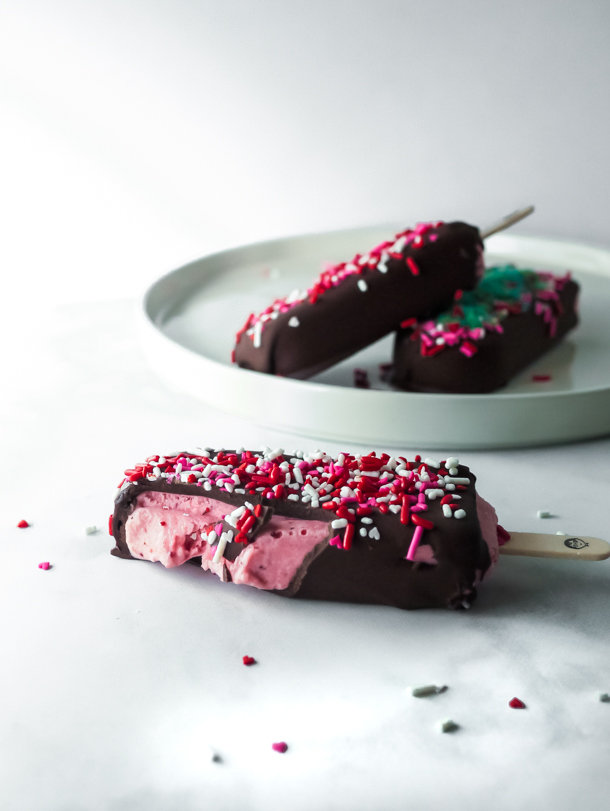 Ok, grab some ice cream bars and get dipping!
Print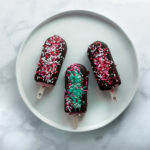 5 Minute Treats: Hand-dipped Ice Cream Bars
Author:

Yield:

2 cups

Chocolate Magic Shell

1

x
---
Description
Magically turn chocolate sauce into a chocolate shell for your ice cream bars with our latest 5 Minute Treat for Hand-dipped Ice Cream Bars. And don't forget to generously top with "The Whole Herd". A Disneyland-inspired treat.
---
For the Magic Shell:
2 cup

chocolate chips (dark, milk, semisweet, white, or any combination)

3 tablespoons

refined coconut oil
pinch salt, optional
To serve:
ice cream bars
sprinkles
decorettes
chocolate chips
Pop Rocks
---
Instructions
For the Magic Shell:
In a microwave safe bowl, combine chocolate chips, coconut oil, and salt if using. Microwave on high 30 seconds, stir, and then repeat microwaving at 20 second intervals, stirring between, until melted and smooth. Let cool to room temp and use.
Can be stored in the refrigerator up to one month. Gently rewarm cold magic shell in the microwave in short bursts, stirring between.
To serve:
Let magic shell cool at least 5 minutes.
Quickly dip the ice cream in the sauce and then place on a piece of parchment.
Immediately cover in toppings.
If more "glue" is needed to hold toppings, drizzle on some additional sauce. Serve immediately! 
---
Notes
If using blocks of chocolate, finely chop before melting.
Store in a tall, narrow container (tupperware works!) to make dipping ice cream easier.
Magic Shell can be stored in the refrigerator up to one month. Gently rewarm cold magic shell in the microwave in short bursts (5-10 seconds), stirring in between.

If you want to dip with non-frozen items, like fruit, dip, place on parchment, and then freeze at least 5-10 minutes.
Keywords: treat, ice cream, magic shell, DCA, chocolate, sprinkles, 5 minute treat