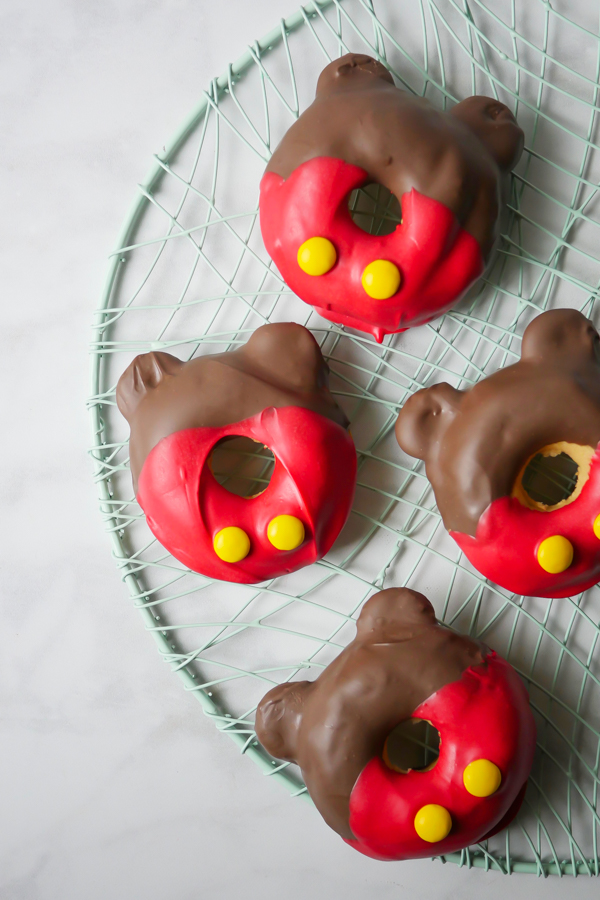 Where can I find the original treat?
These vanilla cake doughnuts can only be found at Craftsman Bar and Grill (formerly White Water Snacks) inside the Grand Californian Hotel in Downtown Disney.
I found myself googling "does Mickey Mouse wear pants or shorts?" this morning to make sure I was getting the title correct for this treat. Answer: most definitely shorts.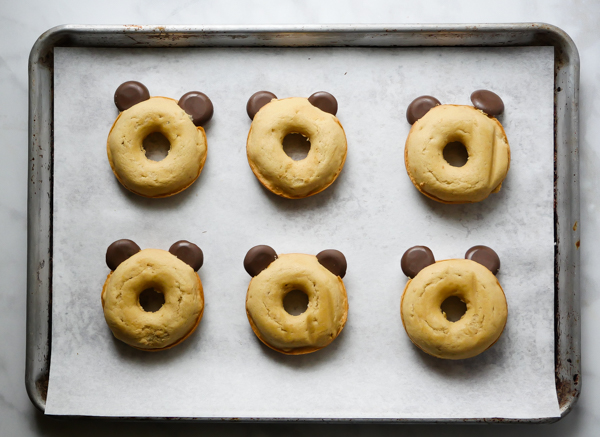 And these are most definitely delicious and easy to make. My #1 easy tip for this is that you most certainly can use store bought doughnuts to make these. The actual treat from White Water snacks reminds me of grocery store doughnuts (like Donettes!), but today I'm also providing a super quick (and I mean quick!) recipe to make baked doughnuts. So put that vat of hot oil away for another day (like churro making day… we have a lot of those recipes coming up!).
One surprise after dissecting my doughnut to find out all the components… Disneyland uses M&Ms to make all their buttons for treats! Who knew? Well, maybe you if you're like me and need to know how they make everything.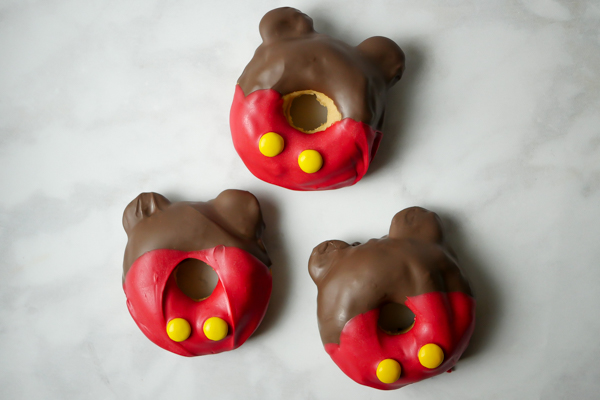 If you can find chocolate wafers, go ahead and use those for the ears, however since my chocolate wafers were on the small side, I used the same candy melts chocolate to make rounds in a mold, and then that chocolate was used again to coat the ears and doughnut.
Print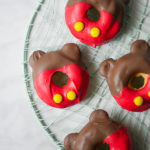 Mickey Mouse Shorts Doughnuts
Author:

Yield:

6

doughnuts

1

x
---
Description
Vanilla cake doughnuts dipped in chocolate look a lot like Mickey Mouse's shorts. A Disneyland-inspired treat!
---
Vanilla Cake Doughnuts
Adapted from King Arthur Flour
2 tablespoons butter
25g (1/8 cup) vegetable oil (or refined coconut oil)
49g (1/3 cup) granulated sugar
35g (1/4 cup) brown sugar
1 large eggs
3/4 teaspoons baking powder
1/4 teaspoon baking soda
1/4 teaspoon salt
1/2 teaspoon vanilla extract
159g (1-1/3 cups) Unbleached All-Purpose Flour
113g (1/2 cup) milk (or milk substitute like almond milk)
Chocolate Discs
1–1/2 ounces light cocoa candy melts
Decorating
5–1/2 ounces light cocoa candy melts
3-1/2 ounces red candy melts
12 yellow M&Ms
---
Instructions
For the doughnuts:
Preheat the oven to 425°F. Lightly grease one standard doughnut pan.
In a medium-sized mixing bowl, beat together the butter, vegetable oil, and sugars until smooth.
Add the eggs, beating to combine.
Stir in the baking powder, baking soda, salt, and vanilla.
Stir the flour into the butter mixture alternately with the milk, beginning and ending with the flour and making sure everything is thoroughly combined. 
Spoon the batter into the lightly greased doughnut pans, filling the wells to about 1/4″ shy of the rim.
Bake the doughnuts for 10 minutes. Remove them from the oven, and wait 5 to 7 minutes before turning them out of the pans onto a rack.
For the Chocolate Discs:
Melt candy melts in a microwave safe bowl (preferably glass) or piping bag for 30 seconds. Stir, and continue to microwave in short bursts until fully melted and smooth. (I found once more at 30 seconds and then again at 20 seconds worked for me, but your microwave may be different)
Pour melted chocolate into round molds about 1/8″ high or alternatively, pipe out into rounds on parchment.
Wait 10 minutes and then remove from molds. The discs are ready to use.

For assembly and decorating:
Start by cutting two slits for the chocolate discs in each doughnut for the ears along the seam line of the doughnut. Insert the discs halfway into the doughnut. Set aside.
Melt the light cocoa candy melts following the method above. Alternatively you can do this over a double boiler as well.
Dip the doughnut half including the "ears" into the melted light cocoa candy melts. See note below if you have trouble keeping the discs in place.
Set the dipped doughnuts down on parchment and melt the red candy melts using the same method above or in a double boiler. Dip the bottom half of the doughnut in the red candy melts, overlapping with the light cocoa candy melts. Immediately press two yellow M&Ms into the red to make Mickey's buttons. Set aside.
These take about 30 minutes to fully set and can be eaten then, or stored in an air tight container for up to 3 days.
---
Notes
Several components can be purchased instead of made. The doughnuts and chocolate discs can be store-bought and assembled.
If the discs pop out while dipping the doughnut into the melted chocolate, remove them and dip the doughnut separately, and then they can be dipped separately in the melted chocolate and inserted into the doughnuts.
Never rest items that have been dipped into candy melts on a wire rack. Always use parchment paper or you risk the melted chocolate fusing onto the wires and ripping off once cool.
Keywords: chocolate, doughnuts, Mickey Mouse