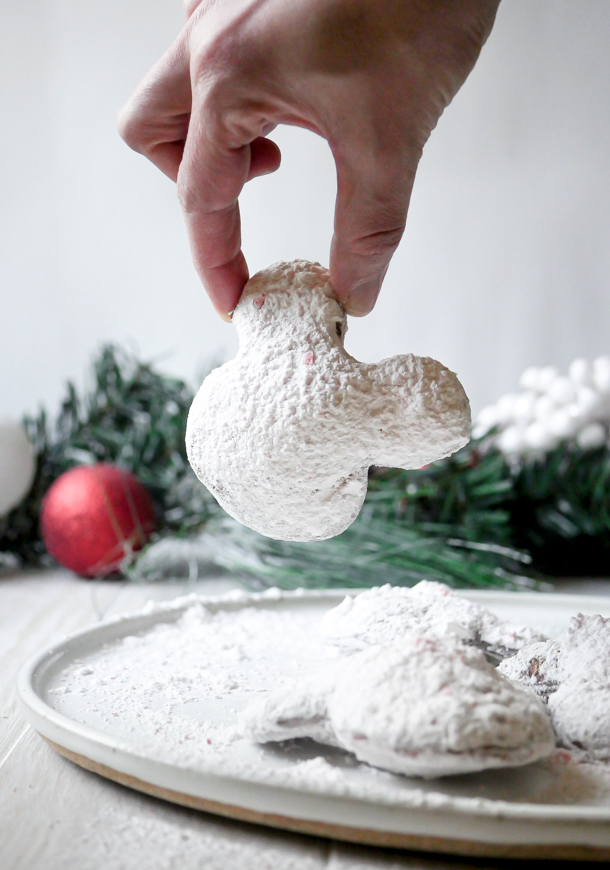 Where can I find the original treat?
This holiday time treat can be found at the Mint Julep Bar at the Disneyland Resort.
Peppermint is a very holiday time flavor. From candy canes to chocolate bark to all manner of baked goods, you cannot escape this refreshing addition to treats this time of year. At Disneyland, there is an obvious peppermint theme going on… there are even Mickey Mouse peppermint candy shaped pillows this year. And they smell of peppermint, and yes, I've bought a couple for Christmas decorating. So of course I also had to try a batch of the holiday time favorite at the park, the Mickey Mouse shaped Peppermint Beignets.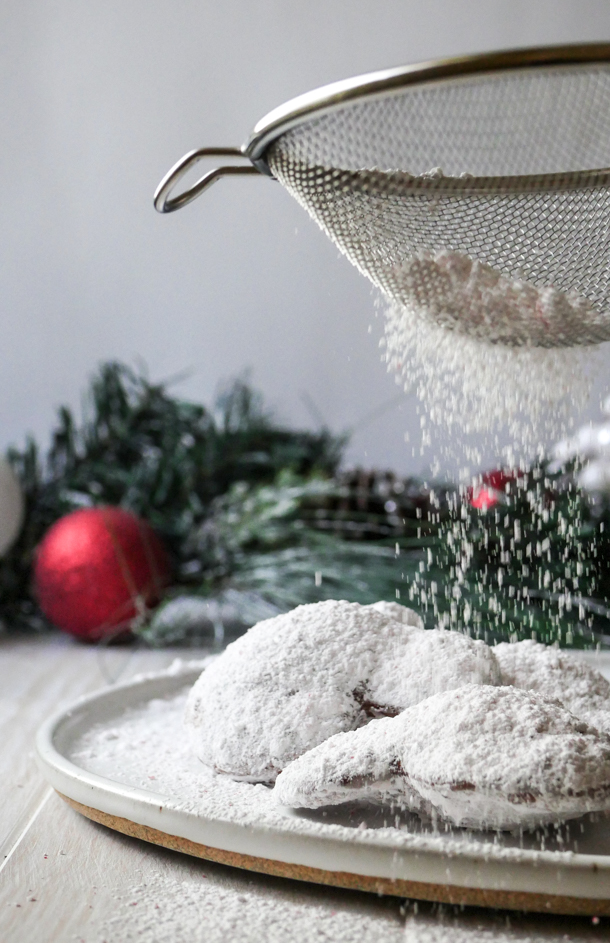 What I love about these is that they don't go overboard on the peppermint. It's a nice balance between the sweet powdered sugar with enough of a "touch" of peppermint so that you can taste and see it (pink powdered sugar!), but your mouth isn't overwhelmed by the bracing coolness that can accompany peppermint.
Making these at home you can adjust that up or down to your preference. I kept my peppermint addition close to what I feel you get at the parks but if you looooove some peppermint flavor, you'll definitely want to up the candy canes here. And yes! We're using ground up candy canes to flavor the powdered sugar!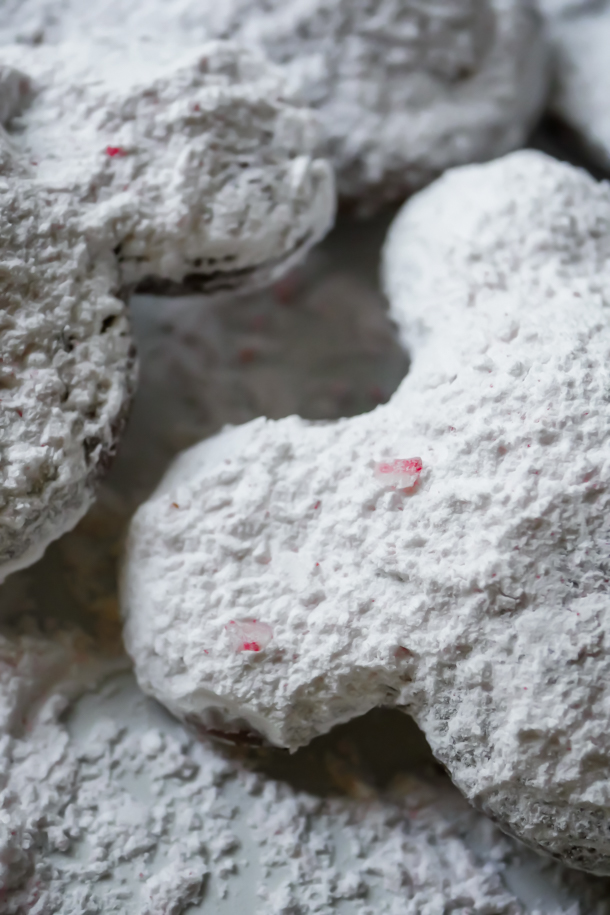 These beignets follow the same recipe as the classic beignets, or any of the other flavored ones on this site. It's the addition of the peppermint that gives these the unique holiday twist.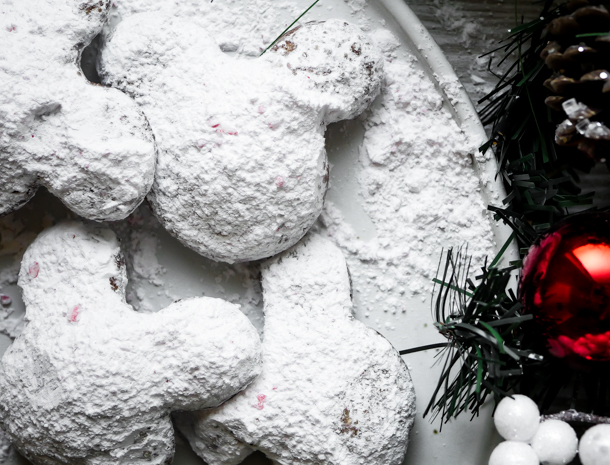 One question I got last time was about freezing the dough. The short answer is yes, you can do the 30 minute proof in the bowl, roll it out, cut the shapes, and then freeze in plastic wrap. You can keep it frozen up to a month. When ready to use, you can remove from the freezer, and let thaw overnight in the refrigerator. Then unwrap from plastic, move to your counter, cover with a towel, and let rise two hours. I found that they did not puff up as well in the oil, but I only did one test of these so there could have been other factors here I haven't taken into consideration. If you've frozen and then fried, let me know how yours turned out!
Also, remember to read through all the notes after the recipe for some helpful tricks and notes! OK, now let's get that oil hot and make some holiday beignets!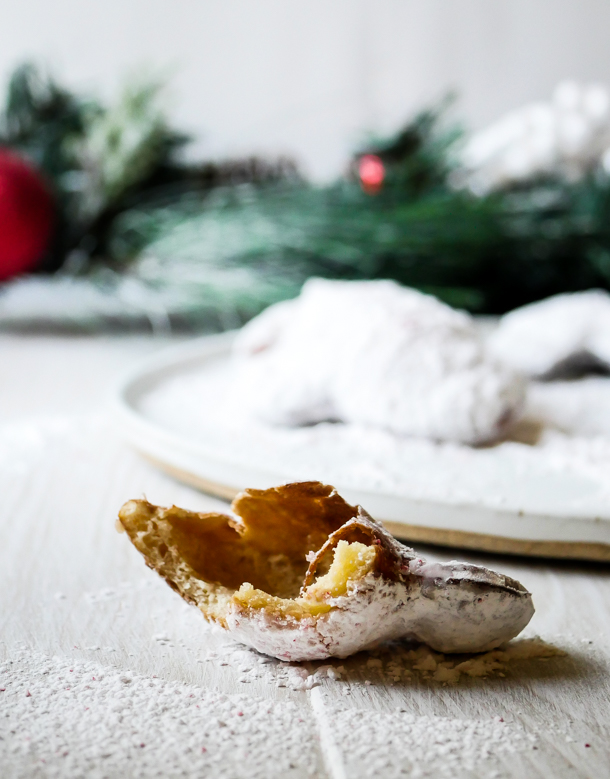 Print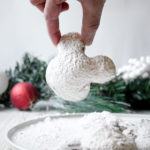 Mickey Mouse Peppermint Beignets
Author:

Yield:

15

–

18

Mickey Mouse Peppermint Beignets

1

x
---
Description
Melt-in-your-mouth Mickey Mouse Peppermint Beignets are full of holiday spirit with a minty crushed candy canes and lots of powdered sugar! A Disneyland-inspired treat.
---
1/4 cup

warm water (105º)

1/4 cup (50 g)

sugar

2 tablespoon

s vegetable shortening (I used refined coconut oil)

1/2 teaspoon

salt

1/2 cup

heavy cream

1

egg

4 cup

s all-purpose flour

1/2 cup

boiling water
Vegetable oil for frying, like avocado

1 cup

powdered sugar

2

–

3

mini candy canes, crushed (I used a coffee grinder for fine and small chunks of candy)
Specialty Tools:
---
Instructions
Sprinkle yeast over warm water in a small bowl, gently stirring to dissolve. Let stand for 5 minutes.
Combine sugar, shortening, salt, heavy cream, egg, flour and boiling water in a large bowl. Mix until everything is just combined and then stir in yeast mixture. With the dough hook attachment of an electric mixer on medium speed, mix the dough just until combined and smooth. About 3-4 minutes. Let dough rest for 30 minutes in the bowl.
Flour your surface and roll to 1/4-inch thickness. Using the Mickey Mouse cutter, cut dough pieces, twisting slightly, and carefully removing dough from around cutter before releasing. You may have to combine dough and roll out again to cut more shapes out. Cover with a towel and let dough rise until doubled in size in a warm, draft-free area, about 1-1/2 to 2 hours.

While dough is rising, mix together the powdered sugar and crushed candy canes in a large bowl. Set aside.
Pour enough oil into a deep-sided, heavy bottomed pot until it reaches 2 inches up sides; heat oil over medium heat to 370°F.
Add 2-3 beignets to oil; fry until golden brown on both sides, about a minute each, turning once.
Remove from hot oil with a slotted spoon and place on a baking sheet lined with paper towels.
Let rest at least five minutes, and then toss in the powdered sugar and candy cane mix. You can sift extra sugar over all the beignets before serving.

---
Notes
Candy canes clumping when you crush them? Add a teaspoon of powdered sugar to the mix. It will absorb some of the excess oil the candy might give off.
If you are in a higher altitude, your dough may need less time to rise for the second proof.
Dough may have to be recombined and rolled a second time if you have a lot of scraps.
Wait for oil to come back to temperature before adding next batch of beignets to the pot.
No dough hook attachment? Knead dough until smooth and shiny, about 5-8 minutes and then proceed with the recipe.
Want to make these at night for the next morning? After cutting Mickey Mouse shapes out. Transfer to a baking sheet and let rest, covered with a towel, in the refrigerator overnight. Let come to room temperature before frying in the morning. Dough shapes can also be frozen and then left in refrigerator overnight and fried off.
If your dough gets a skin while rising, put the sticky side down first into the oil to avoid tearing while the beignet expands.
Strain your oil after it reaches room temperature. It can be used again!
Keywords: treat, peppermint, holiday, beignet, doughnuts, Mickey Mouse