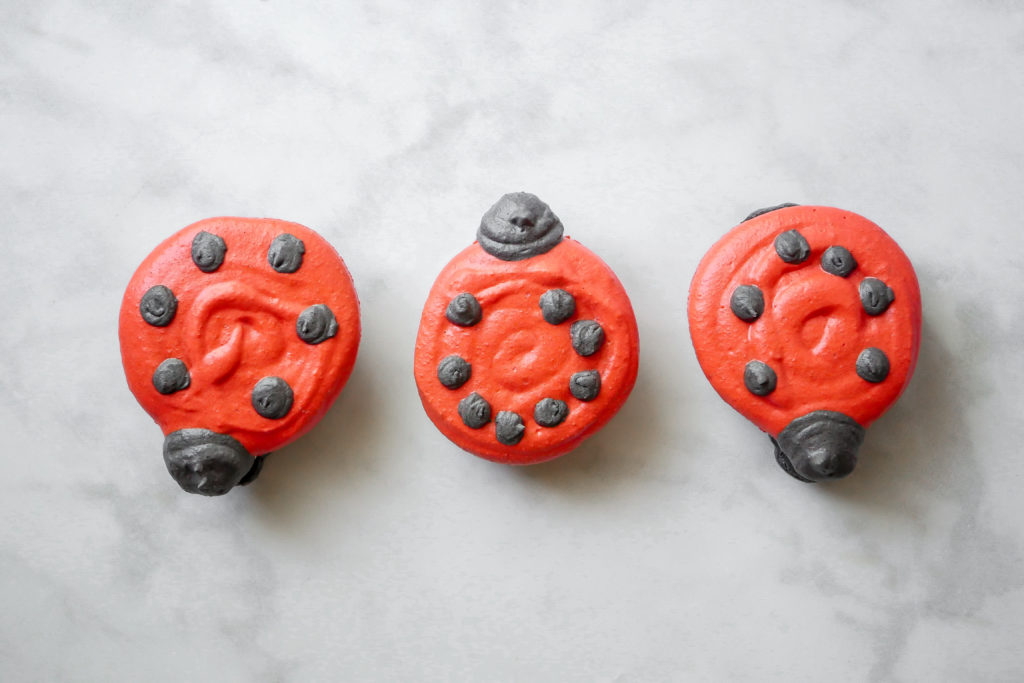 Where can I find the original treat?
This treat can be found at the Jolly Holiday Bakery Cafe in Disneyland.
This past summer, Disneyland brought back the beloved Main Street Electrical Parade (MSEP) for a short run, ending September 30th. Besides the thousands of glittering lights, they also brought out a slew of tasty treats to commemorate the event. Like the giant Ladybug Macaron.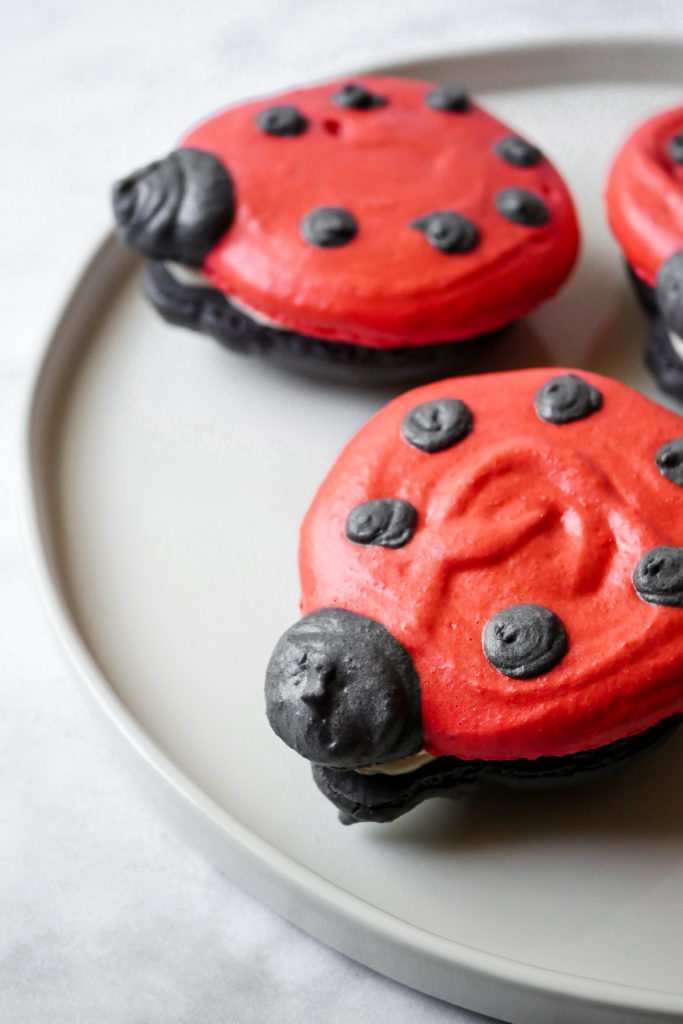 This treat is not new to the park, and was last seen in 2017 during a longer run of the MSEP, and I'm sure will be ending its run at the Jolly Holiday Bakery Cafe when the parade closes. But now that we've recreated the recipe, you can enjoy it again until the next (hopefully longer) run of the parade returns!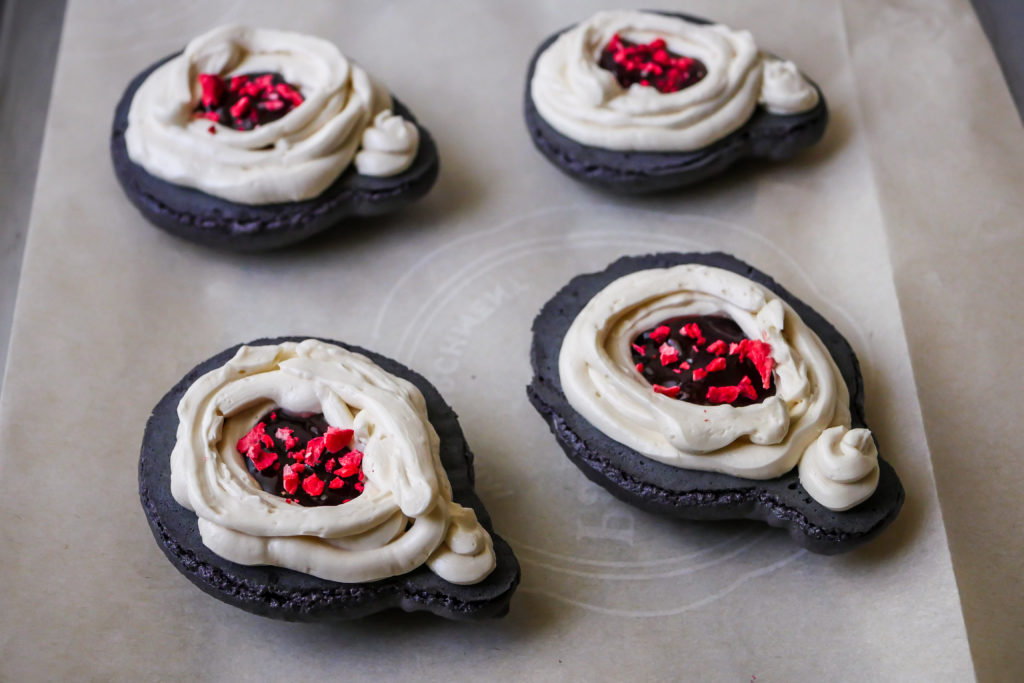 This oversized ladybug-shaped macaron is filled with strawberry buttercream, strawberry jelly, and freeze dried strawberry pieces. These are also gluten free, as the cookies are made using ground almonds and no gluten containing flour if that's an issue.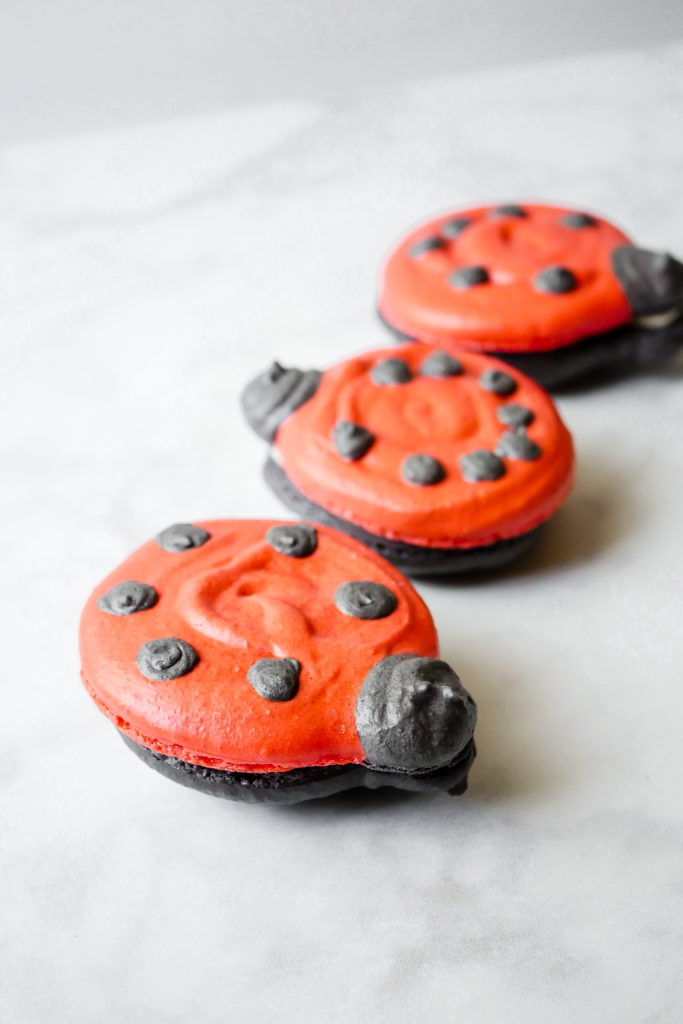 I've included some additional notes below the recipe, so please read all the way through before making these. However, I will point out that sifting the almond flour and the powdered sugar together is a must. It might seem crazy to sift it four times, but you need that amount of sifting to make sure the sugar has absorbed the oils from the almonds otherwise it will be clumpy. Also, working with egg whites means you need to have a gentle hand when folding in the mix, or even pouring in the sugar. Patience and steadiness will result in great puffy macarons.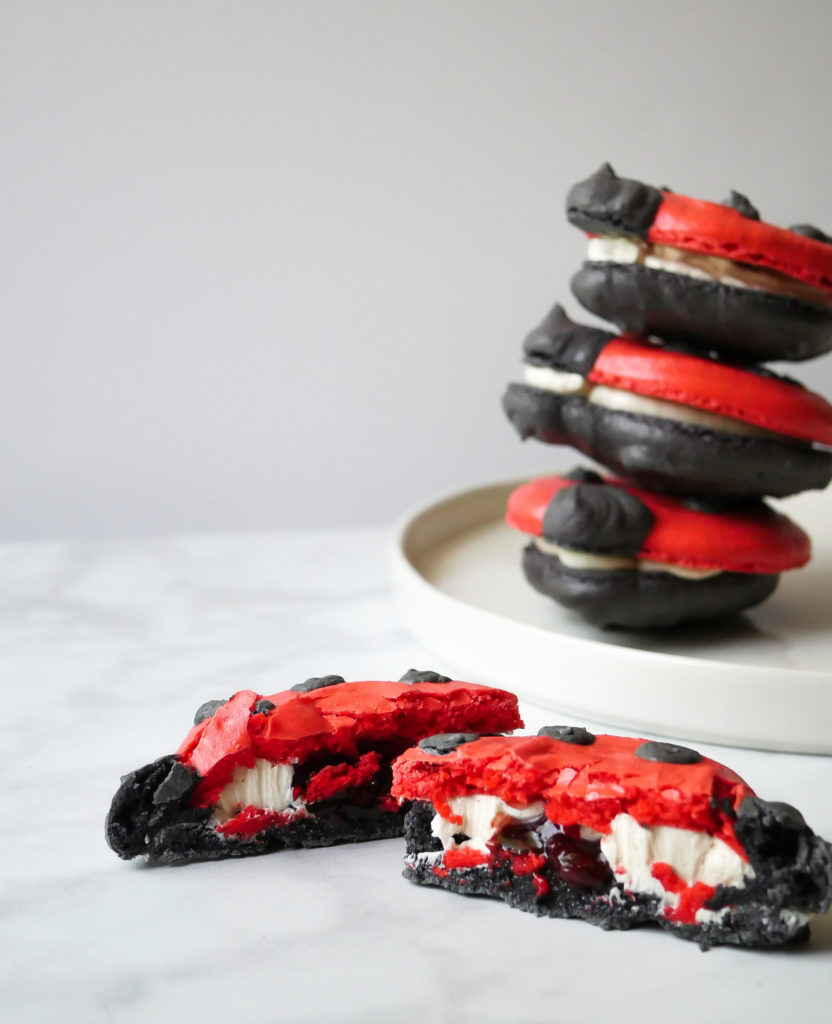 BONUS: Download our printable template for these Main Street Electrical Parade Ladybug Macarons below! Perfectly shaped and spaced, with outlines for both colors. Never worry about mismatched macaron halves!
Questions? Leave them in the comments below and you'll probably be helping out another reader! Now let's bake!
Print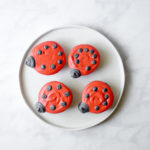 MSEP Ladybug Macarons
Author:

Yield:

3

–

4

large macarons

1

x
---
Description
Oversized ladybug shaped macarons with three kinds of strawberry filling to commemorate the Main Street Electrical Parade. A Disneyland-inspired treat.
---
For the black macarons:
67g

(apx.

3/4 cup

) almond flour

90g

(apx.

3/4 cup

) powdered sugar

52g

egg whites, from about

1

–

1/2

eggs

1/8 teaspoon

cream of tartar

30g

(

1

–

1/2

heaping tablespoons) granulated sugar
For the red macarons:
645g

(apx.

1/2 cup

) almond flour

60g

(apx.

1/2 cup

) powdered sugar

35g

egg whites, from about

1

large egg

1/8 teaspoon

cream of tartar

20g

(

1

–

1/4

heaping tablespoons) granulated sugar
For the filling:
35g

egg whites, from about

1

large egg

1/4 cup

(

52 g

) sugar
pinch salt

1/2 teaspoon

of vanilla extract

1/2 teaspoon

of strawberry extract (or bakery emulsion)

4 ounces

(

1

stick) unsalted butter, cut into small pieces

2 tablespoons

strawberry jelly or jam

1 teaspoon

freeze dried strawberry pieces
Special Tools:
---
Instructions
For the black macarons:
First sift the almond flour, powdered sugar, and salt back and forth four times between two bowls using a mesh strainer. Set aside.
Line a baking sheet with parchment. Set aside.
In the bowl of a stand mixer fitted with the whisk attachment, add in the egg white and whisk until slightly foamy. Add in the cream of tartar and whisk until soft peaks appear. Then slowly pour in the sugar. Whisk on high until stiff peaks form.

Add in four drops of the black food coloring to the egg whites and slowly whisk to combine. Remove the bowl from the mixer.
Sift a third of the dry mixture into the colored egg whites and fold until barely incorporated, about 10 turns. Repeat twice with remaining dry mix. Fold until batter forms a ribbon when dropped into bowl.
Add about 1/4 of the batter into a piping bag and set aside. Pour remaining batter into a new piping bag and cut the tip off the bag. You want it large enough to pipe out the large ladybugs.
Pipe the bottom lady bug shape onto a parchment lined baking sheet. Let the batter sit about 1 hour.
Preheat your oven to 350°f. Place cookies in oven to bake, and lower the temperature to 300°f. Cook for 17-18 minutes.
Let the macarons cool at least 20-30 minutes before decorating.
For the red macarons:
Follow steps 1-5 above, adding in RED food coloring instead of the black.
Place all the batter into a piping bag, cut the tip of the bag, and pipe out the top ladybug halves as circles.
Using the black macaron batter that was set aside, pipe heads and spots on the red batter to represent ladybugs.
Again, let batter sit for one hour and follow cooking directions from above.

For the filling:
First make the Swiss strawberry buttercream frosting by stirring the egg whites, sugar, and salt together over a double boiler (or bowl set over simmering water on the stove), until temperature reaches 160°f.
Pour heated egg whites into the bowl of a stand mixer and beat until stiff peaks form.
When the bowl is cool to the touch, add the butter, one piece at a time, whipping between pieces to incorporate butter, but not fully mixing it in.
Next, add in vanilla and strawberry extracts. Whip everything on high until smooth.
Place the frosting in a piping bag and pipe out along inside edges of the black macarons, leaving a center well to fill with the jam. *You may have leftover frosting. Storage instructions in notes below.
Fill well with strawberry jelly/jam and sprinkle freeze-dried strawberry pieces on top.
Attach top and enjoy!
---
Notes
Sifting the almond flour and powdered sugar together is necessary for the absorption of oils and to prevent clumping of batter.
Using gel based food coloring will give a much deeper, and vibrant color, than standard food dye.
Any left over macaron batter can be piped into smaller cookies and baked off for 15 minutes.
Swiss buttercream heats the egg whites to 160°f to kill off any bacteria.
Leftover buttercream can be stored in the fridge up to two weeks, brought to room temperature, and whipped before using. It can also be stored in the freezer up to 3 months.
Keywords: treat, Main Street Electrical Parade, ladybug, macarons, strawberry